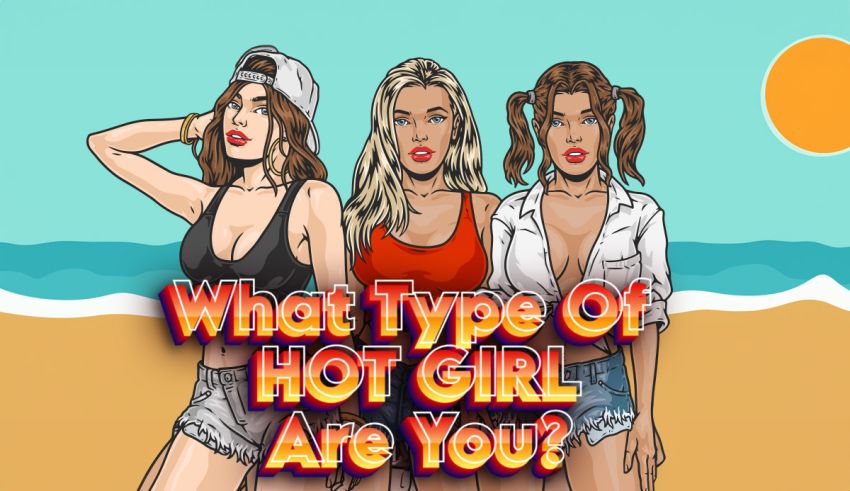 What type of hot girl are you? This attractiveness archetype quiz reveals the kind of sexy lady you are—with unbelievable accuracy.
This Quiz Exposes the Type of Hot Girl You Are
The Hot Girl Archetype Quiz identifies what kind of attractive female you are based on your body, traits, and style. It's a self-assessment test designed to reveal your sexiness type with 20 personality and appearance questions.
Since beauty and charm are subjective, there is no universal definition for what makes someone hot. But the subjectivity of the topic has led to the creation of different epitomes, each referring to a specific category of admirable girl.
| | |
| --- | --- |
| Hot Girl Archetype | Features |
| Innocent | Naïve, cute, likable |
| Approachable | Friendly, positive, sociable |
| Mature | Wise, experienced, protective |
| Wild | Free-spirited, risk-taking, spontaneous |
| Independent | Self-reliant, confident, respectful |
With the test on this page, you see which primary feminine archetypes match your prettiness—and why. We analyze 20 factors about your temperament and look to tell you exactly what type of hot girl you are.
What Are Some Hot Girl Archetypes
The most common archetypes for girls are the girl next door, the hot summer girl, and the mommy. These usually refer to the three prime categories of attractive females: Approachable, Sexy, and Mature. But there's more to hot girl archetypes.
Here are a few examples of popular girl stereotypes:
Innocent
As seen in pop culture films, TV shows, and novels, some men—and women—appreciate a naïve and cute girl. The innocent archetype describes the inexperienced lovely young lady who's shy around her crush and seems quite malleable in a relationship.
Independent
The archetype of the independent girl signifies a strong lady who's not waiting for a prince to come to rescue her; she's already fighting for her dreams on her own.
Recently gaining more popularity, the independent girl is a new hotness trend. And more people are starting to be grateful for a woman's self-reliance and confidence.
Suggested: Take the Feminine Energy Quiz to see how independent you are.
Mature Woman
Known for her motherly traits and healer demeanor, the mature woman archetype is low-key, one of the hottest types. She is wise and trustworthy, but she also has a seductive and naughty side that only the lucky ones get to see.
While some believe that only those with mommy issues are attracted to this archetype, mature women are attractive for their emotional stability and experience. (Take our maturity test to see if you fit this archetype.)
Approachable
A common type of hot girl is the approachable neighbor. She is friendly, nice, and sociable, making it easy for others to get in touch with her. Approachable girls are prone to be compared with normie archetypes. But more people are realizing that normies can be attractive, too.
Wild
Not all hot girls are pick-me beeotches. Some are wild AF. A wild woman is attractive because she's calling for adventure. She's brave enough to take risks and is not afraid of getting hurt along the way. That ballsy attitude seduces most men and women, pushing them to play with the wild girl's fire.
What Makes a Girl Hot
Although hotness is subjective, the universal traits that make a girl hot are an approachable personality, good taste in fashion, a healthy lifestyle, an appealing physique, and relatable passion.
Discover Your Kind of Sexiness
Do you still ask yourself, "What type of hot girl am I?" Take this attractiveness archetype quiz to find the accurate answer.
Whether you're here because of the TikTok trends or you actually want to self-assess your hotness, we can help you. The following questions determine what kind of charming lady you are based on important aspects of your character, appearance, and lifestyle.
You can also try our Iconic Female Test next to see if your sexiness resembles any memorable woman from pop culture.
Now, let's figure out what type of hot girl you are with a fun quiz. 💃🏻👄🌶
How to Play?
Playing personality quizzes is straightforward: Choose the option that's true about you—or you relate to—and select "Next." Unlike trivia quizzes, personality tests have no right or wrong answers. But the questions are in forced-choice format. The point is to push you to choose an option that makes the most sense, not the one that's 100% true. For the most accurate results, don't overthink your responses. Go with options that you "feel" are the best.
Questions of the quiz
1

How'd you describe your flirtation style?

Naïve

Friendly

Confident

Adult-like (respectful)

Naughty

I don't flirt

2

What's your style like?

Cute or trendy

Casual

Formal

Classic

Sexy

Gothic or nonconforming

3

What's your favorite season?

Fall

Spring

Winter

All of them

Summer

None of them

4

What type of TV shows do you binge-watch?

Romantic

Drama

Documentaries

Nostalgic

Trending

Tragic

5

What's your go-to activity?

Reading or writing

Going for a walk

Organizing or cleaning my room

Cooking

Partying

Sleeping

6

What kind of people are you attracted to?

Protective

Friendly

Successful

Loyal

Funny

I guess none

7

What's your toxic trait?

Forgetfulness

Trust issues

Daddy issues

Mommy issues

Commitment issues

All of the above

8

What makes you happy?

Love

Friends

Success

Family (or home)

Travel

Probably none of them

9

Which word better describes your best friend?

Supportive

Hilarious

Inspiring

Reliable

Crazy

I don't have friends

10

What does your dream vacation look like?

A pajama party with my bestie(s)

A nice dinner at the local restaurant

A quick trip to recover from work stress

A romantic night with a happy ending in bed

A crazy night out with my girls

I just want to get some sleep

11

What brings out your wild side?

I don't know

My crazy friends

Nothing can do that

Jealousy? Or something like that

A few shots of tequila

I don't have a wild side

12

What's your idea of having a girls' night?

Netflixing and eating fast foods

Gossiping and laughing the whole night

Eating a fancy dinner and having some serious convos

Spending quality time with each other

Going out and doing unspeakable things

I don't know. I have no friends

13

Which one do you value the most in a relationship?

Supportiveness

Trust

Communication

Commitment

Fun

I don't know anymore

14

How important is it for you to be considered a hot girl?

Not that important

It depends on who's around

Being hot is not among my priorities

I just want to look hot in the eyes of my lover

I want all eyes to be on me

I don't care how I look

15

What type of lover are you?

Clumsy (I make lots of mistakes)

Agreeable (I try to be my lover's bestie)

Reliable (My lover can count on me)

Protective (I'm a fighter)

Casual (I give my lover enough space)

Toxic (I make my lover regret falling in love with me)

16

How'd you describe your sense of humor?

Silly

Normie

Dry

Old-fashioned

Ironic or sarcastic

Dark

17

Which one do you think is your female archetype?

Princess

Healer

Queen

Angel

Seducer

Witch

18

What do you do when a loved one is depressed?

I hug them

I listen to them

I offer help

I cook for them or bring them something to drink

I ask them to go party with me

I mind my own business

19

Choose a nickname for your ex.

Mistake

Stupid

Lesson

Scar

Worthless

I don't have an ex

20

Final question; how old are you?

16 or younger

26-30

22-25

31 or older

I'd rather not sat

17-21