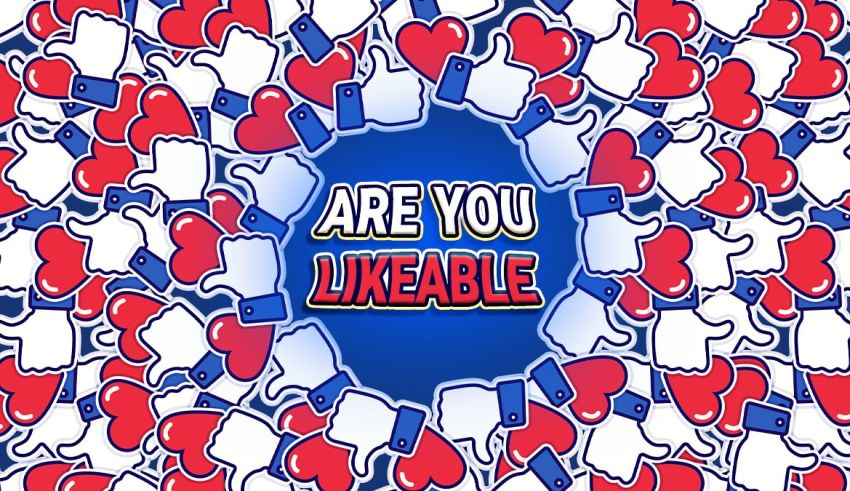 Do you want to know how likable you are? Take this likable person test to see how popular you are among your friends.
The Likable Person Test, Explained
With 20 personality questions, the likable person test determines if you are affable. It analyzes the first impression you leave on people to estimate how likable you are.
While likability is a subjective matter, there are universal attributes that make someone seem friendly—or offensive. Empathy, for example, is a crucial factor in interpersonal relationships, deciding whether a person is relatable or not.
The test on this page factors 20 social likability signs to reveal how your personality is perceived by others—especially when they don't know you that well.
How Likable Are You?
You are a likable person if you have empathy for others, are an active listener, take an interest in others, and appreciate a good sense of humor. Generally, the more positive energy you spread, the more likable you seem.
However, determining how likable you are by general standards is challenging because people often have unique perceptions of friendliness. While some might think you give off positive vibes, others might assume you're intimidating.
What Makes a Person Likable?
Likableness corresponds with kindness, empathy, authenticity, and a positive attitude. A person, therefore, is likable if they care about others, are nice to them, and treat them with respect. Other traits that make someone amiable are confidence, humor, and optimism.
How to Know if You're Unlikable?
Usually, you feel people don't like you when they refuse to have eye contact, avoid hanging out with you, and have defensive body language around you. With that being said, here are signs you're an unlikeable person:
You don't like to listen to others.
You don't have empathy.
Your sense of humor bothers other people.
You lie a lot.
You might be rude or cruel.
You pretend to be a different person around specific people.
Take This Test to Measure Your Likableness
Do you still ask yourself, "Am I likable?" If yes, take this friendliness quiz to see how affable you are. The following questions analyze twenty personality traits to reveal if others would actually like you.
You can also try our Social Awkwardness Test next, as it identifies if your below-average social skills negatively affect your popularity.
Now, let's find out how likable you are with a bunch of relatable questions. 🤗💗
How to Play?
Playing personality quizzes is straightforward: Choose the option that's true about you—or you relate to—and select "Next." Unlike trivia quizzes, personality tests have no right or wrong answers. But the questions are in forced-choice format. The point is to push you to choose an option that makes the most sense, not the one that's 100% true. For the most accurate results, don't overthink your responses. Go with options that you "feel" are the best.
Questions of the quiz
1

How do you react when a friend opens up to you?

I be supportive and attentive

I'm usually agreeable and offer solutions

I'm slightly reserved, direct, and bored

I be disinterested and avoid involvement

2

How likely are you to start a conversation?

Very likely

Slightly likely

Unlikely

I can never do that

3

What's your communication style when talking to strangers?

Warm and engaging

Polite and accommodating

Cool and distant

Direct and serious

4

What kind of listener are you?

Attentive,

Agreeable

Reserved

Distracted

5

Do you genuinely take an interest in people you care about?

Most of the time, yes

Always (no matter what)

I may not show much interest

No, not at all

6

How nervous are you around new people?

Not nervous at all

Slightly nervous

Somewhat nervous

Incredibly nervous

7

How often do you compliment others?

Frequently, I show appreciation and kindness

All the time, I'm eager to please and make others happy

Infrequently, I may not see the need to be nice

Never, I don't like doing that

8

What's your sense of humor like?

Lighthearted and positive

I match the vibe of others

I have a sarcastic sense of humor

My sense of humor is dry

9

On a scale of 1 to 4, how empathetic are you?

4 (a true empath)

3

2

1 (not empathetic at all)

10

How do you treat shy or insecure people?

I'm supportive and reassuring

I accommodate and be nice to them

I mind my own business and leave them alone

I keep my distance and ignore them

11

Would you say you're an optimist, a pessimist, or something else?

Optimist

Slightly optimist

I'm apathetic

I'm a true pessimist

12

What's your favorite way of cheering up your friends?

I make them laugh

I solve their problems

I'm not good at that, IDK

I don't cheer people up

13

Do you act differently when you're in public?

No, I'm genuine and authentic in all settings

Maybe, I want to make good impressions

Most of the time, I just want to be left alone

Yes, I pretend I'm fine and I care about others

14

How moody are you?

Not moody at all

Slightly moody

It depends

Incredibly moody

15

Would you say it's easy for others to get to know you?

Yes, I'm open and authentic with others

I hope so, I do my best to make connections

I don't think so, I'm reserved and avoidant

Not at all, I seem intimidating

16

Which one describes the way most people treat you?

Friendly

Agreeable

Cold

Avoidant

17

How hard is it for you to trust others?

Not hard at all

It depends

It's slightly difficult

I can't trust anyone

18

Do you have a passion? What type?

Yes, it's something artistic or personal

Yes, it's a hobby (or my job)

Not really, I wouldn't call it a passion

No, I only have obsessions

19

Do you actively try to be sociable?

Yes, I'm looking for new friends all the time

Yes, but I'm kind of forced to do that

Not really, I just hang out with specific people

Not at all, I hate socializing

20

Final question: What does it mean to be a likable person?

Being respected and appreciated

Being loved by most people

Having lots of fake friends

It's another word for being sexy or rich