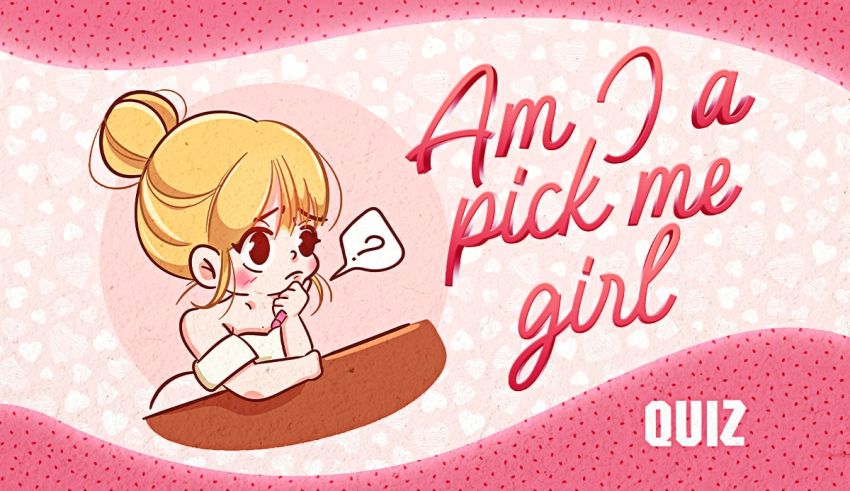 This quiz will help you recognize if you're a Pick-Me Girl and how to take back control of your life. Just answer 20 simple questions to find out.

Who is a pick-me girl
You have seen this kind of person before, or you may be this person yourself. Some gals act differently than others, but they constantly point out this matter. Here is the definition of a Pick-Me girl.
Have you seen a girl who looks down on another gal and says she is different from other gals or, to be more precise, "I'm not like OTHER girls"? This person is called a pick-me girl. The people who say that other people act to gain men's approval but themselves do this matter in a more non-obvious way.
Although being a pick-me girl is not the worst thing in the world, many doctors have declared this term a syndrome, which happens to girls who hate being rejected and don't want to get hurt by men.
That's why they want to stand above other people, and they don't care if they look condescending to other gals and make people feel wrong about how they act. They want to feel superior in some ways to other ordinary people.
These are some of the most viral things about the pick-me girl traits; there is also a viral thing that people guess what the pick-me girl names are around that reminds you of the claim of the name Karen!
Is it wrong to be?
We know why you are here. It could have different reasons; you may hear from someone that you are a pick-me girl or scroll through social media and listen to this. So you want to know whether you are like a PMG. Let's talk about this matter.
To be honest, it's not wrong to be a PMG. After all, they choose to be this way and think they can be better if they act like this. However, you must realize that not all people are PMG because they serve differently.
PMG point out what they think is wrong with other people, but different people just act differently and don't look down on other gals. The always attention-seeking of pick-me girls it's what makes them who they are.
Usually, a PMG is considered to have bad taste in men, and they only want the approval of a toxic person. That's one of the most viral things on social media about being a pick-me gal. They mostly claim that the PMG wouldn't make such a good girlfriend for their partner, but that isn't necessarily true. Usually, a pick-me gal is considered to have bad taste in men, and they only want the approval of a toxic person.
How to confront them?
Being a pick-me gal is a syndrome. These people often seem insecure about who they are and want to use the benefit of being different from ordinary gals to seek attention from the opposite sex.
If you feel annoyed by these people so much, the best thing you can do is get away from them. But if you like the person, you can make clear to them that they don't have to point out other people's problems and behaviors just to feel selected.
These people have to know that they matter as a people and they can be lovely without trying so hard for it. However, it's sometimes hard to argue with a pick-me gal because they'll dodge any accusation you put in their way.
Sometimes these people even get selected by a male as a partner, and they end up being the perfect girlfriend for them.
Let's be honest, Are you a pick-me girl?
Enough of the talking; it's time to answer 20 questions to answer the million-dollar question: are you a pick-me girl or not? Are you ready? Alright, good luck with the quiz, and have fun.
How to Play?
Playing personality quizzes is straightforward: Choose the option that's true about you—or you relate to—and select "Next." Unlike trivia quizzes, personality tests have no right or wrong answers. But the questions are in forced-choice format. The point is to push you to choose an option that makes the most sense, not the one that's 100% true. For the most accurate results, don't overthink your responses. Go with options that you "feel" are the best.
How many questions does this quiz have?
20 questions
How long does it take to complete this quiz?
10 minutes
Questions of the quiz
Question 1

Do you enjoy showing off your achivements?

Yes, People should know what a great person I am

Sometimes Yes, I work hard for them. I can't show off a little?

Some achievements I like to celebrate with my loved ones

I like to celebrate the occasion in my own private time

Question 2

When you're angry with someone by the phone:

I just start yelling and screaming at them

When I'm angry, I can't control myself so they are going to get some

I get angry depends on where I am at the time

I hang up the phone and talk to them at some better time

Question 3

Are you into gossiping?

OMG! yes, I love to chat with my friends about other people and their problems

Not about everybody, but some people need to get exposed

I do it very barely, I'm not really a gossip girl

No way, I hate gossiping

Question 4

Would you say you're a tomboy?

Yeah Bro, I'm more of a boy than a girl. ask the boys!

Yeah, Being girl sucks and I want the boys know I'm not a sissy person

Yeah, In some aspects like dressing or talking I maybe a tomboy

I don't know really If I act like a tomboy I wouldn't really know

Question 5

Do you think you have different personality than other girls?

Yes, I just don't get why people are not like me more

Yes baby, I'm not your typical girl

I wouldn't say that, maybe different with some persons

I wouldn't really feel the difference because I don't pay attention to this stuff

Question 6

Do you judge anyone because of how they look?

Well, If they're ugly then they should know about it

I don't call them ugly, I just say I'm prettier than them. Is that bad?

No, if they are ugly then you should not confront them about it

I don't really care about anyone's looks. I care about the personality

Question 7

Do you spend a lot of money on clothings?

Yes, I like to shine and be different from other people

Yes, you girl has to be pretty

Not that much, maybe in some occasions

I only but the dress I like, I don't intend to send some message with my clothes

Question 8

Are you pretty without makeup?

No baby, I just want everyone to know that I don't need chemicals to be beautiful, I'm already shining

I don't really need makeup! but I mostly wear them

I wear them anyways, I don't want to take my chances!

I'm not really into looks, wearing makeups depends on my mood

Question 9

Will you change yourself for someone else?

To be honest, yes, I want to be liked

I want to look my best for other people

If the person who asks me is important me, I may consider

No, Why would I change who I am for someone else?

Question 10

If you get rejected by a man:

Why would he reject me? I'm all that he needs

I can't take it, I will cry my eyes off

I get sad, But I'll get over it

Why would it pain me? I tried, and it didn't happen, so what?

Question 11

Do you shame others by how they are dressed?

Yes, why girl dress like they want approval of men

Sometimes I do, because I don't like to be like them

I get bothered but I don't say anything

No, It's non of my business and I respect everyone's look

Question 12

Most of your friends are:

Men and boys, I don't really get along with the girls

I have couple of girl friends but I have a lot of boys as friends and I rather spend time with them

I have friends from both genders

I have a lot of boy and girl friends and I love spend time with all of them

Question 13

If you see a girl like yourself, how would you feel?

It's weird. I don't trust her because I usually don't see anybody like myself

I stay away from her, I kinda don't like friends with girls

It's Interesting for me, I want to get to know her more

Well, I would love to be friends with her. We can have so much fun

Question 14

Do you believe in therapy?

No, I don't need therapy. I can fix my mental problems on my own

Why therapy? It makes no sense at all

I believe in it but I don't go to to therapy

Yes I do, I go to therapy and I think it's important for mental health

Question 15

Did you even look down on some people?

Yes, Just the girl who would do anything to have the male attention

Yes, a few girls need to be looked down

I think about it sometimes, but I don't

No, judging is not my thing and I don't like it

Question 16

Do you cause dramas a lot?

No, that's my best quality. I'm running away from dramas

No, I'm not like other girls

I may sometime cause dramas

I don't want to cause dramas, but sometimes it slips from me

Question 17

Do you post a lot of pictures in Instagram?

No, I don't even use social media. It's for attention seekers

No, I don't like to show myself a lot

I don't post a lot, but I post pictures that important to me

If I took a picture and I like it, I may post it on Instagram

Question 18

Do you like karaoke?

No, It's just feels stupid to sing in front of a lot of people

I really escape from these kinds of situations

I don't like to sing at all, but I'm not against it

Yes, I really like do Karaoke with my friends

Question 19

Do you like to dance at parties?

I only dance when I'm alone, in the crowd it's just embarracing

No, I prefer not to dance in public

It depends on where I am and the crowd that surrounds me

It depends on my mood, I may dance, or I may not

Question 20

Do you want to get married someday?

No, why every girl want to get settle and get the ring at some point

I don't really think about getting married

Some day and at some point, I would to see myself in a couple life

Yes, I would like to marry with the love of my life in the future