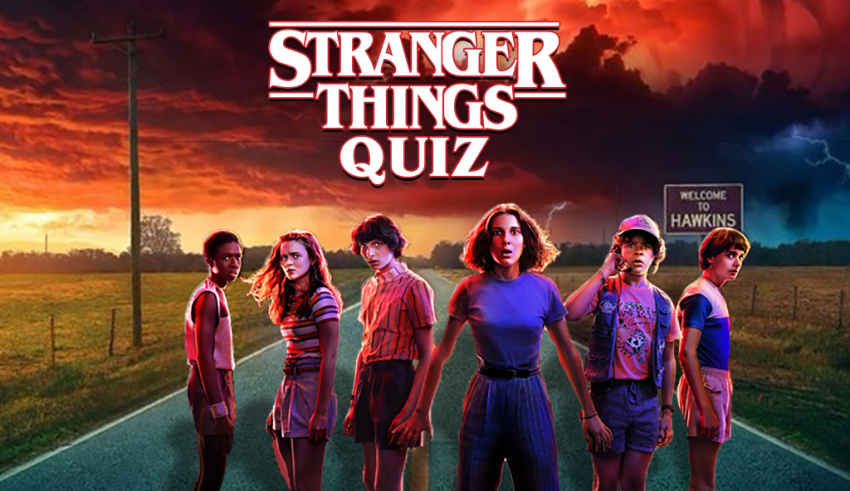 This is the ultimate Stranger Things quiz. Are you a real fan of this Netflix series? If you watched all of the seasons carefully, you will be able to pass this amazing quiz.
How well do you know about the Stranger Things series? "Stranger Things" is popular science fiction, and horror genre television series produced by Duffer Brothers and broadcasted on Netflix in three seasons and 25 episodes. This series quickly became one of summer's most-watched series. Fans of this series have watched all seasons of the series several times, and it can be said that they know a lot about the series.
What is the Stranger Things Quiz?
The Stranger Things quiz is the best way for fans because they can test their knowledge about the series. Stranger things quiz is also an excellent online contest for those who do not know much about this series, and by playing this quiz, they can give an overview of the story. There are also various Stranger Things Personality Quizzes. For example, Fans of this series sometimes ask each other this question: Which character of Stranger Things are you? To answer this question, it is suggested that they play a Stranger Things Personality quiz.
Stranger Things Story
The story is about Will Byers, a young boy who lives in Hawkins, Indiana, in 1983. One night, he mysteriously disappeared in the vicinity of a government-protected laboratory. That same night, a girl with superhuman powers who was mutated in a research laboratory escaped from a lab. So she helped in the search for the missing boy's friends. When she and the authorities were looking for the missing boy, they suddenly discovered strange things.
They find a government-run lab where they make genetic changes in humans to create beings with supernatural powers. This is a brief review of the Strangers Things series story. Strangers Things Trivia is also an accessible way to learn more about general topics such as the characters' names, roles, abilities and relationships, subtle details about scenes, and so on.
The good news for fans is that Netflix releases the series Stranger Things Video game in 2020. The company is working on a free mobile game to be played in the prominent shadowy Upside Down world with the Finnish developer Next Games.
The Casts
All the actors in this series have become very popular among the people because each one has different and particular personalities. These are popular characters with unique personalities in the Strangers Things series:
Jim Hopper
He was the city's police chief and became an alcoholic after breaking up with his wife. He claims that morning is for coffee and reflection because it takes time to process the information consciously. He is Friendly but very private, quiet but suddenly noisy, very curious but unable to concentrate on formal studies.
Steve Harington
He was Nancy Wheeler's boyfriend. Steve is an energetic boy who likes to joke with others and entertains others with his sense of humor. He focuses not on ideas and concepts but on facts and details.
Dustin Henderson
He was Will's best friend. Dustin affected by cleidocranial dysplasia that causes tooth formation problems, as well as skeletal problems. He was a curious, intelligent, unconventional, and open-minded boy. Dustin enjoyed playing with peoples' opinions and challenging them; also, he always had a passion for new and innovative ideas.
Eleven / Jane Hopper
She was a girl with extraordinary powers, such as telepathic and psychokinetic, genetically manipulated in the lab. Eleven loved to travel and explores the world. She is calm and unassuming and could be difficult to get to know.
Charlie Byton
He was Nancy Wheeler's boyfriend and Will Byers 'older brother and Joyce Byers' son. He was a quiet, kind boy who did a lot of activities outside of school; for example, he was good at photography.
Joyce Byers
she was Will and Jonathan's mother.
How to Play?
A trivia quiz comes with right and wrong answers. You receive one point for each correct response—but no negatives for the incorrect ones. Take your time and read the questions carefully because some might be trick questions. Choose an option and lock it in by tapping "Next." Lucky for you, the trivia quizzes have instant results. You see if your response was correct immediately. (Green is good, red is bad.) Even better, you can learn more about the topics with the "answer reveals," the fun-fact snippets that appear after each question.
Questions of the quiz
1

Let's start the quiz with a simple question; which one is Max's theme song?

Moving in Stereo

Monster's Lair

Running up that Hill

We Will Meet Again

2

What does Jim Hopper's name tag read in season 4?

AMERIKANEI

AMERIKANO

The American

He doesn't have a name tag

3

One character gets beat up in every season of Stranger Things. Who is it?

Billy Hargrove

Steve Harrington

Tommy Hagan

None of them

4

The way Vecna targets its victims is a nod to a classic horror movie. But which one is it?

Alien (1979)

Carrie (1976)

ET the Extra-Terrestrial (1982)

A Nightmare on Elm Street (1984)

5

Who is referred to as "Friendly Orderly" in season 4?

The Mind Flayer

Vecna

The Spider

Martin Brenner

6

Whose pink dress did Eleven wear in the first season?

Karen (Mike's Mother)

Nancy (Mike's Sister)

Erica (Lucas's Sister)

Joyce (Will's Mother)

7

Which one of these appeared in all of the episodes?

Jim Hopper

Eleven

Dustin Henderson

Steve Harrington

8

Do you know this house?

Will's House

Mike's House

Dustin's House

Billy's House

9

Who is this boy?

Mike's Neighbor

Billy's Childhood

Eleven's Brother

Jonathan's Childhood

10

Who is the fan of "My Little Pony"?

11

Who is this wearing Michael Myers mask on Halloween?

12

Who is Chester?

Dustin's pet turtle

Henderson family's cat

Will's Dog

Henderson family's kitten

13

Where was the first place Eleven went after escape?

Mike's basement
Benny's Burgers
Forest
Jim Hopper's House

14

What did Alexei want to exchange his information about Russian's operations?

Strawberry Slurpees

Cherry Slurpees

Strawberry Juice

Cherry Juice

15

Which girl declined Dustin's dance invitation at the Snow Ball?

16

Who made the spiked bat?

17

What was the name of video game that Max scored more than Dustin?

Dungeons & Dragons

Dragon's Lair

Dig Dug

Pac-Man

18

Whose favorite candy is this?

Will's

Mike's

Dustin's

Eleven's

19

How did the kids introduce Eleven to their teacher when they encountered him?

Mike's cousin from Sweden

Dustin's cousin from Sweden

Mike's cousin from Canada

Dustin's cousin from Canada

20

Who has crush on Tammy Thompson?

21

Which one is the girlfriend of Will's father?