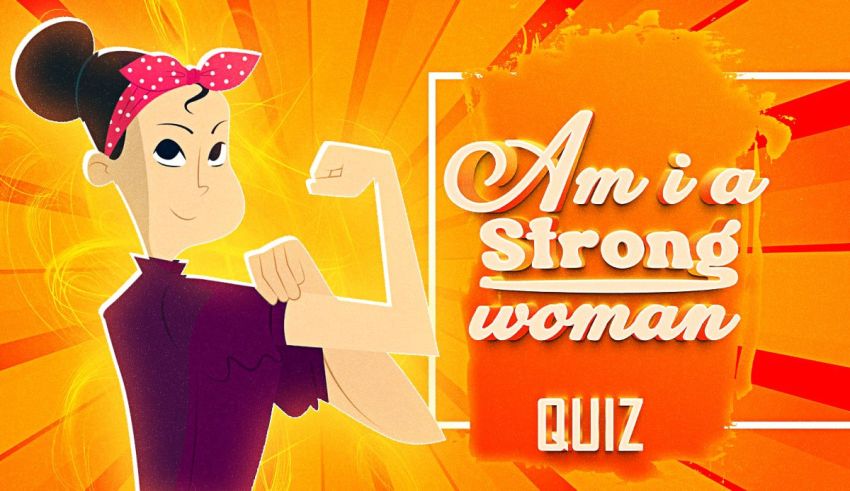 This quiz helps you find out if you are a strong woman in society. It analysis your personality, decisions, mistakes, and your lifestyle to reveal the answer.
Being a strong and successful woman is no easy task. Women tend to be more sensitive than men. Maintaining all that emotion while trying to be tough makes being a woman a demanding job, and hats off to all women worldwide. But not all of the women are strong or at least feel like they are tough. What about you? What answer do you get when you ask yourself: "am I a strong woman?". In this test, we will tell you the signs of a strong woman and if you are one of them.
How to be a strong woman emotionally and spiritually?
Nobody was ever born a tough person. Everyone in the world got their emotional strength from how they grew up and lived their lives. Life polishes everybody, and people from these changes try to find themselves, whether they want to be tough. That means it's OK if you are not a completely strong person. It just means that you have a different life, and that's respectful. But who is a tough person? What can they do that other can't?
Make decisions
in life.
Powerful people don't do anything magical or miraculous. One of the things that they do is take on the hard decisions in life. If a person is not tough enough, they decide to put this burden on another one's shoulders rather than determining themselves. They should always think ahead of their present. It's essential to predict what you'll do in the future and sometimes predict it and prepare yourself for the worst. 
Just do it
Strong women usually don't try to be Mockingjay for their words; they mean every word they say. It's essential to know for yourself that your act is your word and your word is your act. Most people in the world don't realize that.
Respect yourselft
A formidable woman knows her value and doesn't trade her worth for anything. You should always treat yourself the best first, and that puts nobody before yourself first. But all of these come with peace of mind and healthy thinking that can't be obtained easily. It would be best if you paved the way for your life by getting to know yourself and your inner personality better. After they get to know themselves well enough, they try to impact the world around them and use their gifts to influence others. This may help other people to get the strength they need to impact the world.
Learn from your mistakes & get better
Being a strong woman doesn't mean not having any weaknesses. Everybody has some liability, but a strong person isn't afraid to accept it and take action to improve it.  The same goes for showing how she feels about different topics and experiences. Everyone should be tough enough to react to everything in life. It's not strength if you don't show your happiness or sadness over things that make you feel like this.
There is no correct and precise answer to How to handle a woman with a strong personality; they are already doing well with their freedom and stable life. You have to give them enough space to decide for their life.
Now, are you ready to take the quiz?
Let's be honest, are you a strong woman?
Many things make a woman tough, and the things you have read so far are only the beginning. Start the quiz and answer all questions to realize if you are a tough woman or you are not. 
You will get an honest answer in the end, and we'll try to tell you what you should do. Good Luck with the quiz.
How to Play?
Playing personality quizzes is straightforward: Choose the option that's true about you—or you relate to—and select "Next." Unlike trivia quizzes, personality tests have no right or wrong answers. But the questions are in forced-choice format. The point is to push you to choose an option that makes the most sense, not the one that's 100% true. For the most accurate results, don't overthink your responses. Go with options that you "feel" are the best.
Questions of the quiz
1

If you are over 20, where do you live?

I'm not over 20

I have a place and live alone

I'm married and live at my husband's house

I'm still living with my parents

2

If you start a business and it fails, what will you do?

I Would be depressed for my whole life

I get back to being an employee

I would be sad, but I learn the lesson for my next business

That would never happen

3

Do you believe in the man with a white horse?

Yes, and someday he'll come to save me

No, I only believe in myself

No, but I really wished he existed

Yes, but I don't need him

4

Do you think Self-Care is Selfish?

Yeah, there are more critical things in the world

No, it's everyone's right to take care of themselves

If there's too much of it, then yes

It's OK, but it should be in every aspect of it, not just looks

5

Do you think men should pay on a first date?

Yes, it's the way it should be

I think it should be split

No, but I want him to show his willingness to pay for at least the first date

I would like to pay for the first date

6

Do you enjoy your life?

No, I'm always so sad

Yes

There's always a challenge, but I'm happy overall

Life is too tiring for me

7

Did you use your body to get away with challenges?

Yes, I do it all the time

No, but I don't mind

No, my body is not for this kind of thing

I did it once or twice, but I regret

8

Do you read books?

Of course not!

I barely read

I read a lot

If I have time

9

Do you exercise?

I go on and off with it

No, I don't have the energy

I don't think I need to exercise

I do it daily

10

What is your reaction to a fight (argument)?

I get along with all people

I'm always right

I try to argue to see what is the main problem

I leave the place

11

How do you feel about drinking alcohol?

I don't drink

I drink once a week

I drink every day

I drink only on special occasions

12

Do you think women should have more rights than men?

I think both genders should have equal rights

I think we are weaker than men and should have fewer rights

I believe we are more robust than men and should have more rights

I don't really care

13

If you are wrong, are you OK with apologizing?

Yeah, why wouldn't I be?

No, Never

It depends on who I'm apologizing to

Apologizing is for weak people

14

If you did something wrong, what'll you do?

I immediately start crying for them to forgive me

I do nothing wrong

People make mistakes, so what?

I stand for what I did and take the full blame

15

Which one of these is better?

Being Rich

Being Successful

Being Famous

Being Unique

16

Is it OK to cry out loud?

No, a tough woman never cries

No, it isn't very comfortable

Yes, it's OK for everybody to express their feelings

Yes, but only women should cry out loud

17

Is it OK to forget about the past?

Yes, mine was embarrassing

Yes, if it was too painful

No, it's not

Everyone should remember where they have become

18

Which one of these women do you know about (more)?

Margaret Thatcher

Karen Lynch

Virginia Woolf

Kim Kardashian

19

Do you have a plan for the future?

Yes, I Already know where I'm heading

Yes, but I don't know if it works

No, I want to wait for a better moment to plan

No, I'm a live-in-moments person

20

Are you a jealous person?

Maybe once or twice

No, not at all

Yes, very much

Yes, a little bit