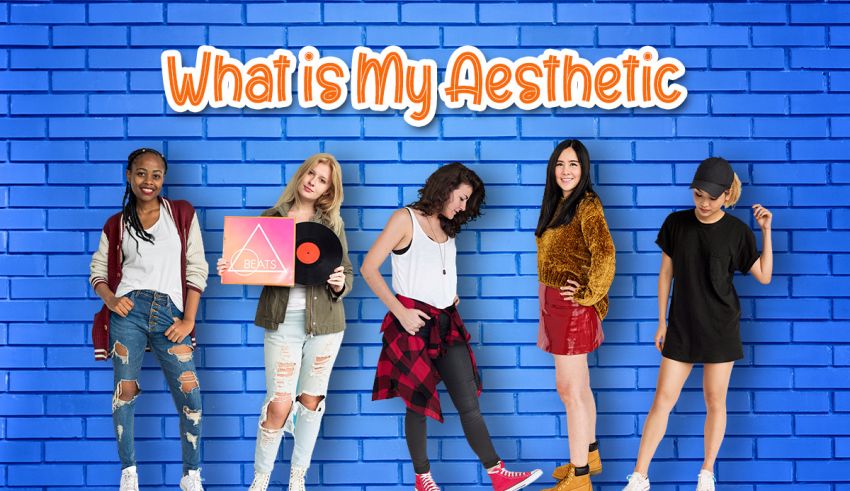 Been one of those who are doubting, like, what is my aesthetic? This ultimate quiz is going to help you find it by answering some simple questions.
What is my aesthetic
Aesthetic defines personal style, theme, visual style, and cohesive vibe. Finding your aesthetic helps manage your everyday life in a far easier way, from clothing to choosing the accessories or the decoratives of your house. This aesthetic quiz is going to help you find your nature of beauty, and it will give some valuable tips on different aspects.
Let Your Personality Define Your Style
What Is My Aesthetic quiz is meant to expose the most fitting style for you. But it does so regarding your personality. Fashion designers (or at least most of them) believe that your dress should reflect your character. That's also the idea behind this quiz. See below for more info.
What is this quiz?
The What Is My Aesthetic quiz is a set of 20 personality-related questions. The goal of the test is to reveal what fashion style suits you the most.
How does it work?
It's simple. You answer 20 multiple-choice questions. Then, the algorithm analyzes your responses, which only takes a few seconds. And finally, you get the results, exposing your ultimate aesthetic look to match your character.
Why Should I Know What My Aesthetic Is?
Some brands are trying to change their customers' personalities. They want to create loyal consumers—and that's their #1 goal. So, it's easier these days to fall for their slogans and form the idea of who you are based on what they suggest.
However, knowing what your aesthetic is can change things. People who're aware of their taste, need, and desire doesn't fall for commercials. They purchase what they want and wear it how they like.
Plus, being aware of your aesthetic style helps to dress better. Think of it as choosing your major. You could either choose the one that "others are bragging about," or you could choose the one that you love, value and aspire to. Which one makes more sense?
The same rule is applicable when it comes to choosing your dress. You could let the media be in charge of your garderobe. Or you could "show 'em all the middle finger" and do what you want to. Again, which one makes more sense? The latter, for sure.
Questions that help you dress better:
What is my clothing aesthetic?
Aesthetic styles have some principles. So, you can get inspired by what they suggest. But at the same time, you can customize your clothing aesthetic—as the rules are loose. Asking "what my clothing aesthetic is?" is the first step to renew your closet in a way that suits you the most.
What is my aesthetic color?
You already have a favorite color. But is it A-Okay to purchase dresses regarding that? I mean, is it guaranteed that your favorite color is also the one that looks good on you? I don't think so. You have to be aware of your aesthetic color to buy the pieces that suit you. Orange might be your beloved color. But wearing all in orange won't help you look better if it's not your color.
List of Popular Aesthetic Styles [2021]
There are 17+ types of aesthetic styles out there. However, studying all of them is a waste of time. So, you better focus on the top six styles which are currently trending.
The following table shows the main differences between the top aesthetic styles in 2020.
| | | | | |
| --- | --- | --- | --- | --- |
| Aesthetic Style | Trait | App | Emoji | Favorite Word or Phrase |
| Grunge | Baddie | Spotify | 🤷🏻‍♀️😎😒 | Extra |
| Vintage | Moody | Twitter | ✨ 🥰 | Lit |
| 90's Nostalgia | Sassy | Snapchat | 💅🏻💄 | Curve |
| Soft Girl | Shy | TikTok | 😊😘🥺 | Shook |
| Art Hoe | Arty | Instagram | 😍❤️👍 | Lowkey |
| VSCO | Humble | VSCO | 🤔💕🤣 | I'm dead |
You might check the above table out and be, like, "okay, I know what my aesthetic is." But believe me, there's more to that. Taking the What Is MY Aesthetic quiz is the most reliable way to figure things out. That's because your personality is not one-sided, as it might seem in the above table.
I took the Aesthetic Quiz, What Now?
First of all, "you're straight fire! Good job." Taking the ultimate aesthetic quiz of QuizExpo indicates that you care about how you look. However, here's a 3-step guide on how to benefit from the results.
Don't overthink it.
The terms and definitions should not label you. So, if you're not happy with the results, it's A-Okay to curve them. There are celebrities and social media influencers out there who're bending the boundaries of fashion. You could be one of them as well. Feel free to combine different styles, think out of the box, and be yourself.
Follow these people on social media.
If you like to remain loyal to your aesthetic principles, follow these people on social media. They are an excellent source to get inspired by.
Shop accordingly.
It's not the 90's or 80's anymore. No matter your aesthetic style, there are tons of brands and stores ready to serve you.
Use the following table to find out what brands and which stores have the finest goodies for you.
| | | |
| --- | --- | --- |
| Your Aesthetic Style | Best Shops | Best Brands |
| Grunge | Mango | Anine Bing / e-GirlFactory |
| Vintage | Free People | Levi's |
| 90's Nostalgia | BNKR | Diesel / Reebok |
| Soft Girl | Bershka | Harajuku |
| Art Hoe | lululemon | ARTsy |
| VSCO | Urban Outfitters | UO |
Reminder: Don't Let Labels Limit You!
Being a soft girl/boy, a grunge person or a vintage addict should not set boundaries for you. QuizExpo's What Is My Aesthetic quiz is only meant to be a fun way to dress up better. It's you who can decide who you are, what you want to wear, and how you want to interact with the surrounding world.
So, "Be yourself; everyone is already taken."
How to Play?
Playing personality quizzes is straightforward: Choose the option that's true about you—or you relate to—and select "Next." Unlike trivia quizzes, personality tests have no right or wrong answers. But the questions are in forced-choice format. The point is to push you to choose an option that makes the most sense, not the one that's 100% true. For the most accurate results, don't overthink your responses. Go with options that you "feel" are the best.
Questions of the quiz
1

Your new friend's music taste sucks. You want to send them a playlist to change their mind and rescue their ears *sigh*. What type of music would you offer them instead of their trashy playlist?

My soft rock playlist

A playlist of alternative pop songs

A playlist of lo-fi-instrumental beats

A metalhead type of playlist

My top TikTok song's playlist

A 90's hits playlist

2

*Ring Ring* it's your best friend calling. "Hey, we're downstairs. Let's hit the road and have some fun." YES, they're asking you to go on a trip with them. You only have 5 minutes to pack your things up. What would you do?

I'm not too fond of sudden plans. I wouldn't go with them.

I'd grab my hat, my flip-flops, and my balm lip. Let's go!

Sounds like fun. But I'd need more than 5 minutes to pack up.

All I need is a backpack and a 90's nostalgia songs CD.

I'd jump off the bed and get into the car right away. No nothing is needed.

I'm not sure if I'd go with them or not. It depends, TBH.

3

What turns you off the most?

Being a softy

Being moody

Lack of self-esteem

Being ignorant

Inflexibility (Behavior-wise!)

Disrespectfulness

4

Your best friend's BF/GF has cheated on them. They're seeking your advice now. What would you do?

I'd say, "Kick that MF's ass."

I'd tell them that they deserve better.

I'd play a sad song and let them cry it out.

I'd make them a cup of coffee and comfort them.

I'd tell them, "You're too cute to care."

I'd make them feel loved. Maybe a hug?

5

A person will look cool if they__________________ when shopping for clothes.

Focus on what they love to wear

Let their creativity out

Find the coolest brandy stuff.

Get inspired by their personality.

Consider 90's fashion trends.

Stopping thinking about "what others would think of them."

6

What is your dream partner like?

They're like a badass biker.

Good-looking and fun

Rich, confident, and classy

Lovely, cute, and caring

Someone artistic enough to understand me

IDK, someone, I could rely on?

7

If you could go back in time, what year would you choose?

90's

I'd go back to when Van Gogh was still alive

I'd pass it. I'm fine without time travels

I'd go back to when my parents were teenagers

I'm more willing to see what the future would look like

80's (probably)

8

*Knock Knock* It's the American Act Against Messy Garderobes members at your door. They insist on inspecting your garderobe and remove unnecessary stuff. What's the one thing in your closet that you'd never let them even touch?

My fishnets

My shoes

My mommy jeans

No one could even get close to my closet!

My Kanken

My oversized T-shirts

9

Your crush MUST vibe with ________ songs.

Nirvana

Tupac Shakur

Billie Eilish

Lana Del Ray

ALABAMA

Juice Wrld

10

Your phone is being naggy these days. It claims that you can only keep ONE app, and you have to let all others go. What would that one app be?

TikTok

VSCO

Instagram

Spotify

Snapchat

Twitter

11

Which one is your favorite color?

12

What's the word that people who just met you use to describe you?

Rebellion

Cool

Sassy

Talented

Creative

Shy

13

What type of makeup would you prefer to have when going to a concert?

Eyelash glow

Eyebrow Pencils

Lip-balms, liners, primers, and sticks

Eye Primer and Mascara

Vintage makeup

I'm fine without makeup

14

Which of the following words sounds appealing to you?

Leather jackets

90's fashion

Lo-fi images

Beach

Luxury

Colors

15

You'd love to become a/an ______________________. (If you were limited to these options).

Fashion icon

Rockstar

Model

Instagram influencer

Artist

Guitarist

16

Which of the following images looks like a dream room?

17

You'd rather look _____ than _______.

Rebellion / Cute

Cute / Rebellion

Stylish / Sassy

Iconic / Modern

Vintage / Modern

Arty / Trendy

18

Your friend owns tons of pieces of jewelry. What do you think of that?

I love it. I own many pieces of jewelry, as well.

Unnecessarily unnecessary

It sounds like fun

I'm not a fan of jewelry, but I glad for them.

Jewelry is useless if you don't know how to use them.

Well, I'd prefer to spend my money on something more useful.

19

Which of the following pictures shows a good-looking person?

20

Select the quote that sounds relatable to you.

Creativity is the rebellion in existence.

Change the world by being yourself.

I think you're suffering from a lack of vitamin ME.

There is no competition, but nobody can be me.

Life is like a box of chocolates; you never know what you're going to get.

We're all bad in someone's story.