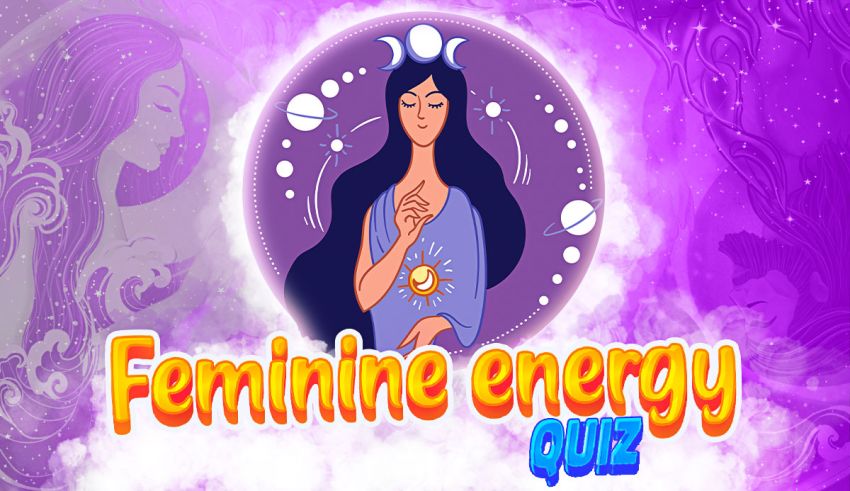 This feminine energy quiz helps you find out if your leading energy is masculine or feminine. Just answer 20 simple personality questions to reveal.
What Is the Feminine Energy Quiz?
Containing 20 personality questions, the feminine energy quiz is a self-assessment to find your core archetype. It helps you weigh the masculine and feminine power in you, determining the dominant one.
Don't mistake the feminine energy quiz for a gender role test. The latter exposes your vision of femininity and masculinity, while the former assesses your leading force—regardless of gender.
What Is Your Leading Energy?
Your leading energy, also known as core energy, is the feminine or masculine archetype you have actualized by bringing into consciousness. In other words, it's the inherited potential to think or behave in the frames of masculinity or femininity.
There are two types of leading divine energies:
·        Feminine Energy.
Empowered by intuitiveness, creativity, and maturity, feminine energy is the source of thought and action for left-brain-hemisphere-dominant people who prefer feeling over logic.
·        Masculine Energy
Energized by competition, achievement, dominance, and aggression, people with masculine energy are right-brain-hemisphere dominant and are more thinkers than feelers.
Suggested test: Are you a thinker or a feeler?
How Do I Know If I Have Masculine or Feminine Energy?
Your motives reveal what type of energy source you have. If you want to know your core energy, ask yourself, "What drives me to act or react?" Is it emotion, intuition, logic, or data?
As a rule, the more intuitive you are, the more feminine energy you have. And the more analytical you are, the more masculine energy you have.
What Are the Types of Feminine Energy?
There are seven feminine archetypes: The Lover, the Maiden, the Mother, the Queen, the Huntress, the Sage, and the Mystic.
| | |
| --- | --- |
| Feminine Energy | Archetype |
| Connection and creation. | The Lover |
| Effervescence and devotion. | The Maiden |
| Protectiveness and patience. | The Mother |
| Loyalty and sovereignty. | The Queen |
| Independence and ambition. | The Huntress |
| Knowledge and objectivity. | The Sage |
| Introversion and spirituality. | The Mystic |
Each archetype has its strengths and weaknesses, as well as psychological stereotypes.
By taking the feminine energy quiz, you learn what type you are and what it tells you.
Does Gender Determine Core Energy?
No, sex or gender identity does not determine your core energy. You can be a male with dominant feminine energy or a female with dominant masculine energy.
Sexual orientation is also another irrelevant factor. Having feminine energy doesn't mean you're into men and vice versa.
What affects your core energy are your motivations, traits, and decisions.
Why Are Most Feminine Energy Quizzes Toxic?
Archetypes are associated with toxic stereotypes. And unfortunately, many feminine quizzes are based on the same traditional beliefs that toxically discriminate against women.
For instance, many online tests categorize emotional people into the feminine energy type because the "common sense" is that females are more emotional than logical.
Read Before Participation
The idea of masculine vs. feminine energy is outdated. So, beware that the test on this page is merely based on your preferences, not your whole identity as a person. Please, take the results lightly and avoid any labels.
Now, hit the start button and enjoy the test.
Disclaimer
QuizExpo is against any discrimination. Please, let us know if you find the questions or results of the test insensitive or inappropriate.
How to Play?
Playing personality quizzes is straightforward: Choose the option that's true about you—or you relate to—and select "Next." Unlike trivia quizzes, personality tests have no right or wrong answers. But the questions are in forced-choice format. The point is to push you to choose an option that makes the most sense, not the one that's 100% true. For the most accurate results, don't overthink your responses. Go with options that you "feel" are the best.
Questions of the quiz
Question 1

Which one motivates you?

Creating a peaceful life.

Spreading love.

Being in love.

Helping others.

Learning and growing.

Pushing myself past my limits.

Living an honorable life.

Earning more money or achieving more goals.

Question 2

How do you recharge after a rough day?

Meditation or yoga.

Spending time in nature or things like gardening.

Asking for a loved one's help.

Spending time with family.

Reading or peaceful activities like that.

Workout.

Self-talk (Reminding myself of my value/goal).

Work (I keep myself busy with work).

Question 3

What is your biggest concern?

Health issues.

Psychological problems.

Relationship issues.

Family issues.

Career or workplace issues.

Friendship issues or failure.

Most of them.

Business of financial problems.

Question 4

What is your priority in life?

Mental health

Physical health

Having a reliable, romantic relationship.

Building a family.

Acquiring knowledge.

Becoming better at what I do.

Forming meaningful alliances. (Friendships)

Achieving financial goals.

Question 5

Which one could be another word for love?

Harmony

Gratitude

Devotion

Compassion

Emotional bonding

Companionship

Loyalty

Compliance

Question 6

Who deserves the most appreciation?

The person who taught you self-love.

The person who gave you birth.

The person who loves you conditionally.

The person who took care of you.

The person who taught you how to learn.

The person who taught you how to fight.

The person who was always there for you.

None of them.

Question 7

What is a peaceful life?

It is an anxiety-free life.

It is a life full of appreciation and gratitude.

It is a life that never lacks romance and affection.

It's a life that centers around unconditional love.

It's a life of knowledge and development.

It's a life in which you are independent and free.

Peaceful life is a mindset.

There is no such thing as a peaceful life.

Question 8

Which one describes your romantic persona better?

Soother

Giver

Devotee

Protector

Thoughtful

Fighter

Loyal

Provider

Question 9

Which topic you'd like to have a deep convo about?

Self-awareness

Self-love

Physical intimacy

Emotional intimacy

Technology

Sports

Politics

Finance

Question 10

What could help you thrive in life?

Mental health

Physical health

A reliable partner

A strong family

A knowledgeable teacher

A strict couch

An honest advisor.

More money.

Question 11

What scares you the most?

War

Illness

Loneliness

Ignorance

Idiocy

Weakness

Lies

Failure

Question 12

What do you prioritize when making important decisions?

The effect on my mental health.

The possible effect on other people

The opinions of my close ones.

The future of my family.

The logical aspects and data.

The intuitions and emotions.

The outcome.

The benefits.

Question 13

What drains your energy?

Chaos

Insensitiveness

Cruelty

Depreciation.

Pointless arguments.

Restrictions.

Treachery

Disobedience

Question 14

Which of these features would you consider feminine?

Delicacy

Generosity

Gentleness

Protectiveness

Intelligence

Independence

Faithfulness

Submissiveness

Question 15

What phase of life sounds more enjoyable?

Childhood

All of them

Marriage

Parenthood

Graduation

Moving out of the parent's house.

Grandparenthood

None of them

Question 16

What makes a person a good friend?

Serenity

Kindness

Funniness

Empathy

Intelligence

Free-spiritedness

Honesty

None of them

Question 17

What type of people attract you?

Self-aware

Passionate

Dominant or confident

Big-hearted

Smart

Tough

Committed

Respectful

Question 18

How do you often express your anger?

I put it in words

I give myself some time

I cry or lock myself in my room

I wait for the right moment to bring it up

I try to write down my emotions

I just let my anger out

I pretend I'm not angry (I don't express it)

It depends on my mood. But I usually yell.

Question 19

What word resembles masculine energy?

Insecurity

Benevolence

Dominance

Commitment

Levelheadedness

Resilience

Trustworthiness

Protectiveness

Question 20

Final question: How old are you?

35-45

18-22

17 or younger

23-27

28-34

46-50

51 or older

I'd rather not say.