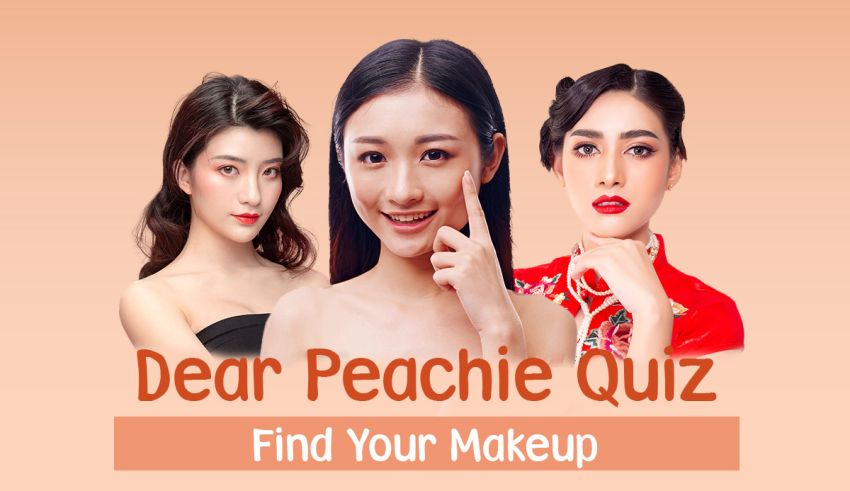 With the Dear Peachie Makeup Quiz, you find out what makeup archetype suits your face and why. You will get the perfect makeup suggestion with details.
What Is the Dear Peachie Makeup Quiz?
Comprised of fifteen facial feature questions, the Dear Peachie Makeup Quiz reveals which archetype matches your face. It's a face shape analyzer recommending makeup styles based on your look.
For those unfamiliar, Dear Peachie is a YouTuber who creates makeup tutorials. And she is known as the original creator of the makeup archetype quiz—hence the name.
With the Dear Peachie Quiz, you get to find out what makeup suits your face and why.
How Does the Test Work?
To identify your matching makeup archetype, the Dear Peachie Quiz analyzes your facial features and visual weight. Basically, it determines what your face shape is, how your facial features, like eye shape, match with the others, and how they affect the type of makeup you should wear.
How to Find Your Dear Peachie Makeup Archetype?
Founded by China Makeup gurus on Xiao Hong Shu (Chinese version of Pinterest), the face-oriented makeup archetypes decide the best makeup style for each person according to their facial features. That's while most other categories consider body type and dressing style for the same purpose.
To know what your Dear Peachie makeup archetype is, ask yourself the following questions:
What is my face shape?
What is the shape of my facial features?
What is my visual weight like?
If you lean toward rounded, soft shapes, Ingenue, Elegant, Romantic, and Natural makeup styles suit you. If you lean toward sharp and angular facial features, Classic, Dramatic, Modern, and Gamine styles are better choices.
What Are the 8 Dear Peachie Makeup Archetypes?
The eight archetypes introduced by Dear Peachie are Ingenue, Elegant, Romantic, Natural, Classic, Dramatic, Modern, and Gamine.
Here's what each of them resembles:
Ingenue
Fitting rounded and soft faces, the Ingenue archetype resembles childlike beauty, gentleness, and delicacy. And it suits makeup styles like Energetic, Cute, Sweet & Cool.
Elegant
The Elegant archetype resembles serenity, gracefulness, and delicacy. Makeup styles such as Rich Girl and Korean Ladylike are the best options for people with this archetype.
Romantic
Focused on feminine features, the Romantic archetype resembles sensuousness, softness, and alluring beauty. And it fits makeup styles like Flirtatious Cute and Retro Honk Kong Girl.
Natural
Being the most popular among Dear Peachie archetypes, the Natural archetype resembles casualness, effortless beauty, easygoingness, and friendliness. And it matches makeup styles such as Gentle Ladylike or Mori Kei Style.
Classic
As the name suggests, the Classic makeup archetype resembles conservativeness and formality. It is a symbol of mature beauty and feminine confidence. And it matches makeup styles like Cool Minimalistic Look and No Eyeshadow Makeup Look.
Dramatic
Only a few people have the Dramatic Dear Peachie archetype. But it's one of the unique ones. The archetype resembles dignity, intensity, extravagance, and charisma, matching bold makeup styles like Thai and Fiery Mean.
Modern
The Modern archetype is about immaculacy, boldness, and confidence. And it matches vibrant, attention-grabbing makeup styles like Cut Crease Eye Makeup, Siren Makeup, and Smokey Eye Makeup.
Gamine
Refreshing and courageous, the Gamine archetype resembles young and slightly masculine beauty. And its tomboyish vibe matches makeup styles like Airy Boyish and Soft Grunge looks.
Take the Quiz to See What Makeup Archetype Matches Your Face
Still wondering what your Dear Peachie makeup archetype is? If yes, take the quiz and find the answer in a few minutes.
The following questions analyze your visual weight and facial feature to accurately determine what makeup style matches your archetype. It's free, fast, and simple.
Disclaimer
QuizExpo is not associated with any of the names mentioned on the Dear Peachie Makeup Quiz and does not intend copyright infringement.
How to Play?
Playing personality quizzes is straightforward: Choose the option that's true about you—or you relate to—and select "Next." Unlike trivia quizzes, personality tests have no right or wrong answers. But the questions are in forced-choice format. The point is to push you to choose an option that makes the most sense, not the one that's 100% true. For the most accurate results, don't overthink your responses. Go with options that you "feel" are the best.
Questions of the quiz
Question 1

Which one better describes your face shape?

Rounded

Oval

Pear

Square

Heart

Diamond

Rectangle

Oblong

Question 2

How would you describe your jawline?

Very soft and rounded

Slightly soft and rounded

Rounded but not soft

Slightly angular but mostly soft

Not too round, not too sharp

Slightly sharp and angular

Very sharp and angular

Extremely bony

Question 3

How does your face's lower third look?

It's visibly shorter than other parts of my face.

It's slightly shorter.

It's almost equal to other parts

It's slightly longer than the other parts

It's equal to other parts

It's longer than the other parts

It's visibly longer (but slightly rounded)

It's longer than the other parts (and it's sharp)

Question 4

In general, would you say your facial features are round or angular?

Very rounded

Rounded

Slightly rounded

Slightly rounded in some areas

Not too rounded, not too sharp

Slightly angular in some areas

Sharp (in most areas)

Very sharp and angular

Question 5

What is your eye shape?

Round

Almond

Upturned

Hooded

Slightly rounded

Downturned

Protruding

Wide-set

Question 6

What kind of lids do you have?

Thick double eyelids

Thin double eyelids

Moderate double eyelids

Hooded eyelids

Tapered eyelids

Partial eyelids

Monolid

No eyelid

Question 7

What's your nose like?

Rounded and soft

Slightly rounded and soft

Moderately soft and rounded

Slightly sharp but soft

Not too rounded, not too sharp

Slightly sharp and angular

Very sharp and angular

Bony, sharp, and very prominent

Question 8

What shape are your brows?

Very arched and soft

Slightly arched and soft

Moderately arched and soft

Slightly straight but soft

Not too arched, not too arched

Very sharp and angular

Very arched but also very angular

Straight, sharp, and prominent

Question 9

What shape are your lips?

Small and rounded

Not so small but very rounded

Slightly wide but very rounded

Slightly small but not rounded

Not too round, not too angular

Slightly small but angular

Wide and angular

Very wide, sharp, and prominent

Question 10

How would you describe the size of your eyes?

Very wide and round

Slightly wide and round

Moderately wide but not too round

Slightly narrow but also rounded

Not too wide, not too narrow

Slightly narrow

Very narrow

Hooded and narrow

Question 11

Which one best describes the height of your nose?

Very short

Slightly short

Moderately short

Slightly long

Not too short, not too long

Long

Very long

Long, bony, and prominent

Question 12

Choose the description that fits the width of your nose alar.

It's smaller than the distance between my eyes.

It's slightly smaller than the distance between my eyes.

It's moderately smaller than the distance between my eyes.

It's slightly wider than the distance between my eyes.

It's equal to the distance between my eyes.

It's visibly wider than the distance between my eyes.

It's very wider than the distance between my eyes.

It's wider, bony, and prominent.

Question 13

Which statement is true about your mouth's size?

Visibly smaller than the rim of my pupils.

Slightly smaller than the rim of my pupils.

Moderately smaller than the rim of my pupils.

Slightly wider than the rim of my pupils.

Not too wide, not too small.

Moderately wider than the rim of my pupils.

Visibly wider than the rim of my pupils.

Wide, angular, and prominent.

Question 14

What's your style like?

Cute

Chic

Sexy

Grunge

Casual

Trendy

Classic

Formal

Question 15

How old are you?

16 or younger

17-19

20-24

25-29

30-35

36-39

40-45

46 or older