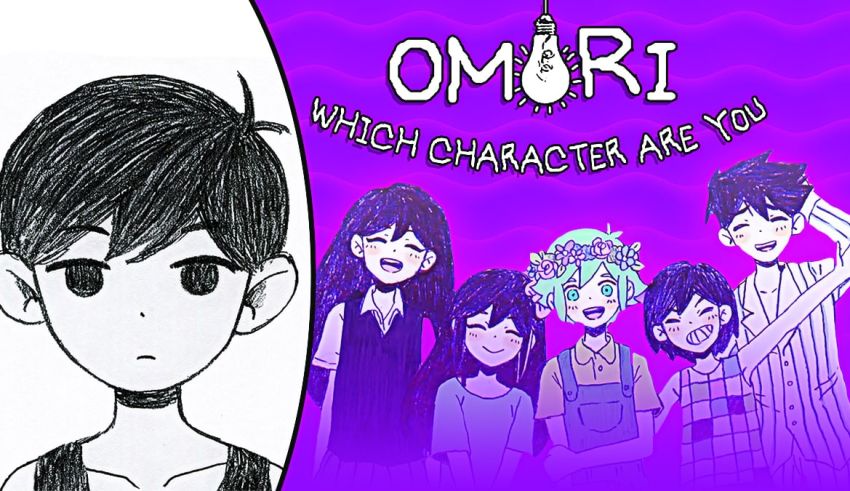 Hey, which Omori character are you? Take this Omori Quiz to see if you're Sunny, Omori, Aubrey, Kel, Hero, or Basil.
The Omori Character Quiz Explained
Comprised of 20 psyche-related questions, the Omori Character Quiz is a childhood trauma test that reveals which personality from the titular video game you resemble in real life.
Created by Omocat in 2020, Omori is an RPG that delves into the story of a young boy named Sunny, who battles depression and trauma. In his dreams, Sunny confronts the darker aspects of his psyche, but he is not alone on this journey; his friends Aubrey, Kel, Hero, and Basil accompany him.
With the Omori Test on this page, you find out which of these characters is similar to you. And you also get to see if you have an active dark core that might match you with Omori, the malevolent alter ego of Sunny.
| | |
| --- | --- |
| Omori Characters | MBTI |
| Sunny | INTP |
| Aubrey | ISFP |
| Omori | INTP |
| Kel | ESFP |
| Hero | ENFJ |
| Basil | ISFJ |
Discover Your Omori Character
The characters in Omori are relatable in that they all struggle with loneliness, fear, and mental illnesses. But their complex personas make it difficult for indie game lovers to find their perfect matches.
We suggest taking our Omori Personality Quiz to find your counterpart, but if you prefer, you can also explore the backstory and traits of the main characters for a deeper understanding.
Sunny
Giving off the vibe of Deltarune characters, Sunny is an introverted and reticent boy. In the game, he's the main protagonist who's trying to face off his traumas by confronting the dark side of his own psyche, Omori.
Omori
Omori is a complex and shadowy alter ego that resembles the villains from Undertale. He embodies Sunny's intrusive thoughts and serves as an anti-hero in the campaign.
Aubrey
As Sunny's childhood friend, Aubrey has the façade of a sturdy and stubborn independent girl. However, that's only her coping mechanism to hide her softer, insecure, and vulnerable aspects.
Kel
Although Omori's story may be lackluster, Kel stands out as a bright and optimistic young boy. He exudes cheerfulness and positivity, but his carefree nature can make it difficult to fully trust him as a friend.
Hero
Hero is a natural mediator and a sensitive empath who strives to listen to everyone's viewpoints. He aims to be a voice of reason, but his strong moral compass encourages him to seek solutions that benefit everyone rather than just one individual.
Basil
An artistic soul, Basil is a shy and reserved character in Omori. He is usually overthinking his options and finds it challenging to identify the correct course of action.
Are You on the Bright or Dark Side of the Dreams?
Everyone has their own hidden shadows, just like Sunny in Omori. Have you ever pondered which aspect of your soul is predominant? Wouldn't you like to discover whether your alter ego is light or dark?
Discover your lookalike character and receive a free persona analysis with the Omori Personality Quiz. Our goal is to provide insight into whether intrusive thoughts are overpowering your positivity or if you are still on the optimistic side.
Click the start button, open the door to the Headspace, and face your Omori. Now. 🚪🌑
Trigger Warning
The Omori video game contains traumatic events that might trigger individuals with depression and anxiety. The character quiz on this page includes references to these events and may not be suitable for individuals with severe mental illnesses. Please refrain from participating in the test if you think it may negatively impact your emotional or mental well-being.
QuizExpo does not own the images in the Omori Character Quiz and intends no copyright infringement. Omocat owns the said pictures.
How to Play?
Playing personality quizzes is straightforward: Choose the option that's true about you—or you relate to—and select "Next." Unlike trivia quizzes, personality tests have no right or wrong answers. But the questions are in forced-choice format. The point is to push you to choose an option that makes the most sense, not the one that's 100% true. For the most accurate results, don't overthink your responses. Go with options that you "feel" are the best.
Questions of the quiz
1

How do you deal with guilt?

Repress it

Confess to friends

Run away from it

Deny it exists

Apologize continuously

2

How would you describe your sadness?

Never-ending

Numbing

Despairing

Crushing

Hollow

3

What do you do when you're lonely?

Get lost in my fantasies and thoughts

Cry silently

Listen to music

Write in journal

Watch TV or movies

4

On a scale of 1 to 5, how depressed are you?

5 (severe)

4 (deep)

3 (moderate)

2 (mild)

1 (barely)

5

How would you describe your childhood traumas?

Shocking

Painful

Scarring

Traumatic

Confusing

6

What kind of friend are you?

Loyal

Supportive

Protective

Empathetic

Honest

7

What might be your biggest toxic trait?

Selfishness

Avoidance

Disloyalty

Manipulation

Jealousy

8

What's your biggest fear?

Abandonment

Death

Betrayal

Failure

Loneliness

9

What are you insecure about?

Self-worth

Appearance

Abilities

Relationships

Intelligence

10

How would you describe your nightmares?

Vivid

Terrifying

Confusing

Distressing

Repetitive

11

What do you think about the idea of the afterlife?

I'm skeptical

I hope it's true

I'm curious about it

I'm fearful about the whole thing

I believe in it

12

What's your communication style like?

Reserved

Honest

Passive-aggressive

Straightforward

Avoidant

13

How would you describe your childhood?

Traumatic

Lonely

Happy

Sheltered

Chaotic

14

How's your relationship with your parents?

Strained

Loving

Distant

Abusive (or they are absent)

Supportive

15

Choose a mental illness that you relate to.

Depression

Anxiety

Dissociation

Bipolar disorder

Schizophrenia

16

What type of anger do you have?

Explosive

Passive-aggressive

Resentful

Vengeful

Self-destructive

17

What is grief to you?

Guilt and regret

Numbness

Endless pain

Loss of control

Overwhelming sadness

18

What is your coping mechanism?

Daydreaming

Sleeping

Escapism

Substance abuse

Artistic expression

19

What emotion do you think is the closest to sadness?

Despair

Melancholy

Grief

Hopelessness

Loneliness

20

Final question: Do you think life is fair?

No, it's not fair

Sometimes it's fair

Life is what you make it

Life is unfair but beautiful

It depends on your perspective