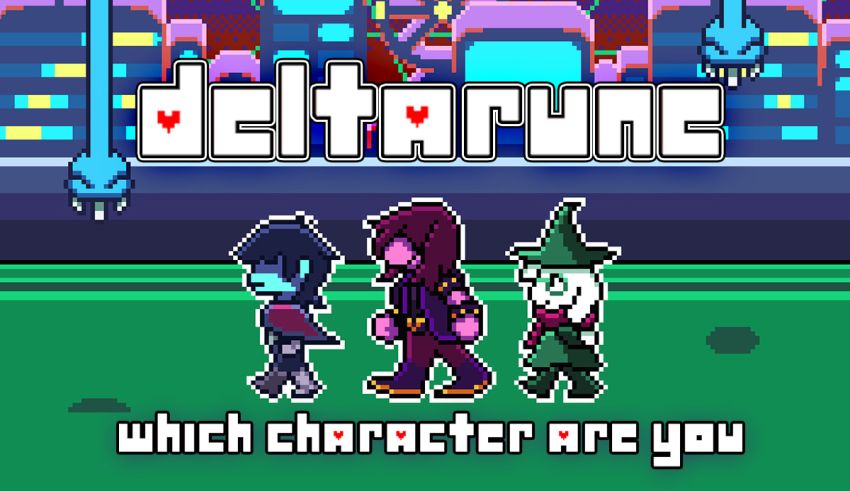 Do you want to know which Deltarune character you are? This quiz reveals whether you are Kris, Susie, Ralsei, or Noelle.
This Deltarune Quiz Finds Your Character
With its twenty lore-inspired questions, the Deltarune Character Quiz identifies which of the OG personalities of the video game you represent in real life. It basically analyzes your characteristics to reveal if you're Kris, Susie, Ralsei, Noelle, or other characters like Lancer.
Created by Toby Fox, Deltarune is a role-playing video game. It's considered a prequel to Undertale, another popular game by the same developer. Deltarune follows the story of Kris and Susie, who accidentally step into a portal that takes them into the Dark World. They then team up with other characters like Ralsei to get back to their home, Hometown.
The current personality test uses the same storyline to come up with creative questions that expose your matching character.
How to Know Which Deltarune Character You Are
The ideal way to discover your Deltarune doppelganger is by an MBTI analysis. Often, the character that shares the same—or a similar—MBTI type as you is your perfect match. If you already know your type, use the following table to see which Deltarune personality looks like you.
| | |
| --- | --- |
| Deltarune Character | MBTI Type |
| Kris | INTP |
| Ralsei | ISFJ |
| Susie | ESTP |
| Lancer | ENFP |
| Noelle | INFP |
| Berdly | ENTJ |
| The King | ESTJ |
| Asgore Dreemurr | ENFJ |
#1. Kris
As an INTP, Kris is introverted, quiet, and somewhat melancholic. He hides his emotions and tries to stay away from bonding experiences. But he actually has a soft heart and cares a lot about his loved ones.
#2. Susie
Initially, a Deltarune bad guy, Susie transforms into one of the protagonists toward the end of Chapter 1. She may seem tough and rude, but that's not her true personality. Susie is a protective friend who goes the extra mile to ensure her loved ones are doing well.
#3. Ralsei
A calm, collected, and wise prince, Ralsei is a trustworthy friend. He sees the good in everyone and strives to help them change for the better.
#4. Noelle
As an INFP, Noelle is slightly timid, but she's also cheerful and friendly. Her childhood traumas have clearly affected her personality, putting her in constant fear of threat or misfortune. But she manages to overcome her insecurities and turn into one of the protagonists of Deltarune.
Are You a Lightner or Darkner?
With our Deltarune Character Quiz, not only will you find your matching personality, but you will also see if you're a Lightner or Darkner.
People of Deltarune are divided into two groups: Lightner and Darkner. The former, Lightners, are humans living in the Hometown. The latter, Darkners, are creatures of the Dark World that are also keepers of the Dark Fountains.
Suggested Quiz: Which FNAF Character Are You?
Bonus: Deltarune Chapter 1 & 2 Characters Included
The good news is that the Deltarune Quiz has some of the iconic characters of both Chapters 1 and 2. The Queen, for example, is one of the possible results that many are surprised to get.
Take This Test to Find Your Deltarune Doppelganger
Okay, are you a human-like Kris, a monster like Susie, or a prince like Ralsei? Take this Deltarune Personality Quiz to find your perfect match in minutes.
Disclaimer
QuizExpo does not own any of the images in the Deltarune Character Quiz. Toby Fox owns the said pictures.
How to Play?
Playing personality quizzes is straightforward: Choose the option that's true about you—or you relate to—and select "Next." Unlike trivia quizzes, personality tests have no right or wrong answers. But the questions are in forced-choice format. The point is to push you to choose an option that makes the most sense, not the one that's 100% true. For the most accurate results, don't overthink your responses. Go with options that you "feel" are the best.
Questions of the quiz
1

Describe the Darkners in one word.

Lovely

Lost

Loath

Loser

Lonely

2

How do you feel when you're lonely?

3

Would you like to live in the Dark World? Why?

No, it's a scary place

No, it's a messy place

Maybe. I'm not sure

Yes, it's a fun place

Yes, I like its vibes

4

What do you like about Deltarune's Hometown?

It's colorful and beautiful

It's full of nice people

It feels like home

I hate that place

I wouldn't say I like that place

5

Which one better describes Deltarune's lore?

Inspiring

Thought-provoking

Interesting

Predictable

Tragic

6

What makes a person a true villain?

Mean intentions

Antagonistic actions

Having no friends

Tragic backstory

Depression mixed with anger

7

What makes Deltarune a special game?

Characters

Plot

Action (gameplay)

Dialogues

Vibes

8

Pick a dialogue with no context.

I love you

I believe in you

I won't let anyone hurt you

I'm sick of this shi*

I hope it's just a nightmare

9

How would you treat the Queen if she surrendered?

I'd give her a second chance

I'd exile her to a remote island

I'd beat her up

I'd humiliate her

I'd let her go

10

What would it be if you could change one thing about Deltarune?

I'd add more romance

I'd add more plot twists

I'd add more action (gameplay mechanics)

I'd make it a darker game

I'd add a few more tragic endings

11

Is Undertale better than Deltarune? Why?

I like them both

I like Deltarune because it's more mature

I like Deltarune because of its gameplay

I think I don't like any of them

I prefer the original game, Undertale

12

How do you feel when a loved one ignores you?

I feel unlovable

I feel okay

I feel vengeful

I feel angry

I feel numb (I'm used to that)

13

How do you express your anger?

I often cry when I'm mad

I try to talk about it

I yell or throw stuff

I say mean things that hurt others' feelings

I just hide it

14

What kind of supernatural power would you like to have?

Healing

Mind-reading

Flying

Shapeshifting

Invisibility

15

Which one do you like better? Deltarune Chapter 1 or 2?

Chapter 2 (because it gives off positive vibes)

Chapter 2 (because it dived deeper into the lore)

Chapter 1 (because it was more action-orientated)

Chapter 1 (because it was funnier)

Chapter 1 (because it was darker)

16

How would your best friend(s) describe you?

Cute

Reliable

Moody

Funny

Quiet

17

Which one's true about your parents?

They loved each other

They respected each other

They argued all the time

They hated each other

They were absent

18

What's love?

Commitment

Decision

Lust

Silliness

Lies

19

How do you spend your free time?

I do productive things

I read or watch movies

I hang out with my bestie(s)

I play video games

I sleep or do nothing

20

Final question: What's your biggest fear?

Dying alone

Letting loved ones down

Breaking a loved one's heart

I'm not afraid of anything

Failure