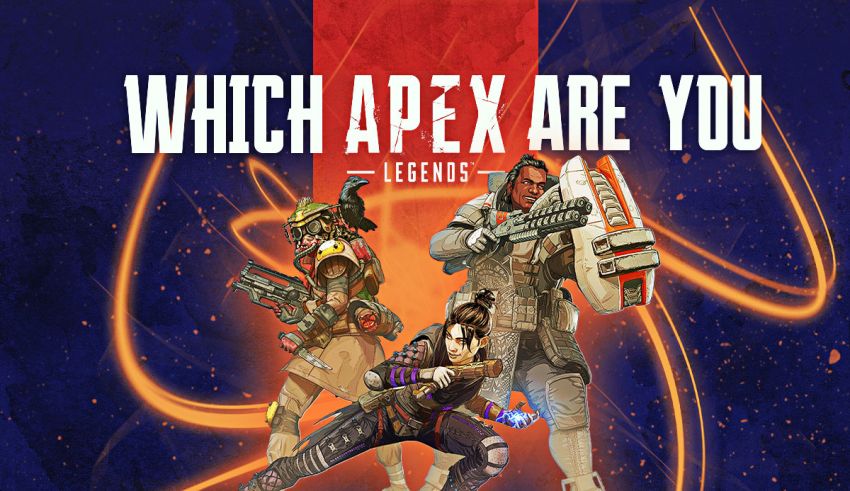 Do you want to be a Legend? Which Apex Legend are you? This personality and playstyle quiz reveals whether you are Octane, Bloodhound, Valkyrie, Path, etc.
What is the Apex Legends Quiz?
The Apex Legends test is a set of 20 gameplay and characteristic questions to discover your matching character in the game.
Like Overwatch Character Quiz, the questionnaire uses both your in-game and real-life persona to find a perfect match. But it's different in that it compares your MBTI type to that of the Legends.
What Makes It Unique?
It's the first personality test that does more than finding a similar character. You get to find out more about the Legend that you represent in real life and other fun pieces of information.
Find your matching legend based on your personality.
Our database already includes detailed profiles of Apex Legends characters. So, the test's priority is to create your accurate personality type, matching it to that of the game's champions.
Unlike most other online alternatives, this is not an interest-match quiz. So, we don't care about your favorite color or food when looking for your counterpart. Instead, we analyze your behaviors, decision-making systems, and core traits to expose which Apex Legend you are.
Compare your playstyle with your matching champion.
The test compares the way you play the game with the intended playstyle of your matching hero to reveal the differences.
You might be surprised that your in-game strategies might not match your Apex Legend. But it's a pretty common phenomenon among our participants.
Learn about your ability and class.
Each Legend has a unique set of Passive, Tactical, and Ultimate abilities. Plus, they are categorized into four specific classes: Offensive, Defensive, Support, and Recon.
The good thing about the quiz is that it identifies which abilities or class you'd have if you were an actual fighter in Apex Games.
Read more about your character's backstory.
The game is a unique battle royale in that it introduces 17 characters with relatable backstories. And it is careful with what new entries to add—unlike a game like Fortnite, which constantly throws new dull characters at players.
We wanted our quiz to pass the same vibe and respect the characters' backgrounds. So, your results now include a brief (but fun) reminder of your matching Legend's previous life.
The First MBTI-Based Apex Legends Quiz
No other online test has used an accurate metric to find your Apex Legends character. But we created the world's first MBTI-oriented questionnaire to deliver the most reliable results possible.
After analyzing all the seventeen Legends' MBTI types, we're ready to reveal which one is genuinely similar to you. And the results are going to be shockingly precise.
#1. Bloodhound: ISFJ
As a Technological Tracker, Bloodhound is reliable and trustworthy. Although not much is known about their personality, they can be described as hardworking, dependable, and humble.
#2. Octane: ESTP
Octavio Silva is a 24-year-old Legend who has an extroverted, energetic, and action-oriented personality. He is a High-Speed Daredevil who's often bored unless something adrenalin-boosting happens.
#3. Pathfinder: ESFJ
MRVN is an optimistic, hopeful, friendly, and caring Apex Legend character. His personality can be described as outgoing, loyal, organized, and slightly tender-hearted. Pathfinder loves hanging out with other Legends because, as an ESFJ, it gains energy from social interactions.
#4. Wraith: INFP
Renee Blasey is a 32-year-old Apex Game fighter from Typhon. As a mediator, her personality is introverted, creative, and idealist. She's the type of person that wants to make the world a better place. However, Wraith is a confused character since she has lost most of her memories.
| | |
| --- | --- |
| Apex Legend | MBTI Type |
| Valkyrie | ESTP |
| Bangalore | ISTJ |
| Bloodhound | ISFJ |
| Pathfinder | ESFJ |
| Wraith | INFP |
| Octane | ESTP |
Other Legends.
The game has so many different characters with colorful personalities. And it's a bit challenging to find your perfect match on your own. So, we recommend participating in the quiz to find your counterpart fast and easy.
3 Things That Affect Your Apex Legends Quiz Results
Other versions of this quiz often rely on your interests and dislikes to offer a matching character. But that's not what we do here. In fact, the questionnaire considers three aspects of your personality (as a gamer) to come up with reliable results.
Here's what it analyzes to reveal which Apex Legend you are.
Your in-game strategies.
Apex Legends game relies on tactics and plans as a battle royale-hero shooter game. So, we want to know what kind of strategies you employ to win each round. That's how we can accurately match you to one of the seventeen fighters of Apex Games.
Your preferred items/weaponry.
With its 20+ guns and various defensive/offensive items, Apex Legends could be complicated for new players. But regardless, we want to know what type of weapons or gadgets you often use in the game. It helps us better understand your playstyle and suggest more accurate matches.
Your real-life characteristics.
It's not all about how you play the battle royale game. We'd like to know what kind of person you are as well. As mentioned, the Apex Legends Quiz is MBTI-based. So, it's crucial to review your real-life personality before suggesting any similar champions.
Should You Choose Your Apex Legends Main Hero Based on the Test Result?
No, you should not pick your Legend based on a personality quiz. Our data shows that there is often a gap between a player's real-life character and an in-game hero. That's because humans tend to behave differently in fictional or unreal environments. So, a lovely person might match a brutal video game personality—and vice versa.
Choosing your main hero according to your playstyle and strategies is always best rather than relying on external factors such as MBTI similarity.
The Ring Is Shrinking. Which Apex Legend Are You?
You're only 20 questions away from meeting your hero counterpart in the Titanfall universe. All you have to do is tap the start button and let us analyze your personality.
Disclaimer
QuizExpo does not own any of the Apex Legend Quiz images. Respawn Entertainment and Electronic Arts own the said pictures, and no copyright infringement is intended.
How to Play?
Playing personality quizzes is straightforward: Choose the option that's true about you—or you relate to—and select "Next." Unlike trivia quizzes, personality tests have no right or wrong answers. But the questions are in forced-choice format. The point is to push you to choose an option that makes the most sense, not the one that's 100% true. For the most accurate results, don't overthink your responses. Go with options that you "feel" are the best.
Questions of the quiz
1

What makes an Apex Legends character great?

Personality

Class

Voice

Looks/outfit

Backstory

Finishers or Executions

2

What kind of career would you like to have if you didn't have to participate in Apex Games in the Titanfall universe?

I'd like to become a performer.

I'd still rather be a soldier.

I'd like to be a farmer and live a peaceful life.

I think I would become an athlete.

I'd rather be a writer or maybe a teacher.

I'd become an outlaw and live an adventurous life.

3

Which of the following weapons is better for close- to mid-range fights?

CAR SMG

G7 Scout

R-301 Carbine

L-Star

Triple Take

Peacekeeper

4

Of the following options, which item is a must and can always be found in your backpack?

Syringe

Knockdown Shield

Heat Shield

Frag Grenade

Helmet

Extended Mag

5

You are the only one left on your team. What is your priority now?

I hide in a nice spot to get into the last 5 teams.

I keep fighting because we can still win the game.

I focus on stealth kills and remain low-key.

I Do crazy stuff because I'll probably die, too.

I'm not sure; it depends.

I get as many kills as possible and die honorably.

6

What do you think about players who always look for Heaven (the higher ground)?

I relate to them.

They don't know how to fight.

They are easy kills for me.

I pity them because they're noobs.

I am one of them.

I hate those players.

7

What would it be if you could change one thing about Apex Legends?

I'd add more fun characters.

I'd add more tactical elements to the gameplay.

I'd make it easier to get stealth kills.

I'd increase the number of teams on the map.

I'd add more cutscenes and elaborate on backstories.

I'd add more brutal executions to the game.

8

What kind of backstory would you give to your Apex Legend character if you could customize it?

Funny

Deep

Mysterious

Action

Dramatic

Scary

9

Which one sounds like a good combination for your Apex Legends team?

Recon, Offensive, Defensive.

Defensive, Support, Offensive.

Support, Recon, Offensive.

Offensive, Offensive, Defensive.

Recon, Recon, Offensive.

Offensive, Offensive, Offensive.

10

How do you feel after killing an enemy that someone else has knocked down?

I feel bad about it.

I feel fine because it's war.

I feel guilty.

I feel lucky.

I feel indifferent.

I feel joyful.

11

How do you start the game after landing on the map? What's your priority?

Finding a reliable weapon.

Finding armor.

Helping my teammates gear up.

Killing enemies that land after me.

Getting away from landing squads.

Looking for AFK players to kill.

12

You are teamed up with two other newbie players. Are you optimistic about the match?

Yes, we can still win this.

I'm enough. I don't need their help.

We can win the game if they follow my orders.

I just quit the match and don't waste my time.

I'm a newbie myself. So, there are three of us.

I leave them behind and play solo.

13

A pro Apex Legends player is on your team. But they want you to follow their orders to win the match. How'd you react to that?

Yes, sure. I'd listen to them.

I'd probably listen to them.

IDK. I don't like being told what to do.

Following orders is too boring for me.

It depends on my mood.

No, I'd never follow another player's orders.

14

Which one makes Apex Legends a unique battle royale-hero shooter game?

The characters.

The weapons.

The abilities.

The chaotic gameplays.

The balanced classes.

None of the above.

15

What would it be if you had to describe your personality with one of these words?

Loyal

Orderly

Levelheaded

Unpredictable

Artistic

Independent

16

Of the following options, which one is your favorite Apex Legends streamer?

NICKMERCS

iiTzTimmy

TSM_ImperialHal

Aceu

Playapex

None of them

17

What do you think about teamwork and solo fight? Which one is your favorite?

I love teamwork and team fights.

Meh, I'm okay with both.

I prefer solo, but I'm good at teamwork as well.

It depends on my mood.

Apex is a team fight game. I'm against solo tactics.

I hate team fights and always play solo.

18

Pick a nickname for your Apex Legend self.

Bombshell

Gunner Guy/Girl

The Crusader

The Ultimate Legend

The Lone Wolf

K.O. Artist

19

What do you think about the game's microtransactions?

I use them quite often

I don't use them; I don't despise them either.

I don't know much about them.

I neither like nor use them.

I did buy some items, but it wasn't fun.

I hate microtransactions and players who use them.

20

How many hours do you spend playing the game per week?

2 hours or less

3-4 hours

5-6 hours

7-8 hours

9-10 hours

11 hours or maybe even more.