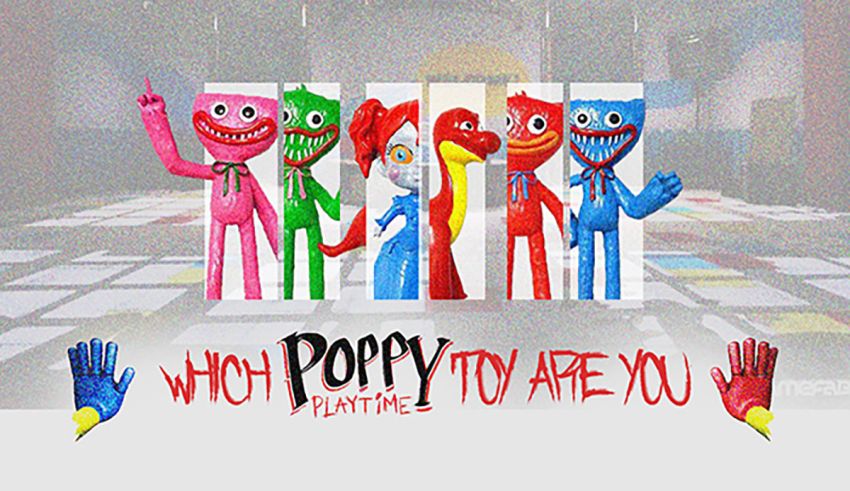 Hey, which Poppy Playtime toy are you? This horror quiz reveals whether you are Huggy Wuggy, Kissy Missy, Mommy Long Leges, etc. Find your dark side!
A Scary Quiz: Which Poppy Playtime Toy Are You?
Here's a set of twenty eerie questions inspired by the indie horror game by MOB Games to find your exact character match in Poppy Playtime.
Similar to the FNAF Character Test, the goal is to find out which strange toy matches your personality. We analyze your traits, thoughts, and experiences to return precise results.
Discover your dark side.
The big question here is, "Which Poppy Playtime toy are you?" The game introduces several different puppet-like creatures that are scary. You can analyze your dark core to see which one shares the same persona as you by taking the test.
Get a personality analysis.
One of the perks of the Poppy Playtime Quiz is that it breaks down your character. So, by the end, you also know why a particular toy is similar to you and what it means.
See what mental illnesses you might have.
Yes, the test is designed for gamers and fans who ask things like, "Which Poppy Playtime toy am I?" But that's not all it does. Your responses also enable us to diagnose you with a mental disorder—of course, in a fun and silly way.
How to Know Which Poppy Playtime Toy You Are
Your best bet is to take a genuine online test. However, here's another alternative if you're not into personality quizzes. Choose your match after reading the description of the toys. You can use the game's official fandom or the following examples to see who you represent in real life. (But be mindful that it's never going to be as accurate as an actual test).
| | |
| --- | --- |
| Character | Trait |
| Boogie Bot | Playful |
| Huggy Wuggy | Quiet |
| Kissy Missy | Rule-oriented |
| Bron | Hardworking |
| Mommy Long Legs | Mysterious |
#1. Huggy Wuggy
Despite being the game's main antagonist, Huggy is actually warm and welcoming. He's a quiet and introverted toy in general. But something has happened to him, turning him into a scary murderer with an unsettling smile on his face. If you ask the fans, "Which Poppy Playtime character are you?" not many would pick Huggy Wuggy. But he has a cult-like fanbase that somehow adores him and calls him a blue sour patch kid.
The Dark Side: He can murder any living creature with no mercy.
#2. Kissy Missy
She's the most rule-oriented and obedient toy in the Poppy Playtime universe. Kissy Missy is also frank and doesn't hesitate to tell others about their mistakes. The scary events of the factory aside, she seems to be a genuinely nice girl trapped in a terrifying toy-like body.
People who take the Poppy Playtime character quiz and match Kissy Missy have several unique attributes: Responsible, protective, and honest.
The Dark Side: She can be extremely strict and pushy to the point that she would threaten you.
#3. Poppy Playtime
If you ask the fans, "Which Poppy Playtime toy are you?" those who are attentive to their appearance would most likely pick this one. She's a small, pretty doll who claims to be a real girl. However, she has a strange backstory that explains why she thinks that way.
The Dark Side: She believes that she's carrying an actual human's soul and, therefore, can live forever.
#4. Mommy Long Legs
Don't let her name fool you because she's one of the scariest toys in the game. Not many would like to see her in their test results as she looks, sounds, and behaves pretty strangely. But Mommy Long Legs is one of the possible results of the quiz. And mysterious people often find themselves matching her.
The Dark Side: Little is known about her. But it's believed that she can control and manipulate some other Poppy Playtime toys and use them against the player.
Other characters.
The game has more than a bunch of strange toys. So, it might take some time to find your actual match among all. That's why taking the quiz is still a more reliable option. We have created a database of all the main characters in the game, so discovering your identical toy is easy and accurate.
Why Do Players Want to Know Which Toy They Are?
It is unclear what exactly happened to the toys in the Playtime Co. But the characters are so eerie and weird that they make it fun to know your match. It's like seeing your dark side in the mirror. And it's actually a pretty common thing among the diehard fans to ask things such as, "Which Poppy Playtime toy are you?"
Disclaimer: Read Before Taking the Test
The Poppy Playtime character quiz is designed to be entertaining—with a rather scary theme. So, it's not advised for participants who are 16 or younger. Plus, note that QuizExpo does not own any of the images used in the test. MOG Games own all the said pictures, and no copyright infringement is intended.
Note: The results include a mental illness list based on your responses. Be mindful that it's only an entertainment means and should not be assumed as a diagnosis.
How to Play?
Playing personality quizzes is straightforward: Choose the option that's true about you—or you relate to—and select "Next." Unlike trivia quizzes, personality tests have no right or wrong answers. But the questions are in forced-choice format. The point is to push you to choose an option that makes the most sense, not the one that's 100% true. For the most accurate results, don't overthink your responses. Go with options that you "feel" are the best.
Questions of the quiz
1

Which one describes your favorite type of toy?

Cute and tiny

Durable and cool

Complicated and unique

Quiet and strange

Beautiful and rare

I don't like toys

2

What is the eeriest thing about the characters in the Poppy Playtime game?

Their silence

Their movement

Their noises

Their smile

Their intentions

Nothing about them is eerie

3

How would you scape the scary toys if you were trapped in the factory?

I'd hide in a room

I'd run for my life

I'd follow the instructions to escape

I'd fight back

I'd ask for help

I would befriend them

4

Imagine a scary noise is coming from under your bed. What do you do?

I just freeze and pray

I jump out of bed and run

I stay calm and try to find a rational explanation

I bend over and check what's going on

I scream and ask for someone's help

I ignore the noises and sleep

5

What's scarier than a murderous doll that is chasing you in the dark?

Two murderous dolls

Being lost in a dark jungle

Not knowing why you're being chased

Not having any weapons to protect yourself

Being trapped in a dark room

I'm not scared of anything

6

What would you do to the Playtime factory's toys if you owned them?

I'd maintain them

I'd lock them in a room

I'd send them back to the manufacturer

I'd play with them

I'd use them to scare others

7

What's the best strategy to survive when an anthropomorphic killer toy is after you?

Freeze and don't move

Run as fast as you can

Find a way to turn it off

Push it as hard as you can

Hide in a room and make no noise

Try to be nice to it

8

What's something about being a doll that you cannot get your head around?

You don't have feelings

You cannot grow older

You cannot fall in love

You have no control over your life

You cannot decide what to wear

I love the idea of being a doll

9

Which one sounds like a rational theory about how the Poppy Playtime toys turned into monsters?

Their creator was a cruel person

Demons possess them

Someone in the factory made a mistake

People mistreated the toys, and they became monsters

Dead people's ghosts are controlling the toys

They are not monsters. I love them.

10

How would you react if you heard about strange experiments conducted on dolls?

I'd tell everyone

I'd try to stop it

I'd call the authorities

I would attack the factory

I'd want to know more about the experiments

I'd support the experiment

11

You enter a dark house. What's the first thing you do?

Look for the light switch

Say 'Hey' to see if anyone's there

Check every corner of the room

Keep the lights off and enjoy the darkness

I'd started singing my favorite song

I'd start to talk to myself

12

You're trapped in the factory. Which of the following objects do you pick to protect yourself?

Flashlight

A handmade shield

A walky-talky

A knife

A teddy bear

A book of spells

13

What if Huggy Wuggy was chasing you? What would you do?

I'd hide under a bed or something

I would stay calm and talk to him

I would try to shout him down

I'd run towards him and push him hard

I'd scream and pray for my life

I'd smile back and wait for him to catch me

14

If you were a Playtime Co. employee, would you rather expose their experiments or mind your own business?

I would expose them at the right time

I'd only let other employees know

I would call the authorities right away

I would mind my own business

I'd ask them to experiment things on me

I'd participate in the experiments

15

Of the following options, which one is the scariest?

A shadowy figure in the woods

A giant tiger staring at you

Knowing that an assassin is chasing you

Seeing a stranger outside your house at the midnight

Hearing a lullaby when you know no one's home

None of them sound scary to me

16

Your best friend is going to be trapped in a room with one of these toys. Which one would you wish it to be?

Bron

Boogie Bot

Huggy Wuggy

Kissy Missy

Mommy Long Legs

Poppy Playtime

17

What is your priority when working for a company?

Honesty

Hard work

The rules

The friendships with other workers

The pay

None of them

18

Someone is yelling, "HELP!" What's your reaction?

I call the cops

I follow the voice cautiously

I wait to make sure it's not a prank

I run towards the voice with no hesitations

I mind my own business

"I'm too busy."

19

Pick an object that you relate to. (Don't overthink the answer).

Book

Wrench

Scale

Lighter

Comb

Knife

20

Final question; how old are you?

16 or younger

17-18

19-22

23-25

26 or older

I'd rather not say