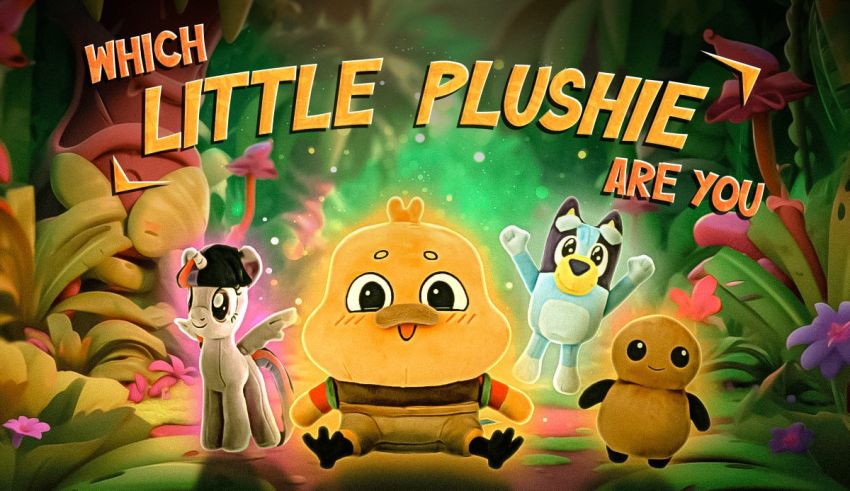 Dive into pure nostalgia with this Little Plushie Quiz and meet the squishy toy that matches your personality.
Who Is Your Little Plushie Twin?
Have you ever wanted to be squished like a plushie toy? (I certainly have.) But what about figuring out your actual inner plushie toy? Did you even know you have one?
With this brand-new (yet nostalgic) quiz, I help you uncover the squishy character hiding away in you. Yes, I let you know which little huggable lovely doll matches your personality.
I can hear some of you asking what makes me qualified for that. Well, I am obsessed with plushies. I have one next to my bed, one on my desk, two in the bathroom, and a dozen in a locked closet. That's not all, though. I know the exact bios and personality details of all—including those that I have come up with. So, yeah. I'm an unofficial toy expert myself.
Discover Your Doppelganger in Popular Plushie Brands
My all-time favorite toys are Squishmallows, those soft, pink-anger-inducing creatures. However, I've also grown into obsessing over other brands like Jellycat and Barnie Babies. That is to say, my plushie roster for this quiz includes an extensive list of toys from world-known manufacturers. See below to find out more.
Jellycat
Known for plushies like Bashful Bunnies, Jellycat is one of the oldest companies in the plushie toys sector. I particularly love how innocent and cute their products look. But the company has a pervasive line of adorable dolls you can't get enough of.
Squishmallow
Here at QuizExpo, we all adore Squishmallows. So much so that we have a dedicated quiz for the brand. Yep, you can find out which Squishmallow you are right now by answering some relatable questions.
Pokemon Plushies
Who doesn't want to squish a soft Pokemon in their arms? I don't believe anyone would say no to that. Pokemon Plushies are a must for this quiz, and I've tried to include the loveliest ones.
Beanie Babies
Known for their iconic plushie, Princess the Bear, Beanie Babies is a nostalgic toymaker. Matching one of their characters in this test would only mean that you're a sophisticated cutie—if you know what I mean.
What Reveals the Plushie in You
While creating this quiz, I sought lighthearted criteria that could expose your inner plushie. And after a thorough "technical" analysis, I came up with the following three factors: softness, appearance, and love language.
Softness (Obviously)
Being a soft-hearted or stone-hearted person is a good indicator of your plushie type. It's like asking yourself, "Am I as fluffy as Pikachu in my heart? Or am I more like a grumpy cat plushie?" If you don't know the answer, just take the quiz. I'll tell you!
Love Language
How you show affection can expose the cute little toy character in you. Are you as passive as Pusheen or as protective as a Teddy Bear? That's what reveals your true doll-ish persona.
Appearance
I'll try to decipher your aesthetic and style. This is to ensure your plushie shares some physical features with you as well.
Take This Plushie Quiz to Meet Your Toy-ish Self
Ready to see which plush toy looks like you? Take my oxytocin-boosting quiz and find your squishable softie counterpart in minutes. (I promise it's going to be fun.) 🧸💖
How to Play?
Playing personality quizzes is straightforward: Choose the option that's true about you—or you relate to—and select "Next." Unlike trivia quizzes, personality tests have no right or wrong answers. But the questions are in forced-choice format. The point is to push you to choose an option that makes the most sense, not the one that's 100% true. For the most accurate results, don't overthink your responses. Go with options that you "feel" are the best.
Questions of the quiz
1

What is your dream morning routine?

An energetic routine with lots of activities

Something peaceful and healthy

I just want people to leave me alone for an hour

I want nothing but a regular normie routine

Sleep! That's what I want to be my morning routine

2

What type of videos do you watch on TikTok or YT?

Funny

Educational

Romantic or thirst trap

Random stuff

Sad and triggering stuff

3

How many toys do you own?

4

What type of dolls are your favorite?

Trendy

Nostalgic

Cute

Meh, I don't have a specific taste

Dumb-looking (funny)

5

How would you describe your childhood memories?

Happy

Peaceful

Challenging but fine

Complicated

I don't want to talk about it

6

What's your love language like?

Lots of hugs and kisses!

Poetic and romantic expressions

Lots of implications and indirect messages

"I love you," as straightforward as possible

I don't have one

7

What's your current go-to style?

Trendy

Classic

DIY

Casual

Chic

8

What shape is your face?

Round

Oval

Heart

Triangle

Rectangle

9

What do you do when you're sad?

I hang out with good friends

I read, write, or do something relaxing

I cry a lot in my room

I take a day off and chillax

I do crazy stuff depending on how sad I am

10

Favorite cuddle type?

Slow and long

Slow but intense

Hard and intense

Romantic and unpredictable

I'm not into cuddling, tbh

11

Choose one of these random cute-sounding words.

Chikpop

Polylop

Mimino

Squishzo

All of them sound stupid

12

Pick a color for your plushie.

Yellow

Purple

White

Blue

Black

13

How old are you?

16 or younger

17-19

20-23

24-29

30 or older

14

What's your prominent mood?

Excited

Calm

Nervous

Thoughtful

Angry

15

Which one sounds like fun?

Working out

Reading

Eating

Drinking

Sleeping

16

What would its fundamental feature be if you created a plushie?

Superpowers

Intelligence

Backstory

Personality

Mental health issues

17

What backstory would you give your toy?

Optimistic

Complicated

Tragic

Predictable

Scary

18

What do you have in common with a plushie?

We both make you laugh

We both give you good memories

We both need a hug

We both calm you down

We're both useless

19

You won $100. What are you buying?

Games

Food

Clothes

Drinks

Nothing. I'm paying the bills

20

Final question: What makes you happy?

Being alive and living a healthy life

Friends and family

My lover

My pet

Nothing makes me happy anymore