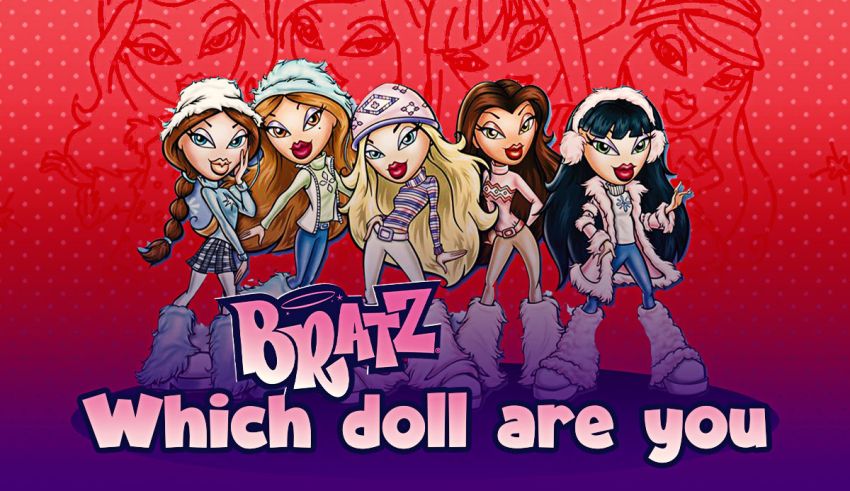 Don't you wonder which Bratz doll you are? This quiz matches your behavior and style to Cloe, Sasha, Jade, Yasmin, and other dolls to discover your soulmate.
Find Out Which Bratz Doll Lives in You
The quiz is a series of fashion, lifestyle, and personality questions to figure out which Bratz Girlz or Boyz you represent in real life.
Similar to the Monster High Quiz, we have created a database of all the dolls' MBTI types. So, the results are guaranteed to be accurate.
Are you one of the original four girls?
The Bratz franchise started with four original dolls: Jade, Sasha, Cloe, and Yasmin. But over the last 20 years, more names have been added to the gang. So, the question is, "Are you one of the OGs?" There's no way to find out the answer unless you take our personality quiz.
See if you have a passion for fashion.
Not even the Ever After High characters are as sassy and fashion-lover as the Bratz. So, we added a specific section to the test to inspect your aesthetic style along with your personality.
The results reveal if you are a fashionista, just a fashion enthusiast, or a total normie.
Meet your best friend.
Remember when the #BFFL collection took over the world? Well, the Bratz Girlz have always prioritized their friendship over everything else. So, you should expect the same vibe in the quiz.
You'll find out which Bratz character could be your best friend if you lived as an MGA doll.
Adopt a pet.
Would you own one of the Catz, or are you more of a Ponyz person? The Bratz doll quiz analyzes your responses to reveal what kind of pet you'd have as one of the characters.
Speaking of adopting pets, you should definitely check out our Roblox Adopt Me! Quiz if you're a gamer as well as a doll-lover by any chance.
How to Know Which Bratz Doll You Are
We know that most dolls in the franchise don't have a specified background. So, one way to find your Bratz match is by looking for similar MBTI personalities among the characters. Use the following table or look up the Girlz and Boyz personality types to see which is similar to you.
| | |
| --- | --- |
| Bratz Doll | MBTI Type |
| Jade | ISFP |
| Cloe | ESFJ |
| Sasha | ENTJ |
| Yasmin | INFJ |
| Cameron | ISTP |
| Meygan | ESFP |
| Dylan | ESFP |
There's an alternative way to discover your matching doll: Reading character descriptions. Many might not know, but Bratz dolls have specified personalities. Cloe is playful, Sasha is sassy, Jade is quirky, and Yasmin is artistic.
So, you might find your soulmate or counterpart by getting to know the characters better. And the following descriptions can help with that.
#1. Cloe
A popular Bratz doll, Cloe is playful and energetic. However, her personality can also be described as dramatic at times. She loves sports and is quite athletic. But Cloe is famous for being a walking camerawoman as she's constantly snapping pictures of her friends or taking selfies.
Most fans would pick Cloe when asked, "Which Bratz doll are you?" She's smart, talented, and stylish, making her one of the beloved characters in the whole franchise.
#2. Sasha
AKA the sassiest girl with a passion for fashion, Sasha is a confident girl. She might have a bad temper, but she's always there for her friends like a motherly figure. Her protective nature empowers her to stand for her loved ones and guarantee their safety at all costs.
#3. Jade
She could be the face of the Bratz dolls franchise. Jade is the ultimate fashionista who doesn't follow the trends because she's actually a trendsetter. Fans love her stylish dresses as well as her bold fashion decisions.
Jade's adventurous personality intensifies doll enthusiasts' love for her. And she's still one of the highest-selling characters among all—even after 20+ years.
You don't have to ask fashionistas, "Which Bratz doll are you?" because the answer is obvious: They are Jade.
#4. Yasmin
The humblest member of the group is a quiet writer who enjoys the company of animals and is pretty open-minded. Yasmin has a calm and relatable personality. But she's also open to new experiences, showing her openness to new ideas through her fashion choices.
Most artsy doll-lovers would love to match Yasmin in the Bratz character quiz. But she's one of the rarest results of the test.
Other characters.
Your match might be a Bratzillaz or Itsy-Bitsy character. That's why the quiz includes all the other Boyz and Girlz. Of course, it's challenging to have all the characters in one test because there are 140 of them out there. But almost every well-known doll is covered in the quiz.
Beware: You Might Match the Antagonists
As unexpected as it sounds, the quiz has a list of antagonists such as Burdine Maxwell and even The Big Bad Wolf. What you get depends on your responses. So, be careful how you play the game.
Disclaimer
QuizExpo does not own any of the Bratz Dolls Quiz images. MGA owns all the said pictures, and no copyright infringement is intended.
How to Play?
Playing personality quizzes is straightforward: Choose the option that's true about you—or you relate to—and select "Next." Unlike trivia quizzes, personality tests have no right or wrong answers. But the questions are in forced-choice format. The point is to push you to choose an option that makes the most sense, not the one that's 100% true. For the most accurate results, don't overthink your responses. Go with options that you "feel" are the best.
Questions of the quiz
1

What feature of Bratz dolls do you love the most? (You have to pick only one).

I love their personality

I like their friendships

I adore their confidence

I love their outfits

I think their accessories are cool

I like their hair

I don't like anything about them

2

How'd you spend your weekends had you been one of the Boyz or Girlz in the Bratz universe?

I'd read a novel or keep a journal

I'd go for a walk or hike

I'd throw a party

I'd go shopping

I'd hit the gym

I'd stay up all night watching movies or playing games

I'd stay in my bed and do absolutely nothing

3

Your best friend's birthday is in two weeks. What's on your mind?

I'm overthinking what gift to get them

I'm already excited about the party

I feel anxious about the party. I want it to be perfect.

I'm stressing out over my dress. What should I wear to the party?

I can't wait to do crazy stuff at my bestie's b-day party.

I want to party like animals and forget what happened the next day.

Meh. I don't like parties and birthdays anyway.

4

Which one sounds like a perfect gift for you?

Books or notebooks

Wearable gadgets

A luxurious piece of art

Dresses or shoes

A practical tool like an electric razor.

Something mysterious and unpredictable.

Money.

5

What would it be if you had to describe your dream style in one word?

Creative

Relatable

Classy

Trendy

Cool

Bold

Meh. I don't have a dream style.

6

How many Bratz dolls do you own (or used to own)?

7

Which of these Bratz video games is your favorite?

Bratz Ponyz

Bratz 4 Real

Bratz Babyz

Bratz Girlz Really Rock

Bratz Rock Angelz

The Movie

I don't know any of these games

8

Have you ever watched the 2007 Bratz movie? What do you think of it?

It was well-written

It was funny

It was relatable

It was inspiring

It was cool

It was kind of boring

It was the worst movie ever

9

Your best friend needs some fashion advice. How do you help them?

I recommend some blogs or YouTube channels

I'd say something like, "You already look good."

I'd ask them to consult a professional stylist

I'd be the stylist they need and offer professional advice

I'd be like, "I know nothing about fashion, dude."

I'd say wear all black. That's the secret to fashion.

I'd criticize their current style and ask them to fix it.

10

What kind of outfit excites you the most?

I'm in love with unique and rare outfits

Lively and cute outfits are my favorite

Classy and formal outfits are my thing.

I like trendy outfits.

I prefer casual outfits.

Gothic and emo outfits are my favorite.

No outfit would excite me.

11

Choose a color pallet that you think would look great on you.

White, black, grey.

Pastel yellow and white

Black, gold, silver

Red and black

Blue, white, and black

All black

All red or all pink

12

What kind of Bratz doll is your favorite?

I like Petz dolls

I prefer Boyz

I like Babyz

I like Grilz

I don't know

I'd say Bratzillaz is my favorite

None of them

13

What do you think should be the main focus of the Bratz franchise?

Teaching kindness to kids

Encouraging kids to be more active

Preparing kids for their adulthood challenges

Creating more cute characters

Creating fun tools for kids to play with

Producing more movies, animations, and live-actions

None of the above. They should give up on the franchise.

14

Fill in the blank. Had I been a Bratz doll, I'd ___________ every day.

Read

Dance

Do my makeup

Shop

Work out

Party

Skip school

15

What's your favorite Bratz Fashion Pack?

Study Hall Style

Pajama Power

Model Behavior

Secret Crush

Flash 'N' Dash

Party Perfection

I don't know any of these packs

16

What would you do to cheer a friend who's feeling down?

I listen to their problems

I take them out to dinner

I hug them and tell them that it's going to be okay

I buy them a nice gift

I mess with them and try to make them laugh

I let them cry it out

I do nothing and mind my own business

17

Someone accidentally broke your Bratz doll's leg. How furious are you? (10 means uncontrollably furious).

18

What part of the Bratz dolls' face do you think is the cutest?

Eyes

Nose

Lips

Eyes and lips

Ears

Cheeks

None

19

What personality trait would you give to a Bratz doll if you could create one?

Patience

Friendliness

Confidence

Quirkiness

Courage

Naughtiness

Selfishness

20

Final question; how old are you?

12 or younger

13-15

16-19

20-25

26-29

30 or older

I'd rather not say