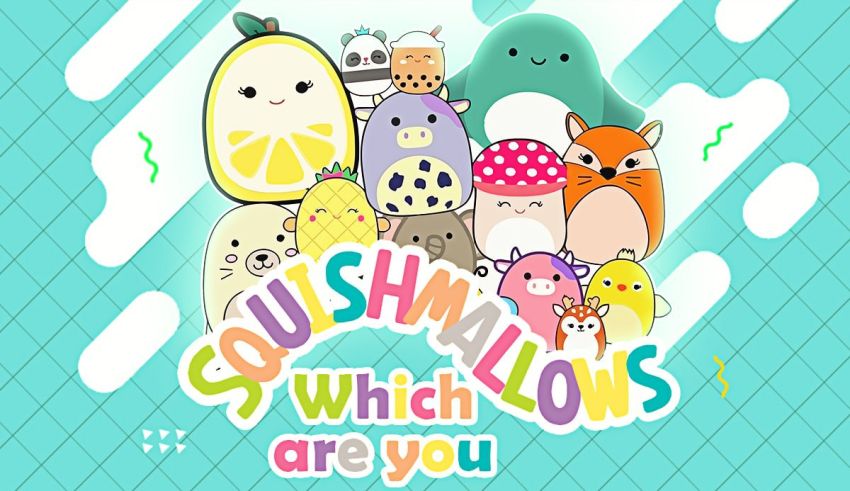 Get to know which Squishmallow you are with a cute personality quiz. Are you Jenny the Cow, Joelle the Bigfoot, or others? Just Answer 20 questions to find out.
This Quiz Discovers the Fluffy Squishmallow in You!
With over 1,000 plush toys, the Squishmallows are a joint family of cuddly characters. But being overly cute is not their only quirk. Each comes with a unique personality that makes fans wonder which 'Mallow they are.
That's where the Squishmallow quiz rolls in. It identifies which toy you are after analyzing your personality.
For a similar squishy experience, check out the Hello Kitty Character Quiz next.
How to Know Which Squishmallow You Are
Read your favorite Squishmallow's bio to see if it matches you. That's the easiest way to hunt your 'Mallow self.
Here are three of the most relatable squishy toys.
#1. Dawna
A true foodie, Dawna is a polite, kind, and shy character. Her dream is to study how foods are made so she can invent healthy alternatives for delicious—but rather unhealthy—snacks. (Same here, Dawna).
#2. Chanel
The sweetest of all 'Mallows, Chanel is a generous philanthropist. She does a lot of charity work in her free time, teaching other plush toys how to bake appetizing cakes.
#3. Ally
Fashionista is the word you're looking for to describe Ally. She's a sassy Squishmallow who's in love with shopping and vacationing. Her adorable passion for coffee is also worth mentioning.
Find Your Plush Toy Self with an MBTI Test
Did you know that Squishmallows have MBTI types? Yep, that's what happens when you give plush toys adorable personalities.
Now for the good part, the quiz has a database of these personality types. So, the results are actually generated after a thorough comparison between your and Squishmallows' MBTI.
If you already know your MBTI type, use the following table to find your fluffy soulmate.
| | |
| --- | --- |
| Squishmallow Character | MBTI |
| Karina the Cat | ENFJ |
| Carmelita the S'more | ESFP |
| Corrina the Cat | INFP |
| Ashlyn the Cheetah Fairy | INFJ |
| Angie the Shiba Inu | ESTP |
| Chanel the Cinnamon Roll | ESFJ |
See Which Squish Squad You Belong in
Kellytoy, the company behind Squishmallows, releases them in groups—or as they call it, squads. So, that brings up another question, "Which Squishmallow Squad are you in?"
With the current test, you will meet your personality twin and learn which team you're a member of. Put simply, the quiz determines your squad, too.
By the way, if you're into cute toys, check out the American Girl Doll Quiz. It's delightful.
Discover if You're a Rare Squishmallow
The new rarity scale verifies which 'Mallows are scarce to make #SquishHunt even more fun. But what about you? How rare of a Squishmallow would you be? Would you get a "Special Edition" badge on your hangtag or what? Take the quiz to find out.
Get a Personality Analysis Based on Your 'Mallow Type
The Squishmallow quiz does more than find your perfect match: It reveals what type of person you are.
Despite their innocent looks, the plus toys reveal a lot about your true self. So, prepare for a comprehensive analysis at the end.
Ready to Meet Your Cuddly Version? Hit the Start Button
Still overthinking, "Which Squishmallow am I?" Take a deep breath, relax your shoulders, and take the quiz. That's all you need to meet your fluffy self in the 'Mallow land.
The following questions reminisce the same energy and mood that squish toys advocates. It's a positivity-driven, cuteness-overloading personality test to help you discover your Squishmallow doppelganger.
Let's go.
Disclaimer
Kellytoy owns the images used in the Squishmallow quiz, and QuizExpo does not intend any copyright infringement.
How to Play?
Playing personality quizzes is straightforward: Choose the option that's true about you—or you relate to—and select "Next." Unlike trivia quizzes, personality tests have no right or wrong answers. But the questions are in forced-choice format. The point is to push you to choose an option that makes the most sense, not the one that's 100% true. For the most accurate results, don't overthink your responses. Go with options that you "feel" are the best.
Questions of the quiz
1

Describe your dream weekend in Squishmallow land.

Sleeping, sleeping, and more sleeping.

Doing productive stuff.

Eating delicious foods.

Staying up all night Netflixing or playing games.

Working on DIY or passion projects.

Reading, relaxing, and spending quality time with family.

Shopping and partying.

Spending some time alone and mentally recharging.

2

What's the ultimate purpose of Squishmallows' creation?

Lifting us out of loneliness.

Teaching us self-love.

Giving us a daily dose of cuteness.

Cuddles at night.

Inspiring us to do better in life.

Helping us care for our mental health.

Helping us heal our inner child.

I don't know.

3

Okay, be honest; how many Squishmallows do you have?

1 or 2

3

4

5

6

7

8 or more

None

4

What are your criteria when Squish Hunting? What type of toys do you buy?

Cuddliness

Colors and shapes

Style, dress, accessory

Backstory

Personality

Price

Rarity

None of the above

5

Plush toys aside, what else gives you joy?

Sleep

Helping others.

Eating my favorite foods.

Movies or games

Art

Meditation

Shopping

Working out (sports)

6

What's your favorite snack or food?

Pizza

Cake

Ice cream

Noodles

Chicken nuggets

Salad

Chinese food

Burger

7

How do you usually feel when you wake up in the morning?

Tired

Happy

Energetic

IDK. Morning is when I go to sleep.

Inspired (but a bit sluggish)

Peaceful

Bored or sad

It depends on my mood

8

What's the cutest Squishmallow shape?

Tube-like

Egg-shaped

Round and chubby

Thin and tiny

Triangle

Square

Drop-like

I'm not sure.

9

Choose a nickname for your imaginary pet.

Bobo

Cinnamon

Chocolate

Buddy

Picasso

Chiba

Chucky

Hunter

10

Where do you keep your 'Mallows?

On my bed

On the couch

Somewhere in the living room

They're all over the place

On a shelf in my bedroom

On my desk

I have a specific closet for my 'Mallows.

I don't own any (or none of the above).

11

What's your favorite activity?

I don't have one.

Cooking or baking

Eating out

Going to the movies

Reading, writing, or drawing

Walking, camping, or things like that.

Posting on social media or hanging out with friends.

Listening to music

12

Which word describes your bestie?

Dumb

Angel

Cutie

Funny

Supportive

Wise

Sassy

I don't have a bestie

13

What kind of movies do you often watch?

Drama

Romance

Comedy

Horror

Classic

I prefer documentaries

I prefer reality shows

Sci-fi

14

What's the ideal place for vacation?

Somewhere near where I live.

Somewhere beautiful like Paris.

A place with great food.

IDK. I like vacationing in my room.

An exotic country with lots of historical places.

Somewhere peaceful, like the ocean or forest.

A place with lots of luxurious hotels and malls.

I don't know.

15

What would you want it to be if your Squishmallow could say a word?

Duh

Lovely

Hungry

Hey!

Nope

Howdy

Guuuuuuurl

Lonely

16

Personality-wise, what kind of 'Mallows is your favorite?

Quiet

Gentle

Timid

Dumb

Weird

Positive

I don't care about personality. I just like cute ones.

I don't know.

17

Which one's a topic that wouldn't bore you?

Technology

Productivity

Culture

Entertainment

Art

Mental health

Fashion

Sports

18

How would you describe your personality in one word?

Easygoing

Caring

Shy

Fun-loving

Introverted

Logical

Extroverted

Emotional

19

What do Squishmallows make you feel?

Sleepy

Happy

Hungry

Energetic

Loved

Calm

Special

None of the above

20

Final question: How old are you?

15 or younger

16-17

18-19

20-22

23-25

26-27

28-29

30 or older