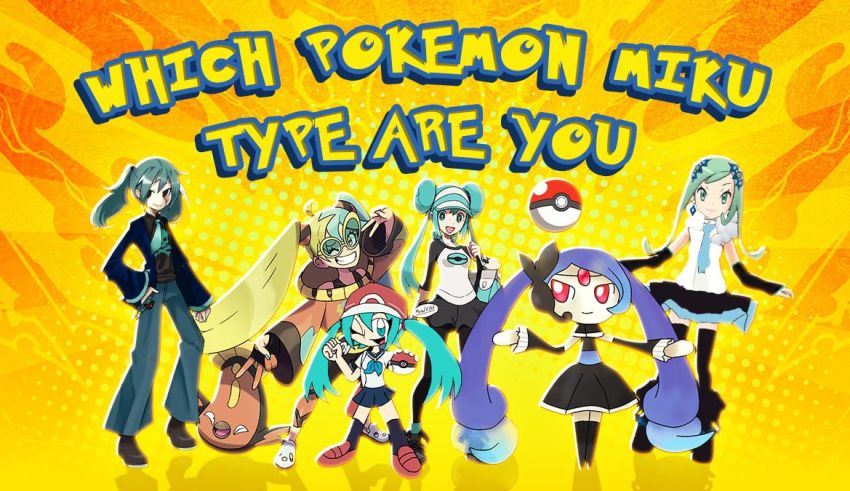 If you wonder which Pokemon Miku Type you are, take this quiz. It will reveal which Miku persona as a Pokemon Trainer matches your character.
Hatsune Miku Pokemon Types Explained
Under a crossover collaboration called Project Voltage 18, Hatsune Miku was imagined as all 18 Pokemon-Type Trainers. And fans call these illustrations Pokemon Miku Types—though Hatsune Miku or CV01 won't come to any Pokemon games.
For those unfamiliar, Miku is a Vocaloid created by Crypton Future Media. Her mascot is a 16-year-old girl who appears as different Pokemon Trainers in the 2023 partnership with Niantic.
Find Your Miku Pokemon Trainer Type
As a fan of creative Pokemon artwork, I've compiled a comprehensive list of all the Miku Pokemon Trainers. But that's not all. I've also crafted a personality test that will uncover which Miku Trainer resonates with your characteristics—and your aesthetics!
By answering a few questions, you'll discover which of Hatsune's Pokemon personas is the perfect match for you. (And I'll try to explain why you got that specific result at the end.)
How to Know Which Pokemon Miku Type You Are
Since Miku x Pokemon is an artwork collaboration, the new Trainers don't have specified personalities. So, the only viable way to discover your match is by analyzing three primary factors: Style, Song, and Shade. Here's what I mean.
Style
Each Pokemon Trainer Miku Type has a unique aesthetic. By comparing your personal style to theirs, you might be able to figure out which one vibes with you.
Song
As a part of the crossover project, Hatsune Miku also sings 18 songs—one per Trainer Type. As a result, sentimental Pokemon fans can find their perfect doppelganger using the lyrics or overall melodies of these songs.
Shade
A prominent feature in Hatsune Miku's illustrations for Pokemon is their distinctive color palettes. By comparing your favorite colors to those of the new designs, you could probably guess your counterpart.
This Quiz Reveals Your Project Voltage 18 Persona
For those looking to know which Pokemon Miku Type they resemble, this personality quiz that I've created reveals the accurate answer. As a hardcore Pokemon player or a Hatsune Miku devotee, all you need to do is answer my intriguing questions. I promise to expose your Vocaloid-Trainer persona in no time!
By the way, if you're into this whole Vocaloid thing, maybe you should check out our Hololive Quiz next. It identifies your faceless identity based on Hololive characters.
With that out of the way, here's which Miku Pokemon Trainer Type you are.
Disclaimer
QuizExpo does not own the images used in the Pokemon Miku Type Quiz and intends no copyright infringement.
How to Play?
Playing personality quizzes is straightforward: Choose the option that's true about you—or you relate to—and select "Next." Unlike trivia quizzes, personality tests have no right or wrong answers. But the questions are in forced-choice format. The point is to push you to choose an option that makes the most sense, not the one that's 100% true. For the most accurate results, don't overthink your responses. Go with options that you "feel" are the best.
Questions of the quiz
1

What type of Hatsune Miku's songs are your jam?

Cheery

Relaxing

Sad

None of them

2

What Pokemon is your favorite?

I like peppy Pokemon

I prefer cute ones

I'm into rare Pokemon

I love Shadow Pokemon

3

What kind of Pokemon Trainer would you be?

4

What's the best strategy for winning every Pokemon match?

Attack

Defense

Counterattack

Cheating, TBH

5

If you were a Vocaloid, what type of aesthetic would you choose for yourself?

Radiant Vibes (bright colors and sunny vibes)

Feminine Charm (soft and elegant)

Twilight Enigma (deep colors and a hint of melancholy)

Veiled Secrets (subtle tones and intriguing symbols)

6

What makes Miku a special character?

Personality

Voice

Style

She s not special

7

If Miku was an actual Pokemon Trainer, what nickname would you give her?

Princess Mikuchu

Dream Catcher

The Girl with a Pokemon Tattoo

Lady Boss Beeotch

8

Which word better describes the Project Voltage 18 illustrations?

Cool

Inspiring

Meh

Haven't seen any of them

9

What type of Pokemon player are you?

Fun-loving

Clueless

Grinding

Aggressive

10

What feature is a must-have for all Pokemon Trainers?

Sense of humor

Optimism

Patience

Hardheartedness

11

What's your daily style like?

12

What about your fancy style? What's it like?

Formal

Princess-like

Elegant

Sexy

13

What type of people bother you the most?

14

How many Vocaloids are in your playlist?

4 or more

2-3

Only 1

None. I don't listen to those weird songs

15

Final question: How old are you?

16 or younger

17-22

23-28

29 or older