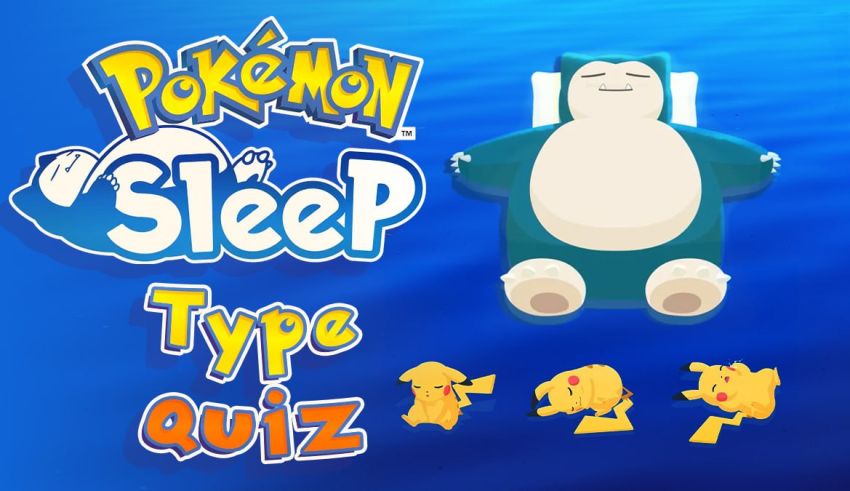 Want to know which sleep type you have in Pokemon Sleep? Take this napping quiz to discover your Pokemon Sleep Style quickly.
Pokemon Sleep Types Explained
In Pokemon Sleep, sleep types are the three main categories of naps: Snoozing, Slumbering, and Dozing. Each type indicates a different sleeping pattern determined by your movement, noise, and sleep time.
| | |
| --- | --- |
| Sleep Type | Features |
| Snoozing | Noisy, Fidgety, Loud |
| Dozing | Sleep Talk, Twitchy Sleeper |
| Slumbering | Quiet, Still, Deep Sleeper |
What Is the Pokemon Sleep Type Quiz?
Comprised of 20 sleep-related questions, the Pokemon Sleep Type Quiz is a self-assessment tool that determines if you are a Snoozing, Dozing, or Slumbering Pokemon.
In the Pokemon Sleep game, you need to have at least one sleeping session to find out your type. And your determined type will then cause Pokemon partners with the same sleeping patterns to spawn. But with the Sleep Type Test, you get to identify your pattern in advance and manipulate it to get specific creatures.
How to Know Your Pokemon Sleep Type
Unlike your Pokemon Gym Leader Type, your Pokemon Sleep Type has nothing to do with your in-game activities. The only way to discover your napping pattern is by either tracking it via the game's app or taking an online personality test.
Generally, if you're a loud and fidgety sleeper, your Pokemon Sleep type is Snoozing. If you tend to talk in your sleep or move a lot, you're probably a Dozing type. And if you sleep quietly without much movement, you're a Slumbering type.
Snoozing
Snoozers are noisy sleepers who often twitch a lot. In the Pokemon Sleep universe, creatures like Charmander, Espeon, Meowth, and Pikachu fall in this category.
Slumbering
Slumbering sleepers nap quietly without much movement. In Pokemon Sleep, Pokemon like Pupitar, Squirtle, Swablu, and Pichu are categorized as Slumbering nappers.
Dozing
Dozing sleepers have short naps, make little noises, and move a lot. In Pokemon Sleep, Bulbasaur, Umbreon, and Psyduck are some of the Dozing types.
Pokemon Sleep Type Vs. Pokemon Sleep Style
Sleep Styles are sub-types of Sleep Types in Pokemon Sleep. For instance, Mareep is a Snoozing Type Pokemon with a Blinking-Tail Sleep Style. In the game, Pokemon Trainers must find new Sleep Styles to complete the Pokedex, not Sleep Types.
Take This Pokemon Sleep Quiz to Discover Your Type
Do you want to know which Pokemon Sleep's sleeping type matches you? Take this napping pattern quiz to find the accurate answer. (The results will even tell you which Pokemon shares the same type as you!)
Okay, Researchers! Let's analyze your sleep patterns and see what sleeping Pokemon type you have. 😴🛌🏻
By the way, if you enjoy Pokemon personality tests, try our Pokemon Mystery Dungeon Quiz next. It'll give you a better idea of what Pokemon type you are.
Disclaimer
QuizExpo does not own any of the Pokemon Sleep Type Quiz images and intends no copyright infringement. Niantic owns the said pictures.
How to Play?
Playing personality quizzes is straightforward: Choose the option that's true about you—or you relate to—and select "Next." Unlike trivia quizzes, personality tests have no right or wrong answers. But the questions are in forced-choice format. The point is to push you to choose an option that makes the most sense, not the one that's 100% true. For the most accurate results, don't overthink your responses. Go with options that you "feel" are the best.
Questions of the quiz
1

On average, how much sleep do you get per day?

About 6 to 7

5 or less

8 or more

2

Are you a morning, night, or daytime person?

3

When do you usually go to bed?

10 PM or sooner

11 PM or so

Midnight or later

4

When do you wake up?

7 AM or sooner

8 to 9 AM

10 AM or later

5

Would you say you make a lot of noises in your sleep?

No, I'm a quiet sleeper

I may make little noises

Yes, I'm a loud sleeper

6

Do you move a lot while sleeping?

No, I'm still as a rock

It depends. I might move a lot

Yes, I move a lot

7

What kind of noises you might make while napping?

I make no noises

I may talk or moan

I snore

8

Which one describes your movement in bed?

No movement at all

Slight movements

Lots of turning and tossing

9

How do you feel right after waking up?

10

What's your energy level like throughout the day?

11

What kind of activities do you typically engage in while in bed?

Reading

Watching TV

Checking my phone

12

Are you a fan of quick naps?

Not really, but it depends on my energy level

Yes, I absolutely need quick naps

No, I don't take short naps

13

How much time does it usually take for you to drift off to sleep?

Less than 30 minutes

2 hours or more

About an hour

14

What type of breakfast is your favorite?

Sweet

Fast (whatever)

Feast

15

What kind of Pokemon do you relate to?

16

On a scale of 0 to 5, how loud is your snoring?

17

At what time of the day do you feel the most energetic?

18

Which sleep position do you prefer?

19

Would you say you breathe loudly while sleeping?

No, not at all

I sometimes do

Yes, I'm a loud breather

20

Final question: How old are you?

17-25

16 or younger

26 or older