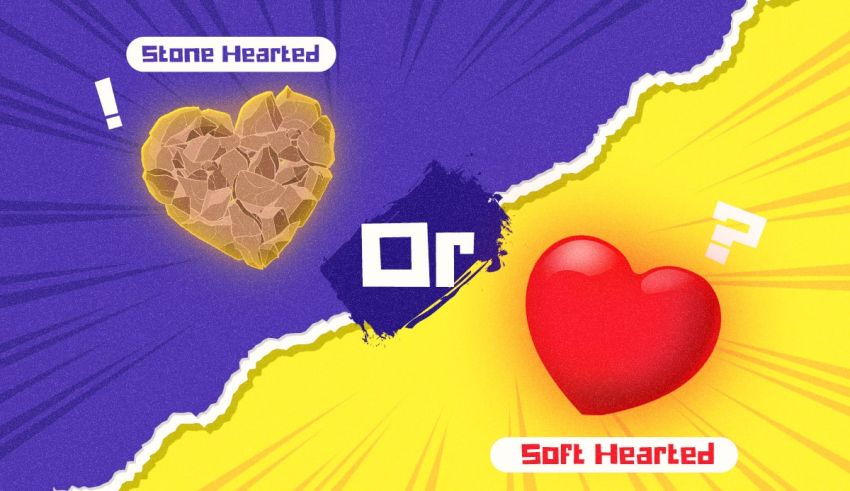 Do you ask yourself, "Am I soft-hearted or stone-hearted?" This kindness and empathy quiz exposes what's in your heart.
Are You Soft-Hearted or Stone-Hearted?
If you're kind, loving, respectful, trustworthy, and compassionate, you have a soft heart. But if you're cruel, unfeeling, ignorant, disrespectful, and immoral, your heart is hard.
Signs of a Soft-Hearted Person
Generally, you are a kind-hearted person if:
You love yourself.
You value life more than materials.
You don't pass judgment.
You respect everyone and treat them equally.
You are trustworthy and honest.
You are empathetic, generous, and helpful.
You compliment others openhandedly.
You try to listen to and understand others.
Signs of a Stone-Hearted Person
You are an insensitive person if you have the following features:
You're unable to love.
You are mean.
You can't trust anyone.
You are neither genuine nor honest.
You lack empathy.
You don't believe in equality.
You only help others when there's personal gain.
You are inconsiderate and entitled.
You don't feel happy for others.
Why Someone Becomes Hard-Hearted?
Many become unempathetic and cold because of tragic or heartbreaking life experiences. For them, having a hard heart is a defense mechanism that's supposed to protect them against possible heartrending incidents in the future.
Why Some People Have a Heart of Gold?
Figuratively speaking, what's in your heart results from internal and external factors, such as temperament, upbringing, environment, and even genetics. But being kind-hearted is often a conscious choice, a decision to treat people the same way you want to be treated.
Is It Bad to Have a Heart of Stone?
Legally, humans are not obligated to be nice or kind. As long as your actions don't hurt others or interfere with their rights, you're allowed to express your temperament—whether warm or cold. So, being stone-hearted is not necessarily a bad thing.
However, morally speaking, having a cold heart or being unempathetic is unacceptable. It's a sign of untrustworthiness and a warning that you're uncooperative. In other words, it declares that you don't value what society does.
Can a Soft-Hearted Person Turn into a Stone-Hearted One?
Yes, people might change their behavior in time. A kind person could become cold and cruel. And an unkind person might become compassionate and considerate. After all, humans are conscious beings, and their behaviors are bound to their decisions.
Take the Quiz to See What's in Your Heart
Humans are complicated. You cannot categorize them into two basic groups, kind- and stone-hearted. You should acknowledge that some are fake-hearted and two-faced. Others are tender-hearted. And many are heartless.
The good thing about the heart-type quiz is that it sorts you into the correct category. So, by the end, you realize what's in your heart, good, bad, or ugly.
Are you a kind-hearted person acting cold? Do you genuinely have a heart of gold? Or are you actually hard-hearted? Let's find out.
How to Play?
Playing personality quizzes is straightforward: Choose the option that's true about you—or you relate to—and select "Next." Unlike trivia quizzes, personality tests have no right or wrong answers. But the questions are in forced-choice format. The point is to push you to choose an option that makes the most sense, not the one that's 100% true. For the most accurate results, don't overthink your responses. Go with options that you "feel" are the best.
Questions of the quiz
1

You see a stranger crying. How do you react?

I run to help.

It depends. I'd only react if it's a kid.

I used to run to help people. But not anymore.

I mind my own business.

I only offer help if it's a prestigious person.

2

What kind of people would you help no matter what?

I'd help anyone.

I'd help people who deserve it.

I'd only help my own friends and family.

I'd help no one.

I'd help people who'd offer something in return.

3

Do you believe in unconditional love?

Yes, and it's beautiful.

Yes, but it's only between a parent and their child.

I used to believe in it. But not anymore.

I have never believed in it.

Love is for fools. It's all a lie.

4

How hard do you try not to pass judgment?

I do everything in my power to avoid that.

I do my best. But hey, sometimes I fail.

I used to put effort into that. But not anymore.

I don't try. Some people deserve judgment.

I pretend to be a non-judgmental person.

5

When do you usually compliment others?

I do that all the time.

It happens rarely. But I'm genuine with my comments.

I used to do that a lot. But not anymore.

I don't compliment people. Compliments are fake.

I only compliment people when it's beneficial or obligatory.

6

Would you say that you are kind to everyone?

Yes, I'm kind to all souls.

Not really. But I'm kind to most people.

I used to be kind to everyone. But not anymore.

Nope. I'm kind to nobody.

I'm only kind to people who'd do me favors.

7

What type of people do you genuinely respect?

Everyone.

I respect people who respect me.

I used to respect everyone. But now I feel betrayed.

I don't respect anyone but myself.

I only respect people in power.

8

How difficult is it for you to trust others?

It's easy.

It's usually not that difficult. But it depends.

It used to be much easier.

It's nearly impossible.

I never trust anyone. I just pretend I do.

9

What do you think of people who broke your heart?

I forgive them.

I don't hate them. But I don't want them in my life.

I used to think they did it unintentionally. But now I hate them.

I think they deserve a miserable life.

I pretend I don't hate them. But I do.

10

Do you actively try not to pick sides?

Yes, I value being objective.

Not really. But it depends.

I used to do that. But it's pointless.

No, I always know my side.

I'm always on the winning side.

11

Do you believe in equality?

Yes, all humans are equal.

For the most part, yes.

I used to believe in that. But not anymore.

No, that's just an unrealistic ideology.

No, but I pretend I do.

12

On a scale of 0 to 5, how trustworthy are you?

13

Do you believe that white lies are vital in a relationship?

No, lies are lies.

I'm not sure. Maybe.

I used to believe they were terrible. But now I use them all the time.

Yes, your relationship won't survive without them.

I'd rather skip this question.

14

Which one sounds like a priority in your life?

Love, family, and friendships.

Education, career, and success.

Mental health, recovery, and let go of negativity.

Money, fun, and sex.

Power, control, and revenge.

15

What do you think of self-love? Do you believe in it?

It's crucial in everyone's life.

I believe in it. But I don't have it.

I used to believe in self-love. Now I fake it.

I don't believe in it. It's a romantic lie.

No comments.

16

How do you feel when people vent to you?

I try to be a good listener and understand them.

It depends on who they are.

I used to be the listening ear they needed. But not anymore.

I feel bored and bothered.

I feel fine as long as they'll return the favor.

17

How do you feel when someone you know achieves something in life?

I feel happy for them

It depends on who they are.

I used to feel happy for them. Now I'm just numb.

I might feel jealous or bothered.

I usually pretend that I'm happy for them out of politeness.

18

How do you feel when someone you know is having a rough time?

I feel nervous.

I feel sad.

I used to feel bad. But I don't care anymore.

I feel indifferent.

I feel fine.

19

How would you define love?

An innocent, beautiful emotion.

A risky but precious feeling.

A heartbreaking feeling.

A stupid lie for the weak.

A good tool to achieve some goals in life.

20

Final question: What makes you cry?

Anything can make me cry.

Tragic events or things like that.

Anything used to make me cry. I'm tough now.

Nothing can make me cry.

Things like jealousy often make me cry.