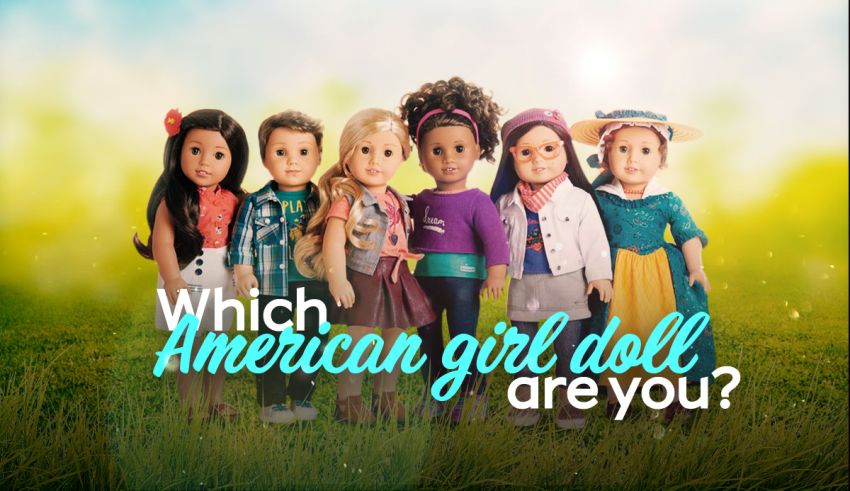 Do you wonder which American Girl doll you are? Take this personality, friendship, and interests quiz to find out if you are Willa, Kaya'aton'my, Melody, or else.
A Genuinely Family-Friendly American Girl Doll Quiz
The test has fun questions that both parents and kids will enjoy. Plus, the results are designed to brighten up your day and leave you smiling. Yes, the goal is to reveal which American Girl doll you are. But you'll get much more than that.
Similar to our Winx Club Character Quiz, the results are filled with interesting facts and details you'll love.
Discover which doll you are.
It's pretty challenging to decide which American Girl doll you are because there are over 50 of them. So, the quiz helps you narrow down the options based on your personality, interests, and lifestyle. That's why it generates the most accurate results.
| | |
| --- | --- |
| American Doll | Birthdate |
| Kaya'aton'my | 1755 |
| Caroline Abbott | 1802 |
| Melody Elizabeth Ellison | 1954 |
| Makena Lilias Cook Williams | 2008 |
| Mei Ling "Corinne" Tan | 2011 |
Find out who your American best friend is.
Friendships matter in the cute dolls' universe. So, we wanted to create a quiz that follows the same rules. Your answer will also help us figure out which American Girl could be your bestie.
Get to know more about your personality.
Don't you want to know what kind of girl you are based on your doll match? Our quiz reveals if you're good or bad based on your responses. But don't worry, though; you'll still be on Santa's nice kids' list.
How the Test Works
The doll quiz creates your accurate profile before revealing which American Girl is similar to you. To do so, it goes through the following steps:
It reviews your interests.
Things you like and dislike are important for discovering your doll soulmate. Since all of the girls have unique personalities, we need to get to know your interests before suggesting any matches. The questions are going to be simple and not too personal, though.
It asks about your friendships.
Your friends and how you treat them can help us figure out which American Girl Doll you are even faster.
It gets to know your feelings.
What makes you happy? What are you afraid of? When do you feel calm or anxious? These are the pieces of information we need to identify your American Girl doll match.
How to Know Which American Girl You Are?
The best way to discover your doll match is by taking a genuine personality test. The next best way is by getting to know the American Girls on your own. It might take some time to learn each girl's personality, but it's your only option. You could head to the girls' official fandom to find more info on their personalities before picking your perfect soulmate.
#1. Makena
First off, it's pronounced as ma-KAY-nah. She is a gorgeous African-American girl with love for everything fashion. Makena enjoys designing outfits, and she runs a blog as well as a popular IG account to share her ideas with others. The thing is that Makena used to be a shy kid before the pandemic. But the quarantine showed her that she needs to be more social and get in touch with others more often.
#2. Caroline Abbott
She wants to be the captain of her own ship in the future. And that shows how huge of an adventurer she is. Caroline is described as a sweet and clever girl who's also pretty stubborn and a little bit fighty. But her friends believe that Caroline is heroic and brave because she never backs down.
#3. Kaya'aton'my
Her name translates to She Who Arranges Rocks. Kata'aton'my is one of the most interesting American Girl dolls because she's all about having an outdoor lifestyle. She loves animals and spends most of her time with horses. But Kaya is also a troublemaker because she's a bit impulsive. Despite that, her tribe loves her, and everyone thinks she will be a reliable leader in the future.
#4. Other American Doll Girls
It's not an easy task to find your perfect match among all the 50+ dolls. So, we recommend you to participate in the quiz and get entertaining and accurate results in a few minutes.
Why do Fans want to Know Which American Girl They Are?
Each doll has a unique personality, just like you. That's why fans enjoy doll quizzes and want to know which one matches their own characteristics. It's also a proper way of deciding which American Girl to buy. Having a doll that shares the same interests with you must be a fantastic feeling.
Disclaimer
QuizExpo does not own any of the images used in the 'Which American Girl Doll Are You Quiz.' Mattel owns the right to all the said product pictures. No copyright infringement is intended. Please, contact us with any concerns or requests.
How to Play?
Playing personality quizzes is straightforward: Choose the option that's true about you—or you relate to—and select "Next." Unlike trivia quizzes, personality tests have no right or wrong answers. But the questions are in forced-choice format. The point is to push you to choose an option that makes the most sense, not the one that's 100% true. For the most accurate results, don't overthink your responses. Go with options that you "feel" are the best.
Questions of the quiz
1

What makes an American Girl doll unique?

Her talents

Her goals

Her backstory

Her passion

Her physic

Her friends

Her style

2

How do you (or used to) play with your dolls?

I played with them like it was puppetry.

I pretended that I was one of the dolls.

I played boyish games with them.

I liked throwing tee parties or things like that.

I used to pretend that I was the dolls' mom.

I used to dress them up and make them look good.

3

Pick your favorite place to spend time with your friends.

An exciting concert

Camping in the woods

A casual coffee shop

At the gym

In our backyard

A shopping mall

4

Which one describes your dream birthday party?

A musical party where everyone's dancing and singing.

A casual party outdoor with great food and drink.

A formal party with important guests.

A wild party with my best friends at a disco.

A small gathering in my own house with my loved ones.

A luxurious party in an expensive hotel.

5

What would it be if you had to pick a nickname for one of your American Girl Dolls?

Diva

Boss Girl

The Warrior

The Champion

The Cute One

The Super Model

6

What kind of activities do you enjoy the most?

I like listening to music or playing instruments

I enjoy going outside and exploring new places

I love DIY and crafting

I like sports, working out, or yoga

I prefer chilling under trees and reading books

I love window shopping and online shopping

7

How do you feel about going to school?

I like school

I'm sometimes bored at school

I don't like going to school

I'm a hardworking student who loves school.

I love going to school because I want to see my friends.

It depends on my mood.

8

What is (or was) your favorite subject in school?

Arts

History

English

Physical Education

Science

Mathematics

9

What color would you like to paint your room with the following options?

I'd like to paint it black

I'd love to paint my room yellow

I think I'd paint it red

I'd paint my room orange

I'd love it to be pink

I'd paint each wall a different color

10

Which one sounds like an interesting and adventurous career?

Being a world-famous singer or actor

Being an important politician

Being a tough soldier

Being an undefeatable sportsperson

Being a researcher or zoologist

Being a fashion designer

11

What makes a person a reliable friend?

Supportiveness

Adventurousness

Ambition

Hard work

Loyalty

Kindness

12

Here's a random question; how many American Girl dolls do you own?

I own one or no dolls

I have only two dolls

I have 3-4 of them

I own 5-7 dolls

I have about 8-9 dolls

About ten or more

13

Which one is your favorite American Girl series/collection?

Historical

Truly Me

Girl of the Year

World by Us

All of them

I like to create my own collection

14

What kind of books do you like to read?

Poetry

Biography

Self-Help books

Action fiction

Romance

I prefer reading magazines

15

What kind of music do you listen to?

Classic/Instrumental

Folk music

Hip Hop or Rap

Rock or Metal

R&B or Jazz

Pop

16

What do you do when you're anxious or upset?

I listen to my favorite music

I go on a walk

I keep myself busy with work

I work out or meditate

I might cry a bit and spend some time alone

I go shopping or hang out with my friends

17

Which of the following animals could make an excellent pet?

Cat

Horse

Dog

Rabbit

Parrot

Fox

18

What's a word that describes your best friend perfectly?

Reliable

Crazy

Tough

Adventurous

Cute

Sassy

19

What kind of gifts would you like to receive on Christmas eve?

Artistic

Practical

Creative

Unpredictable

Cheap but meaningful

Expensive and luxurious

20

Final question; how old are you?

Seven or younger

8-10

11-14

15-17

18-20

21 or older