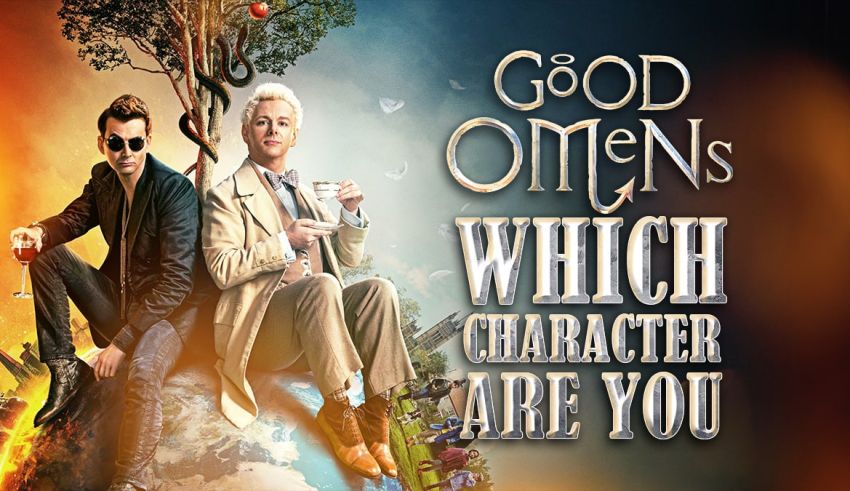 Answer the questions on this page to see which Good Omens character you are. Are you Aziraphale, Crowley, Adam, or else?
This Quiz Knows Your Good Omens Character
The Good Omens Character Quiz is a set of 15 questions that reveal which human, witch, angel, or demon from Prime Video's titular series you are. It's a personality test that compares your light and dark core with that of the show's stars to determine your possible doppelganger.
For the newcomers, Good Omens is a satirical fantasy based on Neil Gaiman and Terry Pratchett's coauthored novel. The story revolves around the contentious relationship of an angel named Aziraphale with a demon called Crowley.
Some say Prime Video's Good Omens gives off Supernatural vibes. But the show is much more lighthearted and playful when it comes to portraying mythological and religious stuff.
Find Your Good Omens Match Based on MBTI
If you wonder which Good Omens character you resemble based on your MBTI, take a look at the following table. It lists the personality types of the cast to help you find your perfect match faster.
But note that our personality quiz is already based on MBTI types. So, if you want an actual 100% accurate match, consider taking the test instead. (Just saying.)
| | |
| --- | --- |
| Good Omens Character | MBTI |
| Aziraphale | ISFJ |
| Crowley | ENTP |
| Adam | ENFJ |
| Newton | INTP |
| Maggie | INFP |
| Beelzebub | ISTJ |
| Gabriel | ESTJ |
For those who're not a fan of MBTI, here's a quick description of some Good Omens characters. See which one you relate to based on their primary traits to discover your counterpart.
Aziraphale
As an outcast angel, Aziraphale is gentle and sensitive. But he's also quite passionate, empathetic, and kind-hearted.
Crowley
Despite being a playful and cunning demon, Crowley in Good Omens is a well-meaning character. Although he enjoys some darker aspects of life and has his own guilty pleasures, Crowley would always go the extra mile to save his loved ones—and humanity.
Adam (Antichrist)
An intelligent and gifted young man, Adam is a curious, adventurous, and creative person. But he's also slightly bossy and stubborn with his loved ones.
Newton
Although naïve and innocent, Newton is a quick-thinking and open-minded character. He's often the voice of reason in the group, reminding everyone to see the bigger picture.
Good News: Good Omens S2 Characters Are Included!
Fans are eagerly anticipating the release of Good Omens Season 3, especially after the controversial finale of Season 2 in July. While waiting for the new episodes, why not take a quiz inspired by Season 2 that will help you bond with the latest characters introduced?
Our Good Omens Test matches you to one of the protagonists or antagonists of the first two seasons of the show with the highest accuracy possible. Give it a shot; you won't regret it.
Are You an Angel or a Demon? Aziraphale Vs. Crowley
For the most part, Good Omens is the struggle between good and bad, truth and lie, and hell and heaven. But have you ever wondered which side you would be on? This quiz will let you know.
By the end of the Good Omens Character Quiz, not only will you meet your doppelganger, but you will also find out if you're a good or bad person. (Doesn't that sound intriguing?)
Unravel Your Armageddon Love Story with This Personality Test
You are now ready to find out which Good Omens (2023) character you are. The following questions take you on a self-discovery journey that will expose your hate values and uncover who you really are—a demon or an angel.
By the way, if you're into biblical stories, we recommend taking our Seven Sins Quiz next. It determines which of the deadly immoralities you're connected to and why.
Now, let's see if you're Aziraphale, Crowley, or some other character. 👼🏻👿
Disclaimer
QuizExpo does not own the images in the Good Omens Character Quiz and intends no copyright infringement. Prime Video owns all the said pictures.
How to Play?
Playing personality quizzes is straightforward: Choose the option that's true about you—or you relate to—and select "Next." Unlike trivia quizzes, personality tests have no right or wrong answers. But the questions are in forced-choice format. The point is to push you to choose an option that makes the most sense, not the one that's 100% true. For the most accurate results, don't overthink your responses. Go with options that you "feel" are the best.
Questions of the quiz
1

What makes Good Omens a good show?

Characters

Relationships

Tension or plots twists

Jokes

Mythological and religious references

It's not that of a good show

2

What kind of characters in Good Omens do you relate to?

Normal humans

Angels

Castaways

Demons

Witches

None of them

3

Of all the Four Horsemen of the Apocalypse, which one's the scariest?

All of them

Pollution

War

Famine

Death

None of them

4

What trait of yours compares to that of Good Omens characters?

Open-mindedness

Empathy

Curiosity

Humor

Trust issues

Anger issues

5

How would you like to spend your last day on Earth?

Chilling in my room

Reading my favorite book

Hanging out with my family

Drinking or smoking

Sleeping or eating

S.E.X; lots of it

6

What kind of apocalypse would you rather experience?

Technological/AI Apocalypse

Environmental Apocalypse

Zombie Apocalypse

Pandemic Apocalypse

Nuclear Apocalypse

Cosmic/Existential Apocalypse

7

Who would you side with? God or Satan?

It depends on which one's right

Definitely God

I can't decide

Probably neither of them

It depends on who's winning

Definitely Satan

8

What types of demons do you despise the most?

Violent

Smart

Cunning

Soft

Arrogant

I don't despise demons at all

9

Describe Armageddon in one word.

Scary

Tragic

Inevitable

Boring

Close

Fun

10

What would you change about Good Omens?

CGI

Love stories

Backstories

Humor

Actors

All of the above

11

What should Season 3 of Good Omens be like?

It should have deeper lore

It must focus on love stories

I want it to see more action

It needs to be funnier

It should get gorier and darker

S3 must never happen; we've had enough

12

What's your romantic persona like?

Shy

Passionate

Creative

Protective

Loyal

Lustful

13

Which other Prime Video show would you like to watch?

Upload

Carnival Row

The Boys

The Tick

American Gods

Preacher

14

If you could work as an angel, what kind of job would you like?

Messenger

Healer

Record keeper

Guardians

Keeper of Cosmic Knowledge

Warriors

15

Final question: How old are you?

18-24

25-29

17 or younger

30-35

36 or older

I'd rather not say