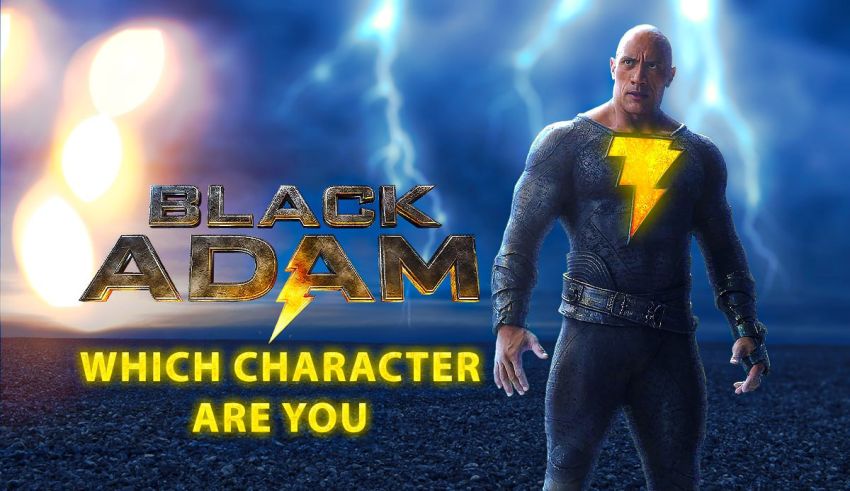 Hey, which Black Adam character are you? This DCEU quiz reveals if you're Hawkman, Cyclone, Atom, Dr. Fate, or Teth-Adam himself.
Black Adam Quiz Explained.
A 20-question MBTI comparison, the Black Adam Quiz finds your match in the DC's 2022 film of the same title.
Black Adam, also known as Teth-Adam, is a DC villain, carrying the power of Shazam. The movie explores his origin story and resurrection, as well as clashing the Justice Society of America.
With the current test, however, you get to find out which DC superheroes or antagonists in the movie looks like you.
Which Black Adam Character Are You?
You resemble the character that shares the same—or the most similar—MBTI type as you.
Use the following table and guides to find your match.
| | |
| --- | --- |
| Black Adam | ESTJ |
| Hawkman | ISTJ |
| Dr. Fate | INFJ |
| Cyclone | ENFJ |
| Atom Smasher | ENFP |
#1. Black Adam
Initially a kind-hearted, brave man, Black Adam gradually turns into a cold-hearted, vicious antihero everyone's scared of.
#2. Hawkman
Despite his confidence and leadership skills, Hawkman is a level-headed, considerate superhero with a soft side.
#3. Dr. Fate
Wise, reliable, and intuitive, Doctor Fate (Kent Nelson) is a fatherly figure for the JSA's young members. He is calm, tactful, and intelligent in dealing with the antagonist, making him an inspiring mentor.
#4. Cyclone
As Maxine Hunkel, Cyclone is a rather shy, insecure, but nice girl. But her superhero persona is independent, clever, and pragmatic.
#5. Atom Smasher
Albert Rothstein, the original Atom Smasher's nephew, is a warm, compassionate young man with admirable good intentions.
Other DCEU Superheroes.
The cool thing about Black Adam film is that it introduces a handful of new heroes. But the cool thing about its quiz is that you have equal chances to match any of them.
The current test includes all the main characters, offering an accurate comparison for the best results.
Bonus: The Quiz Includes Cameo Characters, too!
There are unbelievable cameos in Black Adam (2022). Take the post-credit one, for example. For the very same reason, the film's character quiz involves an extensive database of DC character profiles.
Put simply, the results flabbergast you—the same way that post-credit scene does.
You Might Match a Black Adam Villain
Yes, Teth-Adam himself is not a good guy. But there are others in the film with even more villainous intentions. Take Sabbac, for example. He's the personification of, not one, but six devils.
The point is, there's no guarantee you'll match a lovely superhero. Your personality may be as evil as Sabbac. The test will tell.
Ready for a Journey to Kahndaq and Back?
It's time to meet your Black Adam character. The quiz has 20 DCEU-inspired questions waiting for you. And all you must do is hit the start button.
Let's find out if you're a modern-day superhero like Cyclone or Atom Smasher, or a more mythical creature like Black Adam and Hawkman.
Disclaimer
DC owns the images in Black Adam Quiz, and QuizExpo intends no copyright infringement.
How to Play?
Playing personality quizzes is straightforward: Choose the option that's true about you—or you relate to—and select "Next." Unlike trivia quizzes, personality tests have no right or wrong answers. But the questions are in forced-choice format. The point is to push you to choose an option that makes the most sense, not the one that's 100% true. For the most accurate results, don't overthink your responses. Go with options that you "feel" are the best.
How many questions does this quiz have?
20 questions
How long does it take to complete this quiz?
7 minutes
Questions of the quiz
Question 1

Describe Black Adam in one word.

Irritable

Complex

Coward

Hurt

Relatable

Dumb

Question 2

What would you do if one of your loved ones was bullied?

I'd hug and soothe my loved one.

I'd report the bully to the authorities.

I'd teach my loved one how to fight back.

I'd teach my loved ones how to defend themselves.

I'd give the bullies an unforgettable lesson.

I wouldn't do anything specific.

Question 3

What kind of superpower would you like to have?

Healing powers

Agility (Moving fast)

Flying

Mind reading or mind control

Physical strength

I'd like to have a deadly superpower

Question 4

What do you think of the JSA, the Justice Society of America?

Meh, they're cool

I admire them

I don't know much about them.

I think they need a leader.

I don't like them.

I hate them.

Question 5

What's one feature that a true superhero must have?

Compassion

Intelligence

Flexibility

Tactfulness

Seriousness

Ruthlessness

Question 6

What do you think about Black Adam's ending?

I loved it

I can't say I disliked it

I didn't get it

I think it could have a better ending

It irritated me. That was awful.

I haven't watched the film yet.

Question 7

Were you a DC superhero, what would you prioritize?

Saving the innocent

Helping younger superheroes

Bettering my skills

Learning, learning, and learning.

I'd just kick the bad guys' ass all day long.

I'd conquer the planet.

Question 8

Which one irritates you the most?

Ignorance

Rudeness

Selfishness

Idiocy

Optimism

Politeness

Question 9

What kind of people do you dislike?

Irresponsible

Narcissistic

Undisciplined

Narrow-minded

Talkative

Nice

Question 10

What would you do if you were as powerful as Black Adam?

I'd make the world a better place

I'd learn how to control my power

I'd use my power to defend my people

I'd do my best not to use my powers unless I have to

I'd use my power to scare the bad guys away

I'd use it to become an emperor

Question 11

Choose a DC villain that you believe to be charismatic.

Reverse Flash

Joker

Ra's al Ghul

Brainiac

Deathstroke

Darkseid

Question 12

You can transfer Black Adam's power to a weapon or piece of armor. Which one do you pick?

Shield

Arrow

Sword

Helmet

Gloves

Matchet

Question 13

Choose your superhero costume.

A non-pretentious, comfortable costume.

A sexy, tight one.

An armor-like, practical costume

A suit

An all-black, camouflaging costume

A mysterious, scary costume

Question 14

Pick a nickname that sounds cooler.

The Peace Angel

The Gifted

The Lion Tamer

The Guru

The Insuperable

The Emperor

Question 15

How would you rate Black Adam (2022)?

5 (It was perfect)

4

3

2

1

0 (It was awful)

Question 16

What would it be if you could change one thing about the film?

I'd add more romance

I'd add more plot twist

I'd add more action scenes

I'd expand on the characters' backstories

I'd decrease the humor and make it darker

I'd turn it into an R-rated movie with brutal scenes

Question 17

Which one describes your mood better?

Calm

Nervous

Happy

Sad

Bored

Irritated

Question 18

Black Adam aside, what other DCEU films do you like?

Green Lantern

Wonder Woman

Man of Steel

The Dark Knight

Batman Vs. Superman

None of them

Question 19

Create a superhero team that could defeat Black Adam.

Aquaman, The Flash, and Cyborg

Wonder Woman, Catwoman, and Batman

Green Lantern, Green Arrow, and Hawkgirl

Invisible Kid, Light Lass, and Mon-El

Batman, Cyborg, and The Flash

None of them could beat him

Question 20

Final question: How old are you?

14 or younger

15-17

18-20

21-25

26 or older

I'd rather not say