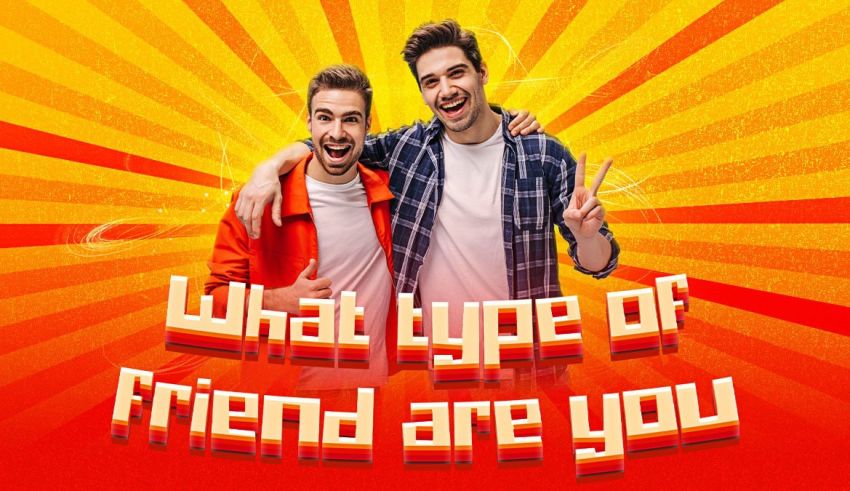 This BFF style test reveals what type of friend you are based on your personality and how you treat your besties!
This Quiz Exposes Your Type as a
Friend
Have you ever wondered what type of friend you are? The friend typology test on this page identifies which cliched role you play in your group.
Life might not be a Friends-like sitcom show, but we all share stereotypical traits that might put us in a specific typology. Your protectiveness, for example, could make you an older-sibling type of friend who's always watching out for the rest of the group. Your overprotectiveness, on the other hand, might indicate that you're a jealous friend.
We've accumulated a list of the most common buddy archetypes that people resemble in real life. And all you need to do is answer twenty questions to match one of them.
For those of you who want to put your friendships to the test, we also recommend taking the "How Awesome Is Your Best Friend Test." It reveals how amazing (or awful) your pals are.
What Are Some Stereotypical Types?
We've all had that one quiet friend who's a total freak when no one's around. Or the one who can't stop talking about their crush and also the one who's just starving all the time. But hey, what are the most orthodox types? Here's the list you're looking for:
The Older-Sibling One
This is the archetype of the voice of reason in the group. The older-sibling persons are protective, supportive, and kindhearted, always making sure that everyone is safe and happy.
The Jealous One
Having the highest jealousy score of the group, the jealous persons don't want to share their besties with others. They are overprotective and stubborn and often value loyalty above all else.
The Always-Hungry One
A relatable archetype, the always-hungry friend, is that one pal who prefers hanging out at coffee shops and restaurants over any other plan. Also known as the foodie pal, this friend type is liked for their sweet and sociable nature, which makes them quite approachable.
The Fashionista One
Don't you know at least one person in your group who's like, "What should I wear?" all the time? Yep, that's the fashionista friend. This archetype is in love with shopping, social media, and, of course, all things fashion.
What Type of
Friend

Is the Best?

According to Aristotle, friendships are of three types: Utility-Based, Pleasure-Based, and Virtue-Based. While all these companionships are pivotal to a happy life, he claims, virtue-oriented friendships are the best because such comradeships revolve around mutual respect, admiration, and shared values. The bond that's rooted in personality likenesses is much stronger than the one spurted out of external factors such as pleasure or benefit.

If you don't know what type of friendships you have, take our Best Friend Quiz. It can give you practical insights into that.
How to Know What Type of Buddy You Are
You need to analyze three aspects of your personality: Traits, Reactions, and Decisions. Basically, the way you treat others, react to their emotions/requests, and the kind of buddies you choose will ultimately determine the type of friend you are.
By the way, if you don't have a best friend to share this quiz with, take our other personality test called "Why Do I Have No Friends?" It can reveal the actual reason behind your dead friendships.
Now, let's identify the type of bestay you are based on your personality.
How to Play?
Playing personality quizzes is straightforward: Choose the option that's true about you—or you relate to—and select "Next." Unlike trivia quizzes, personality tests have no right or wrong answers. But the questions are in forced-choice format. The point is to push you to choose an option that makes the most sense, not the one that's 100% true. For the most accurate results, don't overthink your responses. Go with options that you "feel" are the best.
Questions of the quiz
1

What type of persons do you dislike the most?

Talkative

Cheap

Sensitive

Normie

Shy

2

Of the following options, which group activity would you enjoy?

Conversations

Shopping

Camping

Scuba diving

Truth-or-Dare game

3

What's the most toxic thing about you?

I can be overly laidback

I might be selfish at times

I make too many offensive or dark jokes

I'm jealous of my friends

I'm always late

4

How do you cheer up your friend?

By being a good listener

By buying them gifts or snacks

By buying them a drink

By making them laugh

By setting up a date for them

5

Which one sounds like a dream trip?

A relaxing trip to a quiet place

A luxurious trip to a tourist city

A spontaneous trip to a random location

An adventurous trip to an exotic and dangerous place

A long trip to a distant location with lots of naughty adventures

6

What type of people is your bestie attracted to?

Toxic

Broke

Boring

Unavailable

My doppelgangers

7

Which one best describes your sense of humor?

Normie

Cute

Dark

Sarcastic

Teasing-oriented

8

Choose a gift for your bestie's next birthday.

A fancy notebook

A concert ticket

A stripper

A vibrator

I myself am the gift

9

Would you kiss your best friend for 1,000 dollars?

No, money can't buy that

Um, I might do that

Only if I'm drunk AF

Yes, sounds like a good deal

I'd do that for free

10

What kind of movies do you like to watch with your friends?

Thriller or drama

Romance

Comedy

Horror

Films with lots of steamy scenes

11

How do you recover from an energy-draining activity?

I spend some time alone

I hang out with my favorite friends

I drink or smoke

I disappear for a while

I hook up with some hot baddies

12

Which word describes your drunk version?

Calm

Hungry

Loud

Unpredictable

Thirsty for some love

13

Would you hook up with your bestie's hot sibling? Why?

No, sounds unethical AF

Ewe, that's gross

Only if I'm drunk AF

I have already checked off that from my bucket list

Yes, that'd be hot

14

What's your party personality like?

Quiet but friendly

Drunk but not too crazy

Crazy but still funny AF

Drunk, crazy, and out of control

H.O.R.N.Y and looking for a mate

15

What types of convos are your favorite?

Deep

Gossip

Funny

Nonsense

Flirtatious and spicy

16

What's your Snap score?

1,000 or less

2,000 to 5,000

6,000 to 10,000

It's actually 0

Over 10,000

17

What's your TikTok feed like?

Practical or educational videos

Food reviews and cooking stuff

Random funny memes

Fandom and super-niche stuff

Dance videos and thirst traps

18

What archetype matches your BFF?

Baby

Daddy/Mommy

Wingman

Drug dealer

Baddie

19

Pick one of these random numbers. (Don't overthink your decision.)

20

What would you do if your friend lied to you?

I give them a second chance

It depends. But I might forgive them

I would pretend everything is cool

I'd lie to them too

I'd plan my revenge