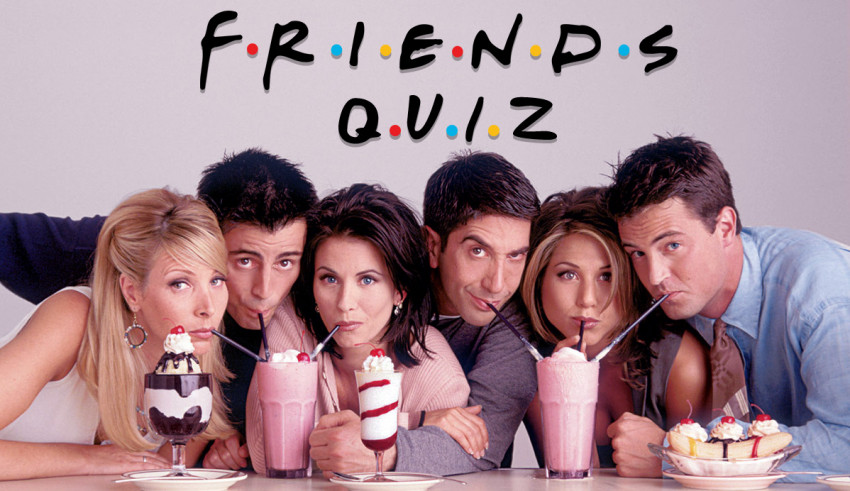 This amazing Friends Trivia Quiz can challenge its real fans. This hard Friends Quiz has questions with answers about this TV series, its characters, and facts.
Friends! When you hear it, only one thing comes to mind. The greatest sitcom of all time. The life of six young men and women living in Manhattan and their day-to-day lives. After more than 16 years since the last episodes' airing day, Friends is one of the best-selling series on YouTube! Apart from this, Friends has been nominated and got many awards, including Emmy and Golden Globe.
Friends series is the story of six friends named Ross Geller, Monica Geller, Joey Tribbiani, Chandler Bing, Phoebe Buffay, Rachel Green, and others like Gunter and Ursula. They live close by and have adventures on a daily base. The theme song, "I'll be there for you," can describe the whole story. Being there for each other, being friends, and, most importantly, growing up.
So, it is obvious that this series has hardcore fans all around the world. Usually, these fans claim to know every detail about these series, and they started creating several trivia quizzes and challenged their friends through Friends Trivia Quiz.
The great thing about the Friends Trivia Quiz is that it challenges you in all possible ways regarding the Friends series. This particular show has more than 230 episodes, making Friends trivia vibrant and fun, of course.
Friends Trivia Quiz
Taking this Friends quiz is a fun way to test the knowledge of your friends about the whole series. This Friends Trivia Quiz is rated E for being extreme. Besides, the Friends quiz can help you increase your understanding of the entire show. That's right! You will be surprised many times during the quiz.
Hard Friends Quiz
As mentioned earlier, this is not an ordinary quiz! In this hard Friends quiz, there are questions that you will struggle to find or even guess the answer to. In this part of the Friends quiz, you will see items you have not seen before. You will probably ask yourself, "was this real?". This quiz takes things to the Extreme Friends Quiz level. This quiz is so hard that you will want to re-watch the whole series.
Friends Trivia Facts
This is the bonus part of the Friends Trivia quiz. Only the most hardcore fans can get a good score (yet not a 100% perfect score). This quiz can be used to challenge your friends or partners. You can have a great time playing this quiz. You probably think you know or remember all the facts, but let us tell you that it may not be entirely accurate. The only way to find out is to take this Friends quiz with answers and compare your scores to others.
Final Word
Friends Trivia is a summary of all episodes in a package. Questions are designed to challenge your knowledge of the whole series. This Friends quiz with answers is just as fun as watching the entire thing.
So everyone loves Friends, and everyone who loves challenges will love this Friends quiz. To spice up things a little bit, we made it an Extreme Friends Trivia. Our findings show that more than 70% of the fans cannot get a perfect score. We don't blame the fans. It's a long comedy (236 episodes), and all of the episodes are somehow long. The number of characters is not small. Besides the main characters (Ross, Chandler, Rachel, Phoebe, Joey, and Monica), many other characters appear in very few episodes.
So a lot is going on in the show, and most importantly, it's a comedy; this means you laugh watching it, and when you smile, you close your eyes, which makes it easier not to see the details. We hope the same happens when you take this Friends quiz. Call your Friends and get comfy and try to be better than that 70% who couldn't get the perfect score on this quiz.
How to Play?
A trivia quiz comes with right and wrong answers. You receive one point for each correct response—but no negatives for the incorrect ones. Take your time and read the questions carefully because some might be trick questions. Choose an option and lock it in by tapping "Next." Lucky for you, the trivia quizzes have instant results. You see if your response was correct immediately. (Green is good, red is bad.) Even better, you can learn more about the topics with the "answer reveals," the fun-fact snippets that appear after each question.
Questions of the quiz
1

First off, What was the name of this beautiful girl that Joey met in England?

2

What was the name of Rachel's prom date who stood her up?

3

... and now a hard one, What was the first name of Emily's godmother?

4

What was the name of Rachel's colleague who was about to go to Paris instead of her?

5

How many times did Roy, Monica's prom date, watch Star Wars ?

370 times

317 times

173 times

170 times

6

On which floor did Rachel work when she was working at Ralph Lauren?

Level 15

Level 10

Level 20

Level 16

7

What was the name of Emily's neighbor who she thought was eavesdropping on her call with Ross?

Kimberly

Ms. Newman

Ms. Charles

Robin

8

What were Monica and Rachel looking for in the storage room?

Pancake Iron

Iron

Curling Iron

Waffle Iron

9

What was the tasty treat that the duck and the chicken were supposed to find in the contest?

Choclate

Won Ton

Nutter Butter

Beans

10

What had happened to Chandler's old tennis rackets?

He had lost them

Joey had lost them

Ross had given them to Carol

Joey had broken them

11

Drake tried to save this character from death in Days of Our Lives. What was her first name?

12

This old man gave Phoebe her briefcase when she wanted to escape the hospital. Why was he in the hospital?

Because of his kidney

Because of his liver

Because of his gallbladder

Because of his heart

13

And a hard one now! What was the name of the boat that joey bet on in the auction?

Caitlyn 24

Catalina 22

Caitlyn 22

Catalina 24

14

There are some posters in Monica's room, written in Russian. How many of them are there?!

15

When did Monica first hear the story of her parents' engagement?

When she was in 5th grade

When she was in 6th grade

When she was in high school

When she was in middle school

16

Rachel's license was expired when she was caught by the police. How many years had passed since she took the photo for her license?

10 years

12 years

20 years

15 years

17

What was the supply manager's name who wanted to kill himself?!

18

How many states did Ross write down in Chandler's game?

19

When did Greg and Jenny agree to get together with Monica and Chandler?!

January 15th

Saturday

Sunday

January 10th

20

What table was Mona sitting at when she was in Monica and Chandler's wedding?

21

What was the first name of Ben's new teacher in kindergarten?

Jenny Boon

Jenny Boan

Kelly Boon

Kelly Boan

22

What grade did Ursula's fiance teach in school?

5th grade

3rd grade

2nd grade

4th grade

23

What was Ross's rank in the Vanilla Ice look-alike contest Chandler and him attended in college?

24

At what age did Monica start to tell time?

25

What was the name of Rachel's OB-GYN doctor?

Dr. Long

Dr. Tam

Dr. Lang

Dr. Ernest

26

How many kids was Chandler planning to have when he was thinking about the future?

27

There was a poster in Chandler and Joey's apartment that had "My Guinness" on it. Where was that poster hanged on?!

On the bathroom door

In Joey's room

In Chandler's room

Next to the TV

28

On which floor was Ross's book placed in the library?

29

What was Wendy's job title in the office? (Hint: She stayed with Chandler when everyone went home.)

Vice president

Regional vice president

Office manager

Office assistant

30

What was the song that Monica sang in the bar where Mike was playing?

Lady in Red

Delta Dawn

Careless Whisper

I Will Always Love You

31

How many Nobel Prizes did Charlie's ex-boyfriend, Albie, had?

32

There are some details that nobody pays attention to! What was this guy's name that admired Ross in his conference?!

33

What was Rachel's hotel room number when they were staying in Barbados?

34

This woman gave Ross his last tan spray that he also scrwed up! What was her name?

Glenda

Linda

Belinda

Melinda

35

What toy did Joey choose for the toy contest in Emma's birthday party?!