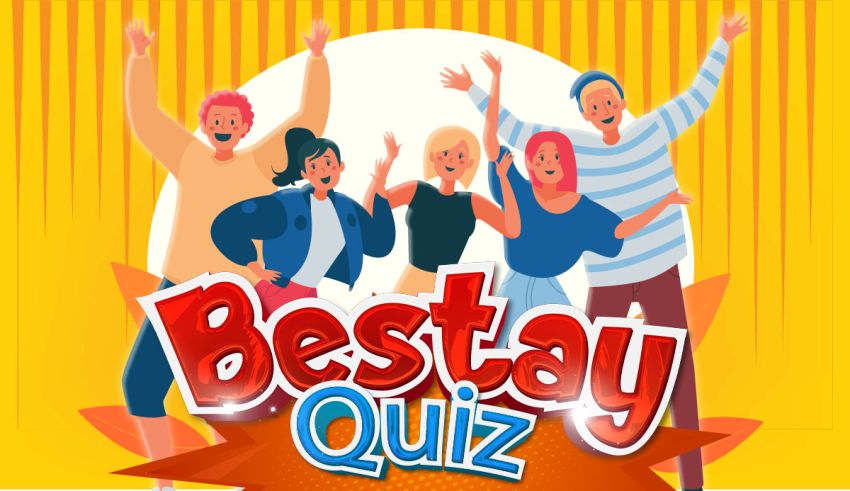 The bestay quiz exposes the type of bestie you are for your BFF. Are you the dumb, the teaser, or the awkward bestay?
What Is the Bestay Quiz?
The bestay, bestie, or BFF quiz is a set of questions that reveal what kind of friend you are. It analyzes how you treat your "homies" to identify your type.
What about the Bestay quizzes on TikTok?
There are two bestie quizzes on TikTok: friendship requests and friendship trivia. The former is often a google form that users fill out to become friends with each other. But the latter tests besties' closeness.
What Are the 8 Types of Bestay?
According to Gen-Zers, there are eight besties (aka bestays): Try-to-fit, judgmental, dumb, bad-influence, awkward, teaser, naïve, and whiner.
Here's what each bestay means.
| | |
| --- | --- |
| Bestay Type | Feature |
| Naïve | It is purely innocent. |
| Judgmental | Disapproves of everything. |
| Bad Influence | Encourages illegal activities. |
| Dumb | It is spontaneous and random. |
| Bad Influence | Encourages illegal activities. |
| Awkward | Is shy and self-conscious. |
| Teaser | Annoys you at all costs. |
| Try-to-Fit | Is extra. |
| Whiner | Complains about everything |
The Try-to-Fit.
Enthusiastic and bubbly, the try-to-fit friends put effort into remaining relevant and relatable. They go out of their way to fit in and hang out with others. But people often reject them because of being extra.
The Judgmental.
Inconsiderate and blunt, the judgmental bestay points out the negativity no matter what. It's the type of friend that few wish to have and many avoid.
If you're judgmental, try our quiz, "Why do I have no friends?"
The Dumb.
Relatable and lovely, the dumb bestay is the comical relief of life. They are spontaneous, funny, and genuine. But their impulsivity makes it challenging to befriend them.
The Bad-Influence.
The bad influence is the bestay who pushes you to try unconventional—and maybe even illegal—activities. Although risky to befriend, the bad influence BFFs are pretty popular.
The Awkward.
Avoiding most social situations, the awkward bestay is shy and reserved. But you soon realize that they have interesting personalities once you get past the shyness barriers and get to know them better.
The Teaser.
Whether it's random pranks or mean comments, the teaser bestay uses its arsenal to irritate you. But it's often difficult not to love them because, deep inside, they're just a naughty kid.
If you're a teaser, check out our other quiz, "Am I annoying?" (Because you might be).
The Naïve.
An innocent soul, the naïve friend is modest and easy to fool. You see them as your younger sibling—or sometimes even your child. And it's hard to hold grudges against them because they're just guiltless.
The Whiner.
Call them Debbie Downer, Negative Nancy, or Karen, the whiner bestay manages to complain about unimaginable things.
What's Fun About the Bestay Quiz?
The results are intentionally funny AF, and you can share them on TikTok, IG, or wherever your homies are. It would be even more fun to ask your whole squad to take the test and expose everyone's bestay type at once.
This Test Reveals Which BFF You Are.
Wondering which bestay you are? The 20-question BFF test on this page exposes your type. Tell us about your friendships, and we will discover your bestie style.
Tap "Start Quiz" for instant results.
How to Play?
Playing personality quizzes is straightforward: Choose the option that's true about you—or you relate to—and select "Next." Unlike trivia quizzes, personality tests have no right or wrong answers. But the questions are in forced-choice format. The point is to push you to choose an option that makes the most sense, not the one that's 100% true. For the most accurate results, don't overthink your responses. Go with options that you "feel" are the best.
Questions of the quiz
Question 1

Your bestay just broke up with their SO. What's the plan?

I just hug and let them cry it out.

I probably start hating on their ex.

I offer them some pieces of advice.

I do silly things to lift their mood.

I ask them to get drunk/high with me.

I make jokes about their stupid relationship.

I tell them about my own ex.

I don't know. I'd probably leave them alone.

Question 2

It's the weekend and you're bored. What do you do?

I do something productive.

I crash at a friend's house.

I sleep all day.

I throw a random party at my place.

I roll a blunt and hit the moon with homies.

I make some prank calls and have fun.

Ugh, I don't know. I hate those days.

I'd probably lock myself in my room and kill time.

Question 3

Which one sounds like a proper nickname for your bestie?

Cutie.

Boss.

Dummy.

Mommy or daddy.

Baddie.

Beeotch.

Extra.

I don't know.

Question 4

Your BFF has a crush on your hot classmate. How do you help them?

I help them date.

I force my friend's crush to take them on a date.

I explain my friend why it's not okay to thirst over random people.

I do dumb sh** to embarrass my friend around that person.

I encourage my friend to hook up with their crush.

I tease both to hopefully spark a fire.

Ugh, I hate it when my stupid friends thirst over silly people.

I don't know. I've never been in such situations.

Question 5

Pick a game to play with your homie all day long.

Animal Crossing or Wordle

I'd be done to whatever my bestie picks.

I'd rather gossip than play games.

Fortnite or PUBG

Poker or something like that.

Chess or Tic-Tac-Toe

I hate playing games.

IDK. I'm not familiar with these games.

Question 6

Fill in the blank. Sleepovers must be ______________.

Lovely and intimate.

Cool and wild.

Calm and non-chaotic.

Dumb and childish.

Naughty and unpredictable.

Crazy and hilarious.

Meh, I don't like sleepovers.

I don't know much about sleepovers.

Question 7

Fill in the blank. My best friend's music taste is __________.

Awesome

The BEST

Embarrassing

Funny

Not that bad

Stupid AF

Outdated

Okay, I guess. (Not sure)

Question 8

On a scale of 0-10, how'd you rate your bestie's style? (10 means it's perfect).

9

10

8

7

5-6

3-4

0-2

I don't know.

Question 9

What do you love about your bestie(s)?

I love their supportiveness.

I love everything about them.

I like their open-mindedness

I like their sense of humor.

I love their body or voice.

I like their dumbness.

I don't like much about them.

I think I like everything about them.

Question 10

You and your bestay are at a party. Which one describes the situation better?

Two social and easygoing friends having fun.

One lame person (you) trying to keep up with a cool friend.

Two gossip-loving friends judging every outfit in the room.

Two dumbass freaks being the stars of the show.

Two stoned MFs trying to figure out where they are.

Two funny people making everyone in the room laugh.

Meh, I don't like parties.

IDK. I'm not invited to many parties.

Question 11

What kind of people can never join your squad?

Mean or rude

Anyone can join our squad.

Lame and old-fashioned.

Humorless and arrogant.

Coward and overly nice.

Sensitive and extra

No one can join our squad. Sorry.

I don't know. I don't have a squad.

Question 12

You unintentionally offended your friend. What do you do now?

I immediately apologize and make it up to them.

I ask them what they want me to do.

I ignore them for a while.

I try to make them laugh and forgive me.

I let them deal with it alone. I'm not their parent.

I make fun of them for being such a hypersensitive.

I ask them to stop being childish.

I don't know. But I'd feel terrible.

Question 13

What's something about your bestay that you don't like?

I don't like that my friends hang out without me.

I like everything about them.

I don't like their style.

I dislike their taste in meme.

I dislike their parents.

I dislike their sense of humor and jokes.

I hate their partners.

I'm not sure about the answer (or I'd rather not say).

Question 14

Which one is the perfect birthday gift for your best friend?

Something thoughtful and wholesome

Something eye-catching and unique.

Something expensive and rare.

Something silly and funny.

Something naughty.

Something cheap.

Meh, I don't like birthday gifts and all that.

I don't know. I'd get them whatever they want.

Question 15

What kind of memes do you share with your friends?

Cute

I send them memes that reminds me of them.

Dark humor or stuff like that.

The most random Gen-Z memes ever.

Memes that Snoop Dogg would love.

I often send them prank videos.

Meh, I don't like memes.

IDK. I don't know much about meme culture.

Question 16

What type of TikToks do you often watch?

Dance

TikToks that my friends send me.

News or important stuff.

Dumb videos—especially those of animals.

18+ TikToks that kids should avoid.

Pranks and funny stuff.

Meh, I don't like TikTok that much.

I don't have a TikTok account.

Question 17

Describe your mood in one word.

Peaceful.

Needy.

Grumpy.

Energized.

Angry.

Playful.

Sad.

Lonely.

Question 18

Which one irritates you the most?

Friends that make mean jokes.

Busy friends.

Lame friends.

Friends with no sense of humor.

Friends that are not open to new experiences.

Irritable and short-tempered friends.

Meh, I guess all of them.

I guess none of them would irritate me.

Question 19

How would you feel if your bestie found a new best friend?

Happy.

Jealous.

Disappointed (but not surprised).

Numb.

Vengeful.

Excited.

Broken.

It depends.

Question 20

Final question: What made you take the bestay quiz?

It seemed fun.

A friend asked me to.

No reason. I was bored.

I just wanted to see the silly results.

I had nothing else to do.

I saw the trend on TikTok.

Meh, whatever.

I want to know what type of friend I am.