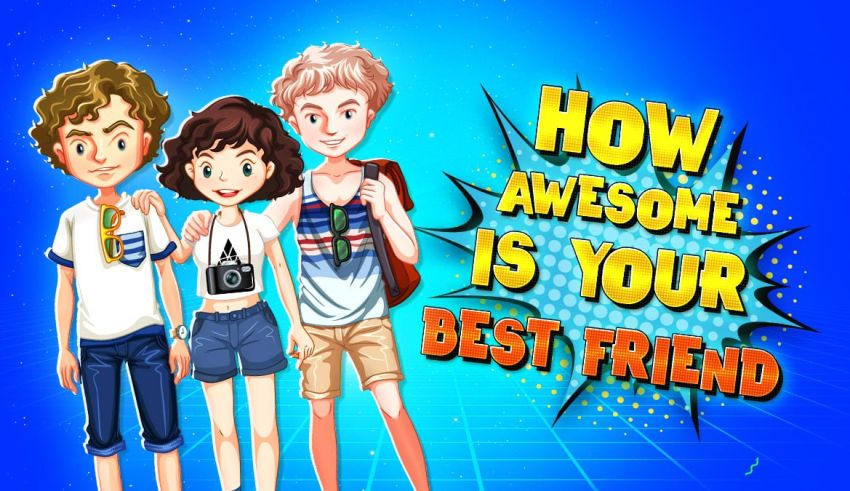 Find out how awesome your best friend is with this fun BFF quiz. Is your bestie super cool or straight-up awful? Here's the true answer.
Best Friend Quiz Explained
The Best Friend Quiz reveals how awesome and reliable your bestie is based on your friendship standards. Generally, your BFF is as awesome as the love and support they give you. But the test identifies the exact amount of awesomeness in their blood.
| | |
| --- | --- |
| Type of Friend | Feature |
| Awesome | Supportive and reliable |
| Okay | Funny and cool |
| Awful | Mean and irresponsible |
But hey, it's not all about your BFF. The Best Friend Awesomeness Quiz also exposes how good of a friend you are. It basically reveals the type of bestay you are by analyzing how you treat your buddies.
Signs Your Best Friend Is Awesome
You can tell your best friend is awesome if they care about you, listen to you, and support you. A good friend is one whom you can rely on, open up to, and ask for help when needed.
Usually, a friend's influence on your life is an ideal way of seeing how awesome they are. Besties bring out the best in you. They help you become the ideal version of yourself while loving you for who you are—not the person you could be.
Here are some features of an awesome pal:
Supportiveness
Honesty
Loyalty
Respect
Empathy
What Makes a Friend Awesome or Awful
The intention behind a friendship can be the difference between an awesome or awful friend. A bond built around personal gains leads to having bad companions. But one built around love and respect often leads to the best friendships ever.
Compatibility is another factor in the quality of companionship. Befriending people with extremely different traits and beliefs will likely end up in a horrible friendship, whereas hanging out with like-minded people could result in long-lasting bonds.
Good Friendship Feels Like True Love
You don't have to be in love with your best friend, but you need to adore them for who they are. If you can't seem to relate to your friend's personality and if you can't love them for who they are, you're not in a good relationship. True companionship low-key feels like love—except it has no sexual aspects—platonic love if you will.
See How Awesome Your BFF Is with a Friendship Quiz
Do you still ask yourself, "How awesome is my best friend?" We've analyzed some of the most common signs of awesomeness among real-world best friends to come up with an accurate BFF Awesomeness Analyzer. Answer the following friendship questions to see if your closest buddy is actually a good friend.
By the way, no hard feelings, please. At the end of the test, you may get a brutally honest answer that reveals why you have no awesome friends. So, yeah, there's also that.
Now, let's reveal how awesome your pal is. 👀
How to Play?
Playing personality quizzes is straightforward: Choose the option that's true about you—or you relate to—and select "Next." Unlike trivia quizzes, personality tests have no right or wrong answers. But the questions are in forced-choice format. The point is to push you to choose an option that makes the most sense, not the one that's 100% true. For the most accurate results, don't overthink your responses. Go with options that you "feel" are the best.
Questions of the quiz
1

Can you tell your secrets to your bestie?

Yes, I tell them everything

I can tell them most of my secrets

Kind of, yeah

Nope, never

2

Is your bestie the first person you call when you're in trouble?

Yes, absolutely

It depends

I don't think so

No, they'd be the last person

3

Is your best friend a good sidekick when you go crazy?

Yes, they calm me down

Yes, they go crazy with me

Not really. None of us is crazy

No, because they're the crazy one

4

What does your BFF do when you're being stupid?

They help me do the rational thing

They match my stupidity, so we're both stupid

They usually mind their own business

They kind of encourage me to be even more stupid

5

How does your best friend react when you're sad?

They come over and cheer me up

We both get drunk and laugh it off

They ask if I need anything, but that's it

They ignore me

6

What would your best friend do if you broke up with your partner?

They'd constantly check in on me

They'd make me laugh

They'd find me new dates

They'd shi* on my ex

7

Can you financially count on your bestie and ask for a couple of bucks?

Yes, always

I think so

Not really

No, I'm the financial supporter

8

Have you ever felt like your best friend would die without you?

No, but I'd die without them

Sometimes I do

I used to feel like that, but not anymore

Yes, they'd die if I weren't around

9

Do you feel like your bestie is just straight-up annoying?

No, I'm the annoying one

We're both annoying

None of us is annoying

Yes, they're the most annoying existence ever

10

How often do you share memes with your BFF?

Whenever I see something that reminds me of them

Every day

Rarely

Never

11

What's your Snapchat friendship emoji with your bestie?

Super BFF (two pink hearts)

Besties (yellow heart)

Good friends (red heart)

None of them

12

In a parallel universe, would you smash your bestie?

Absolutely

No, but that'd be hilarious

I don't think so

Never (I'd rather die)

13

Why do you think you're good friends?

Unconditional love

Mutual interests

Mutual dislikes

We don't know that either

14

Who usually pays for the dinner?

My bestie

It depends on who got some Benji

We split the bills

I pay for everything

15

Which secondary role does your bestie play in your life?

Therapist

Partner in crime

Business partner or adviser

My unwanted child

16

Who's the mom, dad, older or younger sibling in your friendship?

My bestie is the mom

My bestie is the dad

My bestie is the older sibling

My bestie is the younger sibling

17

What would it be if you could change one thing about your bestie?

I'd make them less naïve

I'd make them less stupid

I'd make them a bit more emotional

I'd change everything about them

18

Who's the true weirdo, you or your BFF?

I'm the true weirdo

We're both weirdos

Neither of us is

My friend is the true weirdo

19

How jealous would your bestie be if you befriended someone else?

Not jealous at all

I don't even know

Slightly jealous

Super jealous

20

Final question: how long have you been friends?

8 years or more

5-7 years

1-4 years

Less than a year