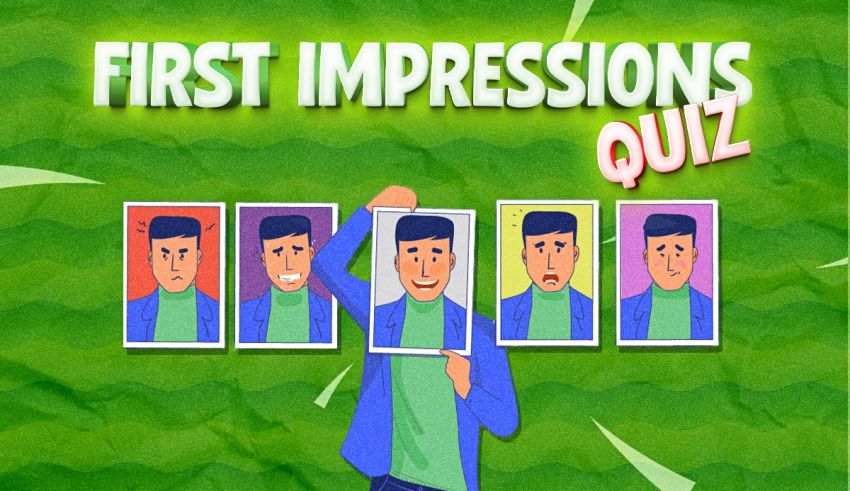 The First Impression Quiz exposes others' initial perceptions of you. Do you leave positive or negative impressions? Find out now.
What Is the First Impression Quiz?
Comprised of 20 sociopsychological questions, the First Impression Quiz guesses strangers' perceptions of you.
In psychology, the first-impression bias is the process of judging people based on the earliest information you receive from them.
With the current quiz, you identify whether people see you as a likable, dislikeable, suspicious, or exciting person before getting to know you.
| | |
| --- | --- |
| Behavior | First Impression |
| Eye contact | Positive |
| Assertive tone | Exciting |
| Casual style | Neutral |
| Aggressive tone | Negative |
What Are the Four Types of First Impressions?
In everyday speech, the first impression refers to the vibe that you give off. It can take many forms, as there are no set boundaries. But psychologically speaking, the initial reactions to newly met people are of four kinds: Negative, positive, neutral, and exciting.
·       Negative First Impression.
When someone has a negative first impression of you, they assume you're neither likable nor interesting nor trustworthy.
A bad first impression often projects into their behavior as they make less eye contact, reply with short responses, and avoid you.
·       Positive First Impression.
When someone has a positive first impression of you, they assume you're likable, interesting, or trustworthy. Their affirmative view of you often reflects in their reactions as they use open body language with you, make eye contact, show interest in the conversation, and take a genuine interest in you.
·       Neutral First Impression.
A neutral first impression is when the other party has neither a negative nor a positive view of you—they're indifferent or uninterested.
The good thing about this first impression is that it leaves the door open for you to change it. Someone with neutral opinions about you is likelier to like you than someone with bad ones.
·       Exciting First Impression.
Often assumed as a sexual first impression, exciting perceptions happen when you're curious to know more about someone you just met.
Of course, it is not limited to sensual relationships, and anyone might find you interesting for who you are.
Why Should You Care About the First Impressions?
The first information you have about a person is the strongest, most influential, and easiest-to-remember thing about them. That's called the Primacy Effect.
According to the Primacy Effect theory, less frequent behaviors leave a long-lasting influence on others. In other words, an unusually negative or admirably positive trait is likelier to affect your first impression.
What Determines the First Impression You Make on Others?
According to Ric Phillips, a Canadian communication coach, three types of interactions determine your first impression on people: Verbal, Vocal, Visual. The 3-V, as he calls them.
Verbal interactions are your word choices, they are what you say. Vocal interactions are the non-verbal signals in your speech, they are your tone, pitch, and intonation. And visual interactions are physical signals you give off, they are your body language, style, and facial expression.
Together, the 3-V form the fourth V, the "vibe," also known as the first impression.
Ready to Find Out What Your First Impression Is?
The following sociopsychological questions reveal if people like or dislike you at first sight.
If you want to know what vibe you give off to people who don't know you, take the First Impression Quiz. It's free and accurate.
Do people think you're a bad person, or do they actually like you? Hit the start button to find out.
How to Play?
Playing personality quizzes is straightforward: Choose the option that's true about you—or you relate to—and select "Next." Unlike trivia quizzes, personality tests have no right or wrong answers. But the questions are in forced-choice format. The point is to push you to choose an option that makes the most sense, not the one that's 100% true. For the most accurate results, don't overthink your responses. Go with options that you "feel" are the best.
How many questions does this quiz have?
20 questions
How long does it take to complete this quiz?
6 minutes
Questions of the quiz
Question 1

Do people make eye contact with you when you're talking to them?

Most of them do.

I'm not sure.

All of them do.

No, no one does that.

Question 2

Do you make eye contact with others?

Most of the time, yes.

I do my best.

Yes, I make eye contact with everyone.

No, I don't like that.

Question 3

Is it often that you see a stranger smile at you?

Kind of.

Not really.

Yes, it happens all the time.

No, it never happens.

Question 4

Do you smile when talking to strangers?

I do try to smile at people.

It depends. I might do that.

Not really. But people do smile at me.

No, I don't smile at strangers. That'd be creepy.

Question 5

Which one describes your body language?

Expressive. (I'm all over the place.)

Predictable. (Like everybody else.)

Strategic. (I control my body language.)

Self-conscious. (I'm a bit awkward.)

Question 6

Which one describes others' body language around you?

Expressive. (They match up to my energy.)

Predictable. (Like everybody else.)

Suggestive. (They want to get close to me.)

Indifferent. (They are often cold to me.)

Question 7

How do you feel about meeting new people?

I love it.

It depends. I might like it.

IDK. But people like meeting me.

I don't like the idea.

Question 8

How do YOU judge people based on their first impressions?

I'm as optimistic and kind as possible.

I'm often neutral to people until I have enough info.

I analyze their voice, body, and style.

I'm usually suspicious of people that I don't know well.

Question 9

How do you feel when entering a room full of guests?

Excited.

Calm

Confident

Nervous.

Question 10

Which one is a better description of your tone and intonation?

Friendly or informal tone.

Formal or factual tone.

Assertive tone.

Dry or indifferent.

Question 11

How would you describe your style?

Creative.

Casual.

Formal.

I wear whatever I get my hands on.

Question 12

Do people you just met touch your arm when laughing?

Not always. But it happens.

It doesn't happen that often. I'd say rarely.

Yes, all the time.

No, it never happens.

Question 13

Are people interested to know about your personal life?

Most of them are.

I'm not sure. It depends.

Yes, everyone seems interested.

No, no one is interested.

Question 14

What type of questions do they usually ask?

Career questions

Education questions

Love life or relationship questions

Random boring questions

Question 15

Are you interested in knowing about people's daily lives?

Yes, I genuinely like that.

Not really.

It depends on who I'm talking to.

No, I'm not interested at all. That's boring.

Question 16

Would you say you can make people laugh?

I can certainly make them smile.

Not really.

Yes, I can make them go LoL.

No, not at all. I suck at that.

Question 17

Which one happens more often than not?

People compliment my personality.

People compliment my achievements.

People compliment my look.

People straight-up ignore me.

Question 18

How do you react when someone leaves a bad first impression on you?

I give them another chance.

I wait until I have more info about them.

I talk to them to see if my first impression was correct.

I avoid them.

Question 19

How would you feel if someone had a negative first impression of you?

I'd feel sad.

I'd be fine.

I'd be curious to know the reason.

I'd be indifferent. I don't even care.

Question 20

Final question: How do you feel about your life (in general)?

I love it.

It's fine.

I'm proud of it.

I don't like it that much.