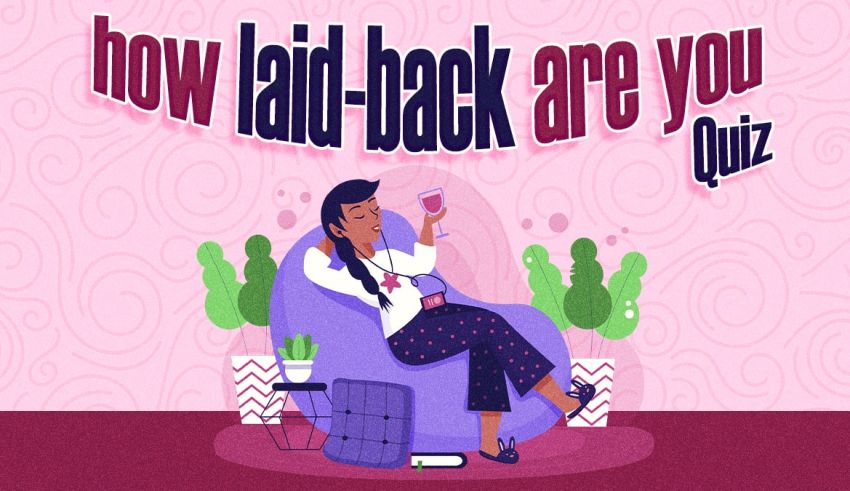 Do you want to know how laid-back you are? This chillness checker measures your peacefulness and uptightness levels accurately.
How to Know If You're Laid-back?
Six signs you are actually laidback:
You actively try to reduce your stress level.
Deadlines and work pressure don't bother you.
You appreciate the simplicity and are quick to adapt to changes.
You always have plans for your leisure time and try to enjoy it.
Living in the moment is not a challenge for you; it's your jam.
Your conflict style is compromised; you prioritize coming to terms.
What Does the Laid-back Quiz Do?
With twenty conflict and concern questions, the Laidback Quiz determines if you are a chill or uptight person. But it also goes as far as exposing how cool or edgy you are.
For a similar experience, try our other quiz called "How Likable Are You?" It can reveal if your peaceful or tense character has affected others' first impressions.
What Are Some Types of Laid-back Personalities?
You could argue that a laid-back personality is the opposite of an uptight persona. But the thing is that chillness has a spectrum: On one flank, there are super-cool Zen masters; on the other are productive laid-backs with high levels of extroversion.
Here are some common types of a laid-back personality:
Chill Blasé
Some people are just super chill. They value peace of mind and simplicity above all else and are as adaptive as it gets. The Chill Blasé are the most laid-back fellows with a knack for enjoying life as it is.
Lazy
Being laid-back differs from being lazy. However, some people prefer to hide their lethargic personality behind their "chill persona." A lazy laid-back is one who avoids conflicts at all costs and is willing to go the extra mile to postpone plans—or tasks.
Introverted
Unlike other laid-back types, an introvert's chillness might not be rooted in peace of mind; it might be coming from their social awkwardness. A lot of times, introversion is perceived as being relaxed or tolerant, while in reality, it's just being avoidant.
Extroverted
Sitting on the opposite flank of the uptightness spectrum, extroverted laid-backs are peaceful doers. They, too, value discipline and hard work, but they don't necessarily achieve those by stressing themselves out. Basically, they thrive in an unhurried environment.
Is It Bad to Be a Laid-back Person?
As a result of the toxic hustle culture, being laid-back might be compared to being lazy. However, people with relaxed and easygoing demeanors have been proven to be more productive than anxious workaholics.
Of course, excessive calmness might indeed lead to carelessness or apathy. But a reasonable amount of flexibility and leisure is a must for avoiding mental illnesses.
How to Be More Laid-back?
Anxiety hinders calmness. So, logically, any stress-relieving activities such as breathing and meditation can help you become laid-back. Stephanie Florman, a relationship advice expert, believes that "our breath is the one tool we have that guarantees we're in the physical moment." And being in the moment is key to increasing your chillness level.
Find Out How Chill You Are with a Relaxing Quiz
For those seeking to know how laid-back—or chill—they are, this quiz has 20 exposing questions! Hit the start to discover if what you have is straight-up laziness, productive coolness, or destructive uptightness. 😌🧘🏻‍♂️🧘🏻‍♀️
How to Play?
Playing personality quizzes is straightforward: Choose the option that's true about you—or you relate to—and select "Next." Unlike trivia quizzes, personality tests have no right or wrong answers. But the questions are in forced-choice format. The point is to push you to choose an option that makes the most sense, not the one that's 100% true. For the most accurate results, don't overthink your responses. Go with options that you "feel" are the best.
Questions of the quiz
1

How do you react to stress?

I'm rarely stressed

I calm myself down and move on

Stress makes me go crazy (can't handle it)

2

How easy is it for you to adapt to changes?

It's the easiest thing ever

It depends, but it's usually easy

It's super difficult

3

Do you constantly feel like you need to be productive?

No, not at all

Sometimes, but it doesn't bother me

Yes, and it's just painful

4

Are you open to trying new experiences?

Yes, always

I usually am

No, not at all

5

How would you describe your body language?

I rarely move, tbh

Calm and predictable

Quick and energetic

6

How do you deal with complexity?

I ignore it

I simplify it

I usually just overthink it

7

How easy is it for you to let go of things when they go out of control?

Easy-peasy

It depends. But I'm capable of doing that

I can't do that. It would stress me out

8

Do you believe in fighting against the odds?

Nah, just forget about it already

Meh, maybe

Yes, I kind of believe in that

9

What do you think of deadlines?

I don't care about them

I care about them. But they don't bother me

I hate them! They make me nervous

10

How do you spend your free time?

I go 100% vacation mode

I have detailed plans for my leisure time

I usually do work-related stuff beside having fun

11

What is your sense of humor like?

Open-minded (I can laugh at anything)

Relaxed (I can take a joke or two)

Strict (I'm picky with what I laugh at)

12

On a scale of 0 to 5, how patient are you?

5 (ultra patient)

3-4

0-2 (not that patient)

13

How do stress and pressure affect your work performance?

They don't affect it at all

I usually negate their effect

They destroy my momentum

14

Are you an optimist or a pessimist?

15

Would you say you're good at accepting feedback?

Meh, I don't care about others' feedback

Yeah, especially the constructive ones

No, I don't like any type of feedback

16

Which social situation sounds stressful?

Family gathering

School reunion

Workplace party

17

What's your idea of discipline?

Unnecessary restriction

Constructive (but flexible) boundary

Strict rules

18

What's your party personality like?

Drunk and peaceful

Friendly and sociable

Shy and avoidant

19

Are you a loud or quiet person?

Usually quiet

I can be both

I'm loud when I'm excited

20

Final question: What's your go-to method to chill?

Drinking or smoking

Meditation or exercise

Catching up with postponed stuff