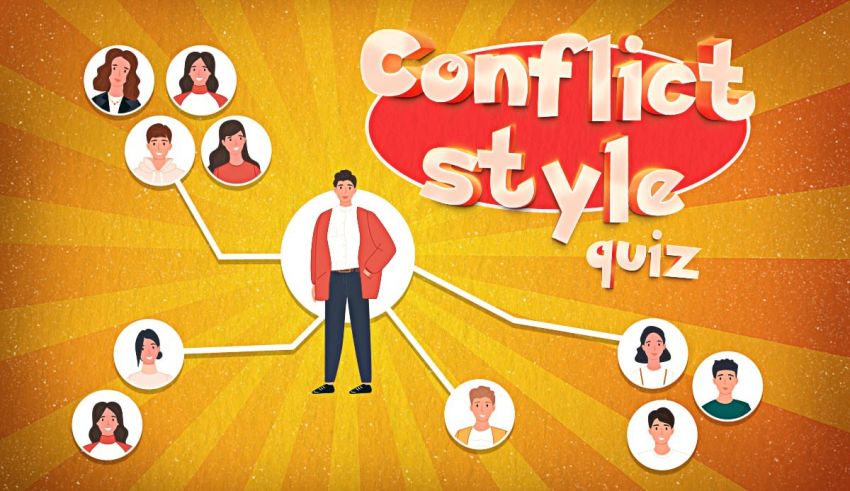 What is your conflict style? This anger quiz reveals if you're a competitor, collaborator, accommodator, or avoider.
What Is the Relationship Conflict Style Quiz?
Inspired by the TKI Modes, the Conflict Style Quiz is an argument-style inventory. It determines which quarrel-handling type you have in romantic relationships. The test has five possible results: Accommodating, Avoiding, Collaborating, Compromising, and Competing.
| | |
| --- | --- |
| Conflict Style | Argument Priority |
| Avoider | Wants to end the argument |
| Accommodator | Wants to please their partner |
| Collaborator | Seeks collaborative, long-term solutions |
| Competitor | Prioritizes winning the argument |
| Compromiser | Values coming to terms |
TKI, also known as Thomas-Kilmann Conflict Mode Instrument, is a multilevel dispute assessment. With this test, participants get to see how they manage their anger and solve problems.
The current adaptation, however, uses TKI to expose conflict styles in relationships. Similar to the communication style test, it analyzes your responses to disagreements to decide if you're a competitor, collaborator, compromiser, accommodator, or avoider.
What Are the Five Conflict Styles?
According to the TKI Mode, the five conflict styles are Accommodating, Avoiding, Compromising, Collaborating, and Competing. These types are categorized based on their assertiveness (self-centered attitude) and cooperativeness (altruistic behavior).
Here's what each style signifies:
Accommodating is prioritizing your partner's needs.
Avoiding is ignoring or escaping the argument.
Competing is prioritizing your needs.
Collaborating is looking for a genuine win-win solution.
Compromising is meeting halfway.
How to Determine What Your Conflict Style Is?
To find out what conflict style you have, determine your anger type, review your thought process during arguments, and ask for your partner's comment on your conclusion.
If you become self-centered when you're mad, your style is the competitor. If you want to work together and seek long-term solutions, you're a collaborator. If you value 50-50 equal solutions, you're a compromiser, and if you prioritize pleasing your partner, you're an accommodator. But if you escape arguments, you're an avoider.
How to Better Your Conflict-Handling Type?
Dr. Ralph Kilmann, TKI Modes' coauthor, says the first step to better your argument management is self-awareness. You must find out which style you use more often and why. The next step, he says, is practice. You should practice responding to disagreements with different approaches to enhance your emotional muscles.
Taking the Conflict Style Quiz could be your first step toward improving your anger reactions. You can also try the Multidimensional Anger Issue Test to learn more about your rage.
Take This TKI Quiz to Find Your Conflict Mode
Do you ask yourself, "Why do we argue so much?" If yes, don't hesitate to take the Conflict Style Test because it has the answer. Most couples can't stop arguing simply because they have incompatible argument-handling types.
Knowing your style helps to root relationship issues properly and solve them without unnecessary drama.
Hit the start button, answer 20 relationship questions, and discover your conflict style now.
Disclaimer
Although inspired by the TKI Mode, the Conflict Style Quiz is an independent personality test and intends no copyright infringement. The Myers Briggs Company owns the right to the mentioned argument style inventory.
How to Play?
Playing personality quizzes is straightforward: Choose the option that's true about you—or you relate to—and select "Next." Unlike trivia quizzes, personality tests have no right or wrong answers. But the questions are in forced-choice format. The point is to push you to choose an option that makes the most sense, not the one that's 100% true. For the most accurate results, don't overthink your responses. Go with options that you "feel" are the best.
Questions of the quiz
1

How do arguments make you feel?

Nervous

Distracted

Sad

Irritated

Scared

2

What should your partner do to help resolve a conflict?

Tell me what they want

Agree to meet halfway

Word their needs and hear out mine

Listen to what I say and cooperate

Stop the argument when I ask them to

3

What do you do when you're mad at your partner?

I try to resolve it without bothering them

I wait for the right moment to bring it up

I talk to them about my feelings

I often flip out and start an argument

I hide my anger because I want no conflicts

4

What do you do when they (your lover) are mad at you?

I do what they want to calm them down

I offer a few solutions and let them pick one

I give them enough space so they can talk about it

It usually irritates me, and I ask them to stop

I leave and come back when they're calm

5

What kind of solutions are you a fan of?

Easy and quick

Equal and logical

Long-lasting and well-thought

I like solutions that prioritize my needs

I like whatever solution that will end the conflict

6

What are your thoughts on apologies?

I always apologize even when it's not my fault

I like them, but I don't need them

I think it's a nice little step toward solving conflicts

I don't like apologies because they're useless

I will apologize if it calms my partner down

7

Which one better describes your anger?

Passive and hidden

Usually moderate

Always moderate and manageable

Aggressive and unmanageable

I don't get mad at all

8

Do you know what you need or want out of a conflict?

I usually don't.

I usually do.

Yes, but I'd rather hear my partner's needs too.

Yes, I know what I want, and I'll get it.

No, I never know what's the point of our arguments.

9

Sometimes, you just need to say "okay" to end a conflict.

Yes, I agree with that

Maybe, I'm not sure

No, you don't have to do that

No, I will never do that

Yes, that's how I solve all arguments

10

What's the worst thing your partner could do during an argument?

Refuse to tell me what they want

Refuse to accept my apology

Refuse to collaborate

Refuse to do what I want them to do

Refuse to end the argument

11

How do you react when your partner apologizes?

I tell them they don't need to

I apologize to

It depends on so many different things

I tell them I want actions, not words

I accept the apology just to end the argument

12

What kind of topics do you usually argue about?

Things I do that irritate my partner

Minor things that don't matter that much

Important stuff that might affect our future

Lots of things. Anything can turn into an argument.

Pointless random things that I don't even want to argue over

13

You're so angry that you can't even talk. What do you do?

I just stop talking and let my partner speak

I ask my partner if it's okay for me to leave for a while

I tell my partner that I need some time

I let it out and show my anger to my partner

I hide my anger and pretend it's fine

14

Would you say you're good at anger management?

No. I can't express it either

I think I am. But I'm not sure

Yes, I'm good at it

Not at all. I often burst into anger and lose it

Yes, but it's because I hide it

15

What type of anger do you have?

Passive (I don't show my anger)

Petrified (My anger is often rooted in previous arguments)

Occasional (It depends on the situation)

Explosive or chronic (I suddenly flip out)

Passive-Aggressive (I express my anger indirectly)

16

Which one sounds like your thought process in a conflict?

I have to calm my partner down

I can't let this argument hurt my relationship

We both deserve to be heard

I can't believe they're doing this to me

It's stupid. I didn't sign for this nonsense

17

What's the scariest part of a conflict?

Hurting your loved one

Not being able to solve it quickly

Letting it affect your feelings for each other

Letting it turn you into a giver who receives nothing

Everything about conflicts is scary

18

Which of the following traits is best for conflict resolution?

Adaptation

Rationality

Commitment

Compliance

Emotional intelligence

19

How soon after an argument are you ready to discuss it?

Whenever my partner is ready

A few hours after it

When both of us are ready

Right after the argument

I need a lot of time to recover

20

Final question: Which one is your priority in an argument?

Helping my partner

Saving my relationship

Solving the issue

Getting what I want

Ending the argument