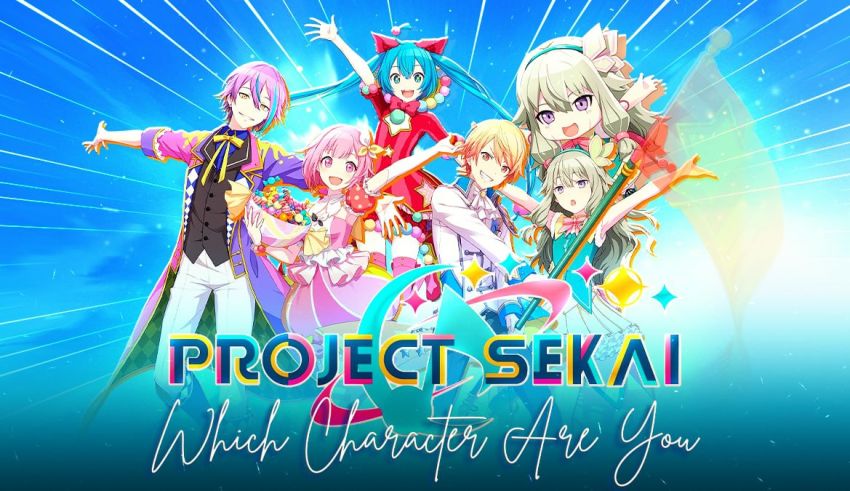 Which Project Sekai character are you? This Hatsune Miku: Colorful Stage! Quiz reveals the Vocaloid in you.
What Is the Project Sekai Character Quiz?
The Project Sekai Test is a self-assessment that reveals which Vocaloid from the game matches you. It uncovers whether you are a Leo/need, MORE MORE JUMP!, Vivid Bad Squad, Wonderlands x Showtime, or 25-ji member.
For new fans, Project SEKAI, or PJSK for short, is a musical game by SEGA and Colorful Palette. It revolves around a group of Vocaloids and humans on their way to becoming singing stars.
I've been playing this game since it came out, trying out different characters and checking out all the cool updates. But it just hit me that I've never made a PJSK: Colorful Stage! Quiz before. So, here we go! And with all the buzz around the Pokemon collaboration for the Hatsune Miku fans, it's the perfect time for a legit Vocaloid test.
Here's what the Project Sekai Quiz does.
Find Your PJSK Vocaloid
First thing first, the quiz will reveal your 1:1 perfect match. Out of all the cool and beloved characters like Saki, Ena, Rui, and Ichika, you will find the one that you represent IRL.
See Which Group You Blong in
You cannot be a PJSK fan and not love the anime-inspired bands/groups. The good news is that all of them are covered in this quiz, making the results much more unpredictable and fun.
Meet Your Lover
Don't you wonder which character from Hatsune Miku: Colorful Stage! would date you? If you do, look nowhere else for the answer. Take my Vocaloid test and meet your soulmate in a few minutes.
Also, if you're into games like Proseka, check out my Enstars Character Quiz next. It will expose your J-pop singer person with high accuracy.
Some Colorful Stage! Personalities That You Might Be
Miku and her Virtual Friends create a cast of 20 unique characters, which is why finding your lookalike is challenging. However, the following descriptions of some popular girls and the MBTI table below might help with that.
Saki Tenma
Saki is cheerful, optimistic, and likable, resembling a cute anime girl with a lovely -Dere. As a singer, she's a magical performer who mesmerizes the audience. And as a person, she's a lovely, cute friend.
Kohane Azusawa
Known to be a shy and reserved young lady, Kohane is giving, thoughtful, and hardworking. Joining the Vivid BAD SQUAD band exposed more aspects of her personality, showing that she's actually confident in her singing and is prepared to be a big star.
Ena Shinonome
One of the most popular characters in Project SEKAI, Ena, is a determined, bold, and non-conforming girl. Mizuki, another character, describes her as a Tsundere, which simply means she's extra irritable and grumpy—especially when she's in a bad mood.
| | |
| --- | --- |
| PJSK Character | MBTI |
| Touya Aoyagi | INFJ |
| Akito Shinonome | ISFP |
| Rui Kamishiro | ENTP |
| Ena Shinonome | ISFP |
| Ichika Hoshino | ISFJ |
Want to Know Which Star You Are? Do This
For those of you looking to meet your PJSK doppelganger(s), I have a solution: Take this Hatsune Miku: Colorful Stage! Test. The questions will determine the type of star you are and match it to those of the game's characters.
On a side note, I'd say most PJSK fans would enjoy Hololive Quiz as well. So, make sure to give that one a shot as well.
Now, let's figure out which character from Proseka you are.
How to Play?
Playing personality quizzes is straightforward: Choose the option that's true about you—or you relate to—and select "Next." Unlike trivia quizzes, personality tests have no right or wrong answers. But the questions are in forced-choice format. The point is to push you to choose an option that makes the most sense, not the one that's 100% true. For the most accurate results, don't overthink your responses. Go with options that you "feel" are the best.
Questions of the quiz
1

What type of songs are your jam?

Energetic and fast

Calming and romantic

Bold and unique

Creative and non-conforming

2

What would it be if you could choose your Vocaloid's style?

3

What's your current style IRL?

Trendy

Casual

DIY (unique to myself) or chic

Formal

4

What part of Project Senkai is your favorite?

Characters

Lyrics and songs

Story and relationships

Gameplay

5

What type of singer would you be in a virtual world?

Cute and relatable

Stoic and introverted

Sexy and famous

Weird and risk-taking

6

What makes someone a true star?

Personality

Talent

Style

Non-conformity

7

What would you name your first album?

"Cuties Pie!"

"The Traversing Soul"

"You Ain't Me"

"On Top of the Galaxy"

8

How many hours do you play PJSK per day?

4 or more

2-3

1

Less than an hour

9

What would be your producer persona like?

Friendly and supportive

Professional and experienced

Bold and risk-taking

Creative and modern

10

What type of lyrics would you write?

Cheerful

Romantic

Sassy or catchy

Novel and experimental

11

Your favorite concert theme?

Dance floor

Date night

Wild party

Opera or theatrical

12

What's your persona like as a Proseka player?

Sociable

Introverted

Teasing

Focused

13

How do you feel about Virtual Lives in Project Sekai?

I love them!

I'm not the biggest fan

Meh, not bad

I don't like them

14

Describe your bestie with a nickname.

Pumpkin (cute)

Wolf (protective)

Queen or King (inspiring)

Weirdo (unique)

15

Final question: What's your usual morning mood like?

Energetic and happy

Tired and sad

Moody and grumpy

Calm and ready