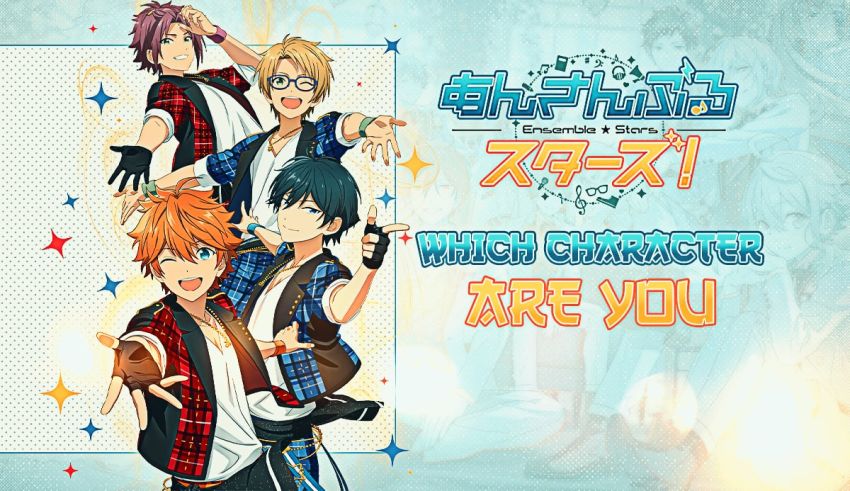 Hey, which Enstars character are you? This J-Pop quiz reveals if you're Eichi, Tori, Wataru, or other idols.
The Enstars Character Quiz Explained
The Enstars Character Quiz is a personality test that reveals which idol in Ensemble Stars! looks like you. It is inspired by a Japanese video game with the same name and works based on an MBTI database of the game's characters.
Ensemble Stars! is a rhythm game franchise about multiple idols—singers, dancers, rappers—who strive to become pop stars.
With the current test, you find out which of these potential stars is your comfort character and shares the same personality type as you.
For a similar experience, try our other quiz, "Which Vocaloid Are You?"
How to Know Which Enstars Idol You Are
With over 50 idols, Ensemble Stars offers a lot of possible matches for players. But the best way to find your doppelganger is by comparing your personality type (MBTI) to that of the game's singers.
If you already know your type, the following table will help to find your Enstars character.
| | |
| --- | --- |
| ENSTARS IDOL | MBTI |
| Eichi Tenshouin | INFJ |
| Tori Himemiya | ENFP |
| Wataru Hibiki | ENTP |
| Hinata Aoi | ENFJ |
| Tsukasa Suou | INTJ |
| Mika Kagehira | ISFJ |
| Leo Tsukinaga | ENTP |
| Natsume Sakasaki | ENTP |
| Hitaki Mashiro | ENFP |
Eichi Tenshouin
Personality-wise, Eichi is calm, collected, and levelheaded. He is also a caring leader who's genuinely concerned about other idols. Eichi Tenshouin is currently one of the most popular Enstars, thanks to his lovable personality and charming look.
Tori Himemiya
Despite his haughty and prideful façade, Tori is an optimistic, energetic, and fun-loving character. He comes from a wealthy family, which has affected his personality. But as a singer, Tori is just a passionate young boy who enjoys moving others with his music.
Wataru Hibiki
At first, Wataru might look enigmatic and quiet. But he's actually a romantic, compassionate, and giving boy.
Hinata Aoi
A hyperactive singer, Hinata is extroverted, loud, and bold. He may not be able to stop talking, but as a singer, he is a magician who charms everyone with his heavenly voice and eye-catching dance.
Ensemble Stars! Basic, Music, and Girls Characters Included
The good news is that the Enstars Character Quiz includes idols from other Ensemble Stars! games. So, you might match characters from Ensemble Stars!! Music, Ensemble Stars! Girls, and even Ensemble Stars! Basic.
By the way, if you like this test, check out "Which BTS Member Are You?" next.
Find Out Which Idol in Enstars You Are Now
Do you still want to know which Enstars character you are? If yes, take the quiz on this page. The following Ensemble Stars-inspired questions determine which J-Pop band boy or girl you are with accurate results.
Grab the mic, wear your dance shows, hit the start button, and let's find out which Ensemble Stars! idol you are.
We also recommend you take the "Which Hololive Member Are You?" It's another musical quiz with lots of fun twists.
Disclaimer
QuizExpo does not own any of the Enstars Character Quiz images and intends no copyright infringement. Happy Elements K.K owns the said pictures.
How to Play?
Playing personality quizzes is straightforward: Choose the option that's true about you—or you relate to—and select "Next." Unlike trivia quizzes, personality tests have no right or wrong answers. But the questions are in forced-choice format. The point is to push you to choose an option that makes the most sense, not the one that's 100% true. For the most accurate results, don't overthink your responses. Go with options that you "feel" are the best.
Questions of the quiz
1

What would it be if you could choose a nickname for your idol?

The Cutie

YOLO Boy or YOLO Girl

The Dull Idle

The Verse Master

Fighter Fang

The Charmer

2

What makes an Enstars idol great?

Personality

Energy or vibe

Backstory

Lyrical skills

Practice and hard work

Style and look

3

What do you like about Ensemble Stars?

Story

Music

Gameplay

Management

Achievements

Good-looking characters

4

What kind of music videos are your favorite?

Emotional

Wild

Romantic

Relaxing

Inspiring or energizing

Lavish, bold, and extraordinary

5

What would you name your J-Pop band's debut album?

Love is Luv

Booming Boomerang

You're Still All I Got

Now That You're Gone

I Die for You

Loud, Lousy, Lawless

6

What kind of lyrics do you appreciate the most?

Sad

Happy

Romantic

Deep or philosophical

Tragic or relatable

Trendy and catchy

7

Which one better describes you at a party?

Shy and introverted

Loud and extroverted

Flirtatious and mysterious

Calm and confident

Bored and irritated

Bold and attention-grabbing

8

How would you describe your style?

Trendy

Casual

Unique

Formal

Traditional

Sexy or chic

9

What kind of Enstars characters do you kin?

Cute

Funny

Cryptic

Intelligent or geeky

Respectful

Good-looking

10

J-Pop and K-Pop aside, what's your favorite music genre?

Pop

Rock

R&B

Classical

Jazz

Hip-Hop

11

Which one sounds like a cool name for your Enstars band?

Key U. T.

Big Bombers

Lasting Lust

We Da 1

Microphone-Fu

YOLO-SOLO

12

What role would you like to have in a J-Pop or K-pop band?

Dancer

Rapper

Choreographer

Lead singer

Manager

Visual

13

Which word better describes you around your friend?

Loved

Thrilled

Content

Inspired

Supported

Generous

14

What would it be if you had to describe your bestie in one word?

Supportive

Hilarious

Protective

Smart

Honorable

Lucky

15

What's your prominent mood like?

Happy

Bored or sleepy

Nervous

Calm

Energetic

Numb or sad

16

Enstars aside, what other games do you like?

Project Sekai

Idolish7

The Wizard's Promise

SideM

Touken Ranbu

None of them

17

How many hours a day do you play Ensemble Stars?

4 or more

3

2

1

Less than an hour

I don't play it anymore (Or I'm trying to quit it)

18

Which word sums up your most played playlist?

Delightful

Random

Emotional

Soothing

Inspiring

Unique

19

How do you feel right after waking up in the morning?

Tired

Sad

Dizzy

Peaceful

Ready or happy

Awful

20

Final question: How old are you?

14 or younger

16-18

19-21

22-23

24 or older

I'd rather not say