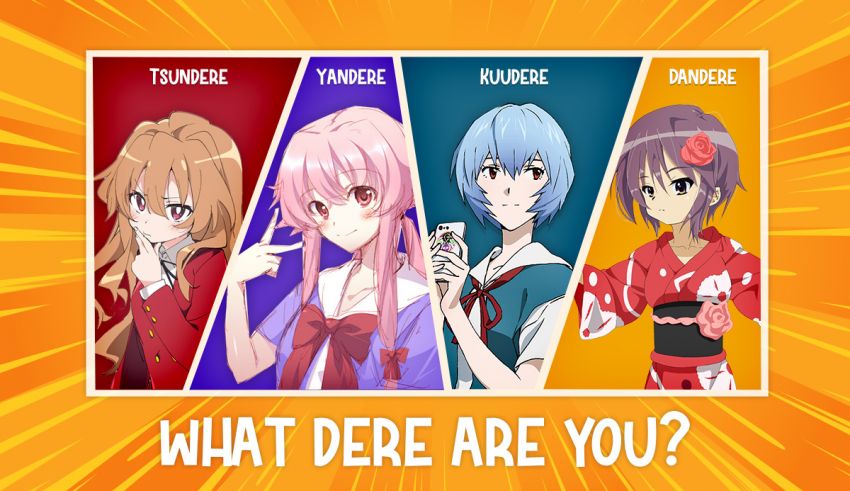 Has any Otaku ever asked you, "What Dere are you?" Do you wonder what your Japanese -Dere type is? Let's your love archetype if you were an anime character.
Know Your Dere in 5 Minutes
It is time to have a solid response for those who be like, What Dere are you? The quiz on this page evaluates your personality, affection type, and love interests to come up with the most accurate diagnosis! The test has three stages of identifying your -Dere category. The first part inspects your main traits towards your love interest. The second part analyzes your love language. And the final section assesses your memories.
Dere in Anime Explained for Dummies
Did someone asked you, "What Dere are you?" and you had no idea what they were talking about? Here's a brief explanation: -Dere comes from the term "deredere" (デレデレ). It means something like lovestruck or lovey-dovey. It refers to the love and crush archetypes of anime characters.
In other words, your Dere indicates how you would react to a new crush, flirting, being complimented, or loved. For instance, if you are the type of person who would bombard their lover with kisses, your Dere is Deredere. If you always hide your emotions around your crush, you are Kuudere.
What Your Dere Type Reveals About You
The premise of our quiz is to answer, "what Dere are you?" However, it provides you with additional information about your persona, traits, and interests.
Your Love Language
The techniques and tools you use to show affection are called love languages. And every anime character has its unique way of expressing emotions. If you already know what anime character you are, you probably know your love language as well. But it is okay if you don't—because you are about to find out.
Your Anime Crush Taste
Your Dere exposes what character types interest you. For instance, Sadodere people usually fall in love with the most popular person in an anime series—or the protagonist.
Your Anime Counterpart
Which characters share the same -Dere with you? That is the type of question we answer on this page. For example, if you are Tsundere, your anime universe counterpart or twin is Taiga Aisaka (逢坂 大)from the Toradora!
What Anime Are You? (Identifying Your Type Without a Test)
Understandably, some of you are too excited to wait for the test results. (Though it only takes five minutes to complete the quiz). So, here is a short description of the top four Dere types to help you identify yours. The one that you relate to the most is your Dere. But you should take the test for accurate results.
You are Tsundere if you are cold and violent on the outside but caring and sweet inside. People like you hide their feelings—especially when they like someone. Tsundere personas typically hate on their crushes, trying to convince others that they are not in love.
You are Kuudere if you are cool and ignorant towards your crush. Keeping your cool and acting casual around your crush is a simple task for you. But it is relatively hard for you to confess your feelings for someone. So, you play games with your love interest instead of showing your actual feelings.
You are Dandere if you are quiet, shy, and nervous around your love interest. No matter how many times you meet your crush during the day, you will still get blushes around them.
You are Yandere if you would do ANYTHING to be with your crush. But that is not necessarily a good thing. Sometimes, you cross the red lines and even hurt others to make someone fall in love with you.
Analyzing Most Popular Anime Characters' Dere in 2021
We have the answer to "what Dere are you?" But Otakus also wonder what their favorite characters' affection archetype is. So, here is an analysis of the beloved protagonists and antagonists' lovey-dovey style.
Natsuki Subaru (Re: Zero)
Due to his unique situation that makes him respawn after death, Natsuki is about to go crazy. And that had made him more of a Bakadere throughout the most recent seasons. He is trying his best to be rational. But that is not possible—at least most of the time.
Nakano Miku (The Quintessential Quintuplets)
She is the shy girl you would like to simp for in 2021. Nakano is definitely a Dandere since she is a total introvert around her crush. But there is also this thing about her that makes her rather possessive towards specific people.
Rize Kamishiro (Tokyo Ghoul)
She is the one that comes to mind when thinking of the most sadistic anime girl ever. And that makes her the best candidate for Sadodere. Rize manipulates her crushes and love interests. She also acts as if they belong to her—like an object.
Levi Ackerman (Attack On Titan)
Many of us want to match Levi when someone asks, "what Dere are you?" He is the cool guy who seems to show no interest in romance and love affairs. But you can sense that he is hiding many emotions under his cold and distant mask. That is why Levi is categorized as a professional Kuudere.
What Dere Types Are Worst for a Romantic Relationship?
The question is that which affection archetypes of Japanese anime series would be toxic in a real-life relationship? Honestly, all of them consist of unhealthy traits. But the following three types are the worst.
Shundere
Imagine asking someone, "What Dere are you?" only to hear them saying, "I'm Shundere." That translates to, "I am a depressed person who feels gloomy all day long for no particular reason." And it is almost impossible to build a healthy relationship with someone as depressed as Shundere people—unless they are willing to get treated.
Sadodere
If you ever meet a person who says, "I am a Sadodere," run away. Such people enjoy inflicting pain, manipulating, and hurting their loved ones. So, unless you are a masochist, your relationship with Sadodere people is nothing but pure misery.
Himedere or Oujidere
You do not want to be a slave for your lover, do you? Himedere or Oujidere people require you to treat them like a prince or princess. And that is the most annoying thing in a relationship.
Want to Know What Dere You Are? Take the Quiz
It is about time to stop asking, "what Dere am I?" Taking the 20-question test on this page reveals your Japanese -Dere type in no time. Plus, the questions are funny enough to keep you entertained for the next five minutes or so.
Disclaimer
QuizExpo does not own any of the images used in the What Dere Are You quiz.
How to Play?
Playing personality quizzes is straightforward: Choose the option that's true about you—or you relate to—and select "Next." Unlike trivia quizzes, personality tests have no right or wrong answers. But the questions are in forced-choice format. The point is to push you to choose an option that makes the most sense, not the one that's 100% true. For the most accurate results, don't overthink your responses. Go with options that you "feel" are the best.
Questions of the quiz
1

Your crush is sitting on a bench all alone. What do you do now?

Ignorantly pass by

Ignorantly sit near them

Change my path and go away

Make fun of them

2

Some random boy/girl is flirting with your crush. What is your reaction?

Make fun of the girl

Ignore both

Cry

Plan a revenge

3

Which of the following scenarios sounds like something you'd do with your crush?

Mess with him/her

Leave them on read

Do his/her homework

Make them feel miserable

4

Which one sounds like a cool plan for a date night with your lover?

Dinner at a fancy place

Something adrenalin-boosting

Chilling and Netflixing while hugging

A BDSM night

5

Complete the following sentence. When I see my crush, I _______.

Turn my head

Play with my phone

Talk to my friends

Stare at them

6

Your love interest is always ______________ to/of you.

7

What would you do if your crush rejected you?

Flip them the bird

Move one as nothing happened

Cry alone

Make them regret it

8

What makes you feel loved the most?

Receiving gifts

Hearing nice things about me

Being hugged/kissed

Having full control over someone

9

Which one sounds like a romantic gift idea?

Something expensive

Something rare

Something handmade

None

10

You would __________ your partner in your first anniversary.

Kiss

Hug

Hold hands with

Pull a prank

11

Which of the following anime characters is the hottest? (In your opinion).

Mikasa (Attack on Titans)

Taiga (Toradora)

Levi (Attack on Titans)

Rize (Tokyo Ghoul)

12

What is a huge turn-off to you?

Crybabies

Lovey-dovey stuff

Disrespect and cruelty

Cowardness

13

Which one sounds like a memory that you'd never forget?

Rejecting your crush for fun

Having too many people simping for you

Your crush texting you a cute message

Making your crush cry in front of others

14

What type of person would you never date?

Ignorant

Selfish

Unkind and mean

Nice and polite

15

Choose a word that describes you better.

16

Have you ever confessed your feelings to someone?

17

What would you do if your crush texted you a flirting message?

Block them

Ignore the text

Call my friends to ask for help

Humiliate them

18

Which one sounds like a boring future to you?

Turning into a polite person

Still flirting with others

Lonely and dissatisfied

Married with kids

19

Would you ever want to marry your lover?

20

Just a random and nonsense question; what's wrong with people?

They are fake

People are miserable

Nothing is wrong with them

They are dumbass