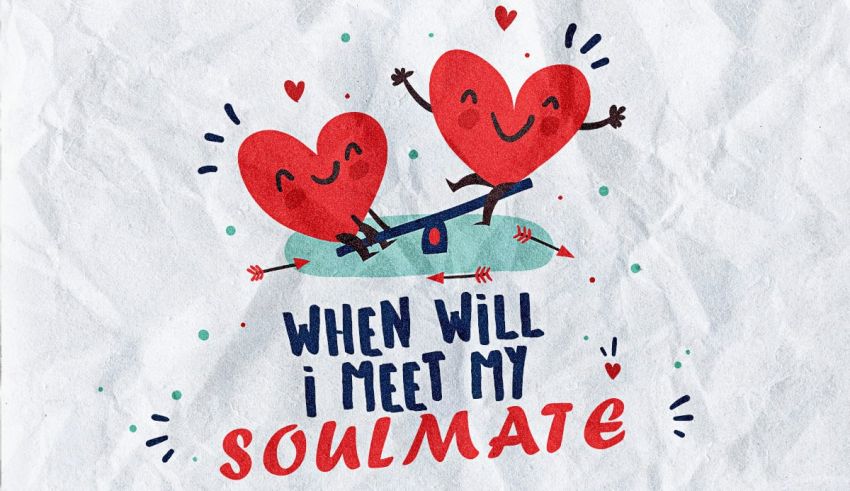 If you want to know when you will meet your soulmate, this quiz is right for you.  Answer simple questions about yourself to reveal the approximate meeting date.
Many people in the world believe that one day, they can find their special someone or, be better put, their "soulmate." It's normal to think and hope for someone to be your loving partner and find someone to know you the way nobody else does.
But this hope raises many questions, and we will answer one of them in this soulmate quiz. "When will I meet my soulmate?"
Settling; How to find a soulmate?

If you are reading this and ready for this quiz, it means that you are prepared to settle for a more peaceful life finally. Or you may feel alone and want to know where to get out of this situation.
Finding a soulmate depends on multiple factors, but one significant factor is yourself. You have to figure out what you exactly want, and reaching this understanding of self is more challenging than it seems.
You may see many people in your daily life that are a perfect match for you, but you are not ready to see them as an option and do not act like you can be an option for them. That's a tricky game to play, to be honest.
Getting ready before the meeting

Before you get your soulmate, you have to know that you should move away from many things that you are doing as a single person living with your soulmate demands a lot of sacrifices, and you should know that it's a much harder life than being single.
But the results would be more pleasant than being single. Because having someone to love and who loves you back makes a more peaceful life for you, and reaching this goal is challenging.
Some people are ready for years to get married and settle for a more peaceful life, but some people find it too hard to let go of their single fun life and want to couple more years to live their life as a single person.
But they are still worrying that they could ever find their soulmate and live the rest of their lives with them. Also, some people don't care about having a soulmate and never search their life to be with that person they can call a soulmate.
The Wrong Take
Let's make something clear first. Some people find their soulmate at a very young age and don't know how to buckle up their life to keep their relationship intact. Even though sometimes we may find our soulmate, it doesn't mean we will live with them for the rest of our lives.
Some people even get rid of their single life very soon, and when a couple of years go on, they just get tired of their routine life, and they get to do some flings in private and in secret, which will ruin your shared life with your soulmate.
So, when will you meet your soulmate?
You must be ready for what comes next in your personal and emotional life. Some people research them and review the soulmate astrology calculator, but that is not 100 percent true and may sometimes come to reality.
But in this quiz, we will ask you 20 questions, and the results will be about how you are ready for the significant change in your life and when it is more likely for you to find your soulmate.
Good luck with the quiz, and have fun.
How to Play?
Playing personality quizzes is straightforward: Choose the option that's true about you—or you relate to—and select "Next." Unlike trivia quizzes, personality tests have no right or wrong answers. But the questions are in forced-choice format. The point is to push you to choose an option that makes the most sense, not the one that's 100% true. For the most accurate results, don't overthink your responses. Go with options that you "feel" are the best.
Questions of the quiz
1

What describes your mood right now?

Going to brunch with my partner

Making dinner for my date

I'm kind of busy

Going out to get some

2

What is an ideal element of your partner?

3

What is the perfect date for you?

Going to musuem

Dinner and Movie

Netflix and chill

Bar

4

Are you okay with shopping?

I really love shopping

I'm not against it

I rather not go shopping

I hate it and I neve go to shopping

5

Can you make good decesions without any help?

Yes, I can

I think so

Not that much

Not at all

6

Are you ready to change some of yourself for anybody?

Yeah, I'm willing to

I'm not against it

I rather not change myself

Not at all

7

What is more romantic to you?

Dancing under the rain

Looking at moon

Going to stadium to watch sports

Playing Video Games together

8

When problems occur, you:

Try to face and fix them

Try to get rid of them ASAP

I don't know what to do

I just ignore them

9

Do you like going to your partner parents' house?

Yes, I do

I think so

Not that much

Not at all

10

Do you go to weddings?

Yes, I love them

Most of the times

I rather not

I never go to weddings

11

Do you do a lot of nights out with friends?

No, I can't do it a lot

I don't really like doing it

Sometimes I do

Yes, all the time

12

Do you enjoy the single life?

No, I want to be couple

I'm getting tired of it

I'm kind of enjoying it

I love being single

13

Do you go to strip clubs?

No, Never

I did before

Sometimes I do

I do it all the time

14

Do you use drugs?

No, I'm clean

I barely do

Yes, sometimes

I do it all the time

15

Do you feel fine with cheating?

Absolutely not

I don't think so

Sometimes I do

Yeah, why not?

16

Do you have friends with benefit?

No, I don't

I can have them

I have just one

I have a lot of'em

17

Do you care for others opinion?

Yes, I listen to everybody

Sometimes I do

I barely do

Not at all

18

Do you like one night stands?

No, I don't like them

I don't think so

Sometimes yes

Yes, I love it

19

Are you a responsible person?

Yes, I'm responsible

I could say that

I don't think so

No, I'm not a responsible person

20

Are you see yourself settle out of single life?

Yes, I can see it

I think so

I don't know Yet

Not at all