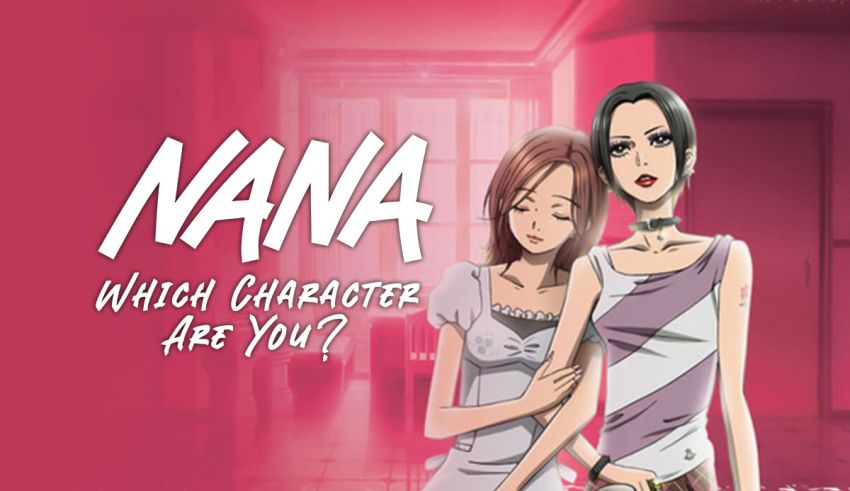 This fun NANA Anime Quiz reveals which character you resemble IRL. Are you Nana, Hachi, Yasu, Ren, or else?
This NANA Anime Quiz Reveals Your Character
Comprised of 20 anime-inspired questions, the NANA Character Quiz identifies which of the band members of the show looks like you. It analyzes your interests, MBTI type, and—above all—your childhood traumas to determine whether you are Nana, Hachi, Ren, Yasu, or any other character.
NANA is a 2006 Shojo anime about two girls named Nana who meet on a train. They are both traveling to a bigger city to pursue their dreams—and become famous. But life has something else planned for them; they become best friends.
If you ask me, NANA can be described in two words: growing up. It's a show about dealing with traumas, overcoming insecurities, and finding true love in a cruel world—which is why we all relate to it.
Sidenote: I would also recommend that NANA fans take our Aggretsuko Character Quiz next. Visually, it may have nothing in common with NANA. But its premise is pretty much the same.
How to Know Which NANA Character You Are
I had a hard time figuring out which NANA character I resemble in real life. Then I came up with this brilliant idea; what if I compare my MBTI type to that of the anime characters? Well, it works. The MBTI comparison helped me figure out which band member I am in a few seconds.
Luckily, you don't have to go through all that process. I have created this personality-type table for you to find your NANA doppelganger immediately.
| | |
| --- | --- |
| NANA Character | Personality Type |
| Nana "Hachi" Komatsu | ESFJ |
| Nana Osaki | ISFP |
| Shinichi Okazaki | ENTP |
| Ren Honjo | ISTP |
| Nobuo Terashima | ENFP |
| Yasushi Takagi | INFJ |
| Takumi Ichinose | ENTJ |
| Junko Saotome | ESTJ |
| Layla Serizawa | ENFP |
You can also read the main characters' descriptions to see which one you resemble. Here are some examples.
#1. Nana Komatsu (Hachi)
A cheerful, gullible, and insecure girl, Nana Komatsu struggles with her love life. She's in a toxic relationship that consumes all her energy and will to live. But she can't seem to find the courage to leave it behind. (She reminds me of Fruit Basket characters.)
People who match Hachi are often friendly and naïve characters who are too polite to tell you that you're bothering them.
#2. Nana Osaki
Personality-wise, Nana is a dandere; she's a bit quiet and often acts tough, but she's actually a loving and soft-hearted girl. People who get Osaki on their test results are usually tomboys who struggle with trust issues.
By the way, if you don't know what dandere means, take our Anime Dere Quiz. It exposes your anime personality type and explains what these weird terms mean.
#3. Yasushi Takagi
Despite his supportive personality, Yasu actually suffers from a superhero complex. He wants to help everyone because that's how he feels good about himself—that's how he validates himself.
In my experience, those who match Yasushi in the NANA Quiz are reliable and trustworthy friends. It's just that they slyly feed off your neediness and clinginess (just saying).
Find Your NANA Soulmate with a Deep Quiz
Do you still want to know which NANA character you are? Are you like, am I Nana or Hachi all the time? I've got your back. After rewatching all 47 episodes and analyzing the anime stereotypes in the show, I came up with the most accurate personality test that can determine your counterpart in the gloomy universe of NANA.
As for the good news, the results also reveal which band you belong in. It basically examines your physical features and persona to see if you'd play in Black Stones or Trapnest.
All you need to do is answer 20 relatable—and also pretty deep—questions.
By the way, let me know what you got in the comments sections. I'd love to know which NANA character you are. (Me, I am a proud Hachi.)
Disclaimer
QuizExpo does not own any of the images in the NANA Anime Quiz and intends no copyright infringement. Shueisha owns the said pictures.
How to Play?
Playing personality quizzes is straightforward: Choose the option that's true about you—or you relate to—and select "Next." Unlike trivia quizzes, personality tests have no right or wrong answers. But the questions are in forced-choice format. The point is to push you to choose an option that makes the most sense, not the one that's 100% true. For the most accurate results, don't overthink your responses. Go with options that you "feel" are the best.
Questions of the quiz
1

When do you often listen to music?

When I'm sad

When I'm happy

When I'm with others

When I'm lonely

When I'm high/drunk

When I'm driving

2

What makes NANA a unique anime?

Romances

Traumas

Friendships

Complex emotions

Music

Sexual tension

3

What would it be if you could change one thing about NANA?

I'd give it a happy ending

I'd make it a lighter show

I'd listen to fans and change some parts of the plot

I'd make it about teenagehood

I'd change the music

I'd add more adult and steamy stuff

4

How do you react when your friend is in trouble?

I hug them

I listen to them

I help them out

I don't know what to do

I make them laugh

I mind my own business

5

How would you break up with a toxic partner?

I don't think I could ever do that

I'd be honest with them

I'd write them a letter or something like that

I'd ignore their messages

I'd get drunk and spill it out

I'd just cheat on them (no need for a breakup)

6

How do you feel when you're lonely?

Scared

Bored

Thoughtful

Nervous

Sleepy

I'm never alone

7

Do you find it easy to trust others?

No, I trust only one person

Yes, I usually find it easy

No, but people find it easy to trust me

No, I don't trust anyone

I don't know. It depends

Trust is for idiots. I don't trust anyone

8

What's love to you?

Unconditional commitment

Fascination

Support

I haven't figured it out yet

Friendship

Lust

9

What kind of lyrics would you write for your songs?

Energetic

Motivating

Deep or philosophical

Emotional

Playful and trendy

Demoralizing and sad

10

Which one better describes your style?

Cute

Casual

Formal

Gothic

Trendy

Luxurious (Classy)

11

What type of people are you sexually attracted to?

Protective

Kind

Loyal

Supportive

Confident

Insecure

12

What it be if you could choose a name for your rock band?

Cuteez

ReformerZ

BrotherZ

LostLust

PlayBoyZ

BeastZ

13

How would you feel if your partner cheated on you?

I'd feel broken

I'd feel confused

I'd feel fine

I'd feel numb

I'd laugh it off

I'd feel vengeful

14

Which one sounds like one of your traumas?

I've been cheated on

I've been humiliated

I've lived with an addicted person

I've been verbally or sexually abused

I've abused drugs

I've cheated on someone

15

Which word matches your soul?

Broken

Hopeful

Wise

Tired

Regretful

Ambitious

16

How would you describe NANA anime in one or two words?

Tragic

Inspiring

Underrated

Relatable

Funnily dark

Overrated

17

How do you feel about your ex?

I sometimes miss them

I don't have an ex

I love them no matter what

I'm over them

I've forgiven them

I hate them

18

Which one are you addicted to?

Attention or love

Video games or social media

Morning coffee

Smoking

Drinks or drugs

S-E-X

19

How do you express your anger?

I don't

I imply it

I calm myself down without expressing my anger

I often cry in my room

I play it cool and laugh it off

I plan my revenge

20

Final question: How old are you?

16 or younger

20-25

30 or older

17-19

26-29

I'd rather not say