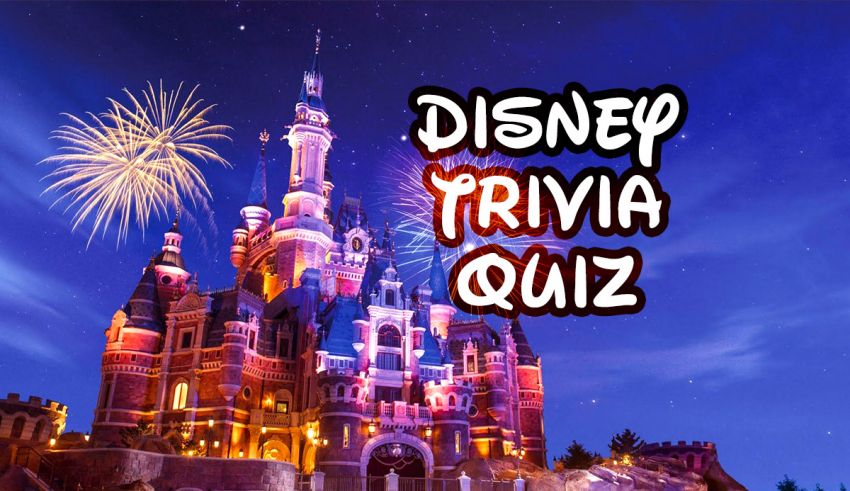 Are you smart enough to pass this Disney Trivia Quiz? This test has several questions about facts, movies, and characters. Let's challenge your knowledge.
How well do you know Disney?
Nowadays, almost all of us are familiar with Disney and its enduring masterpieces. If you are a Disney fan, you should have watched Mickey Mouse, Pinocchio, and Bambi and have many memories of them. This company is one of the well-known filmmaking companies founded by Walt Disney on October 16, 1923, in the United States. This holding has been producing many successful cartoons and movies since its establishment. In addition to films and animation, This company has several parks called Disneyland designed to amuse their fans.
Disney Trivia Quiz
This company has produced more than 58 feature films, more than 7000 TV episodes, and more than 800 Disney characters. The real fans of these series and movies usually watch them several times, and they have a lot of knowledge about these animations. These small details are not notices by regular audiences, and just smart ones can get these Disney trivia facts. The ongoing quiz has gathered several questions of these facts to challenge the Disney superfans.
Famous New Movies
In addition to the old collection, new and very successful works are published every year and make fans fall in love more. For example, Artemis Fowl and The One and Only Ivan are the two latest great movies distributed by Disney in June and August 2020. If you have not seen these films, we suggest that you watch them.
How many details do you remember from the movies you have seen so far? Everyone can't remember or even notice the details while watching the movie. But don't worry; 'Disney Movie Trivia' is a practical and straightforward way to understand the details. In this trivia, all the information and details of the different films are given in the form of different questions to test the fans' knowledge by challenging them. Even for those who haven't had a chance to watch Disney movies, this is the best way to get an overview of everything. Now here are some of these collections for you:
Artemis Fowl (2020)
It is Disney's newest movie, released on June 12, 2020. The film is about a 12-year-old boy who is a descendant of a group of criminals. He fights underground fairies to save his father from the hostages. This film's story is taken from the eight-volume collection of fantasy books by Irish author Eoin Colfer.
Aladdin (2019)
This movie is fantastic, and it is recommended that you watch it several times. Aladdin was directed by Guy Ritchie and was released on May 8, 2019.
A Wrinkle in Time (2018)
Here is another fantastic movie for you ' A Wrinkle in Time.' This movie was released on March 23, 2018. The film tells Meg's story, her brother and her friends who are sent to another realm in space by three strange creatures to find her father.
These are three famous works in the last three years. Another attraction of these movies and all the other films are the facts behind them, and we don't know.
Some amazing facts
These facts are so fascinating that everyone wants to know them, but how? The answer is 'Disney Trivia Facts.' Like other sources, this is easily achieved with a single click, and you can increase your information by reading. Here are some examples of Disney facts:
Voice actors of Mickey Mouse and Minnie Mouse were a couple
Walt brings live animals to

the

set while filming

The

first original character was a rabbit
Walt Disney's Snow White and

the

Seven Dwarfs received an Oscar
Disney Parks are familiar places to spread human ashes
Another exciting online resource that is very popular among Internet users today is Disney Trivia Quiz. There are various forms of this quiz, and there are easy and hard forms for all age groups. This trivia quiz can be said to be one of the best sources to evaluate your information. You have to answer various questions on different topics in this quiz to see if you're a true fan or not.
How to Play?
A trivia quiz comes with right and wrong answers. You receive one point for each correct response—but no negatives for the incorrect ones. Take your time and read the questions carefully because some might be trick questions. Choose an option and lock it in by tapping "Next." Lucky for you, the trivia quizzes have instant results. You see if your response was correct immediately. (Green is good, red is bad.) Even better, you can learn more about the topics with the "answer reveals," the fun-fact snippets that appear after each question.
Questions of the quiz
1

Let's start with an easy one. What was the shortest Disney movie?

Mulan

The Lion King

Dumbo

Cinderella

2

In The Little Mermaid, these two lovely girls are the daughters of King Triton. What are their names?

Aquata (left) Arista (right).

Adella(left), Alana(right)

Aquata(left), Adella( right)

Arista(left), Aquata(right)

3

This is the Disney castle in Shanghai. Do you know its name?

Sleeping Beauty Castle

Cinderella Castle

Le Château de la Belle au Bois Dormant

Enchanted Storybook Castle

4

Among the Disney princesses, only one has a tattoo. Who is she?

Pocahontas

Belle

Merida

Tiana

5

What is the unique phrase of the Evil Queen in "Snow White"?

Magic mirror on the wall, who is the fairest one of all?

Magic mirror on the wall, Who is the most beautiful fairy?

Mirror,morror, who is the fairest one of all?

None of them

6

What was Disney's first animated movie?

The Aristocats

Snow White and the Seven Dwarfs

Pinocchio

Fantasia

7

Who is Flynn Rider in the movie "Tangled"?

8

What is the name of this city? (see picture)

Zootopia

New Mushroomton

Monstropolis

Arendelle

9

You all know Mulan's horse. Do you know his name too?

Frou-Frou

Maximus

Pegasus

Khan

10

Which of the following is Not one of the three mountains in Magic Kingdom?

Space Mountain

Dread Mountain

Splash Mountain

Big Thunder Railroad Mountain

11

If Mickey Mouse is your favorite character, you need to know how many fingers he has. How many?

12

Do you know the name of Maleficent's pet raven in Sleeping Beauty?

13

This is a small town called Radiator Springs. In which of the following movies do we see this town?

The Cars

Sky High

John Carter

Holes

14

What is the name of this kingdom, and in which feature film can we see it?

Corona (Tangled)

Atlantica (The Little Mermaid)

Pride Lands ( The Lion King)

Arendelle (Frozen)

15

In which of the following movies can we hear these Lyrics "What can I say except, You're welcome"?

Moana

Tangled

The Lion King

None of them

16

Simba's mother's name is Sarabi.

17

Who is he? ( see picture)

Prince Naveen ("The Princess and the Frog")

Prince Charming ("Cinderella")

Li Shang ("Mulan")

Prince Adam ("Beauty and the Beast")

18

Prince Naveen in "Princess and the Frog," is from the fictional country named...

Mypos

Maldonia

Maramorgos

Melodinia