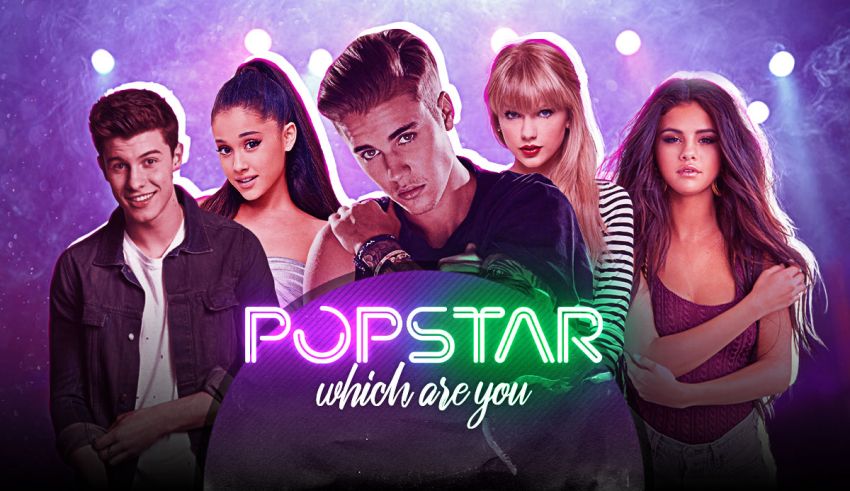 If you want to find out which pop star you are, this personality quiz reveals your perfect famous singer match. Just answer 20 simple questions to get it.
This quiz will show you what singer you're thinking of by asking you 20 personality and taste questions. When kids get a karaoke device or app, they try to mimic the artists and dream of becoming the next pop star. However, as we grow up, we give up on most of our dreams and concede to the not-so amusing reality. However, we want to take yet another ride into our childhood dreams and find out which pop star you are.
Perhaps you're wondering, "what emo song are you most related to?" or what pop star you match the most. But first, let's find out what the results you get might be.
What singer am I thinking of
The realm of pop music extends beyond borders and time; nevertheless, to narrow down the results we dove into the most popular artists of today to determine what singer you're thinking of. Thus, the questions you answer in the following test will reveal which of the four pop singers you might be.
Which pop star are you?
In order to find the most popular artists, we surveyed the following sources:
The following artists were among the top trending social media accounts on Instagram, Facebook, and Twitter.
Another aspect of the pop star quiz results is their dominance in music apps such as Spotify, Apple Music, and Soundcloud.
This category includes information gathered from awards, news agencies, pop magazines, and other related media
In the end, the list boils down to Billie Eilish, Dua Lipa, Ed Sheeran, and Ariana Grande.
Billie Eilish
The American pop star is cherished among all generations with various tastes in music. Billie's top hits include songs such as Therefore I Am, Lovely, and Bad Guy; however, her first hit was introduced in 2015, Ocean Eyes.  Billie Eilish gained so much respect and attention that James Bond producers chose her to perform the soundtrack for the latest Bond movie, No Time to Die. The 20-year-old celebrity was born in California in an artistic family, both her parents were actors.
Here are some fun facts about her and what it means if the singer you're thinking of is Billie:
      She's the youngest singer to win all top Grammy awards in one year. This means you aim for the highest of heights and aren't afraid to challenge others or yourself.
      Pirate is her middle name. Billie Eilish Pirate Baird O'Connell is her full name. Thus, you have a tendency to be notoriously attractive and dangerous if your results show Billie Eilish.
      Streetstyle is the way to go. Billie is known for wearing loose shirts, baggy pants, and hoodies. Therefore, you care about your comfort more than being lush and tidy. Sometimes people might think you're even a bit too scruffy!
Dua Lipa
The English singer Dua Lipa has received critical acclaim for many songs, such as don't start now, new rules, levitating, and one kiss. She comes from an originally Kosovo Albanian family, hence her name Dua which means love in Albanian. Her first hit, New Love, was a single track released in 2015. Dua Lipa is also a well-known feminist activist who has spoken for gender equality and supported women and the LGBT community.
The following facts link you and the pop star that matches your personality:
      Dualipa comes from a multicultural background. Therefore, you are a person in favor of diversity and high tolerance when it comes to different opinions.
      She's a real fighter and so are you! Like the Greek Goddess Artemis, you won't settle for what you're entitled to. You want to achieve what you truly deserve beyond any discrimination. In addition, you also offer support to those who need to overcome oppression.
      Dua Lipa loves cheese pizza and chips. You care about how good your meals taste rather than how healthy they are. On the other hand, you're willing to exercise more to burn off the extra calories.
Ed Sheeran
The 31-year-old British pop star, Ed Sheeran is known for hits like Shape of You, Castle on the Hill, Thinking out loud, and his first song to become popular, the A team. Ed was born in Halifax, in a family well-acquainted with arts and history. The song Castle on the Hill was retribution to his childhood hometown near Framlingham Castle. His favorite sport is soccer and he supports his local football club, Ipswich Town.
The following characteristics are shared between you and Ed Sheeran:
      You and Ed Sheeran both have an ISFJ personality type which means you are reliable, caring and sociable.
      You both like games and entertainment. For example, Monopoly is Ed's favorite board game.
      Ed Sheeran has played in different movies and series. For instance, he's even appeared in Game of Thrones Season 7, episode 1. Therefore, you can also take different roles in Hollywood and real life.
Zayn Malik
Zayn was born in Bradford, England in 1993. He became famous on the X Factor show in 2010 when he auditioned for the show. His most famous hits include Pillowtalk, I Don't Wanna Live Forever, Dusk till Dawn, and many other songs.
You and Zayn might share the following:
      Malik means King in Arabic. Therefore, you might be the perfect monarch.
      Zayn's favorite song is Thriller by Michael Jackson. You are probably a thrill seeker and also a huge fan of pop music.
      You and Zayn have a thing for painting and drawing. That makes you a visionary artist and a great singer, indeed.
QuizExpo does not own any of the images used in the Which pop star are you Quiz. All the photos were used from Pixabay, Unsplash, Envato, and Twenty20 websites, and we intend no copyright infringement.
How to Play?
Playing personality quizzes is straightforward: Choose the option that's true about you—or you relate to—and select "Next." Unlike trivia quizzes, personality tests have no right or wrong answers. But the questions are in forced-choice format. The point is to push you to choose an option that makes the most sense, not the one that's 100% true. For the most accurate results, don't overthink your responses. Go with options that you "feel" are the best.
Questions of the quiz
1

What is your favorite treet?

mashed potato

cheese pizza

eating out at Nandos

chicken nuggets

2

Pick a movie or series.

romance / sci-fi

sci-fi/ action

crime/ action

bollywood drama

3

What song do you like most?

Cigarette Daydreams by Cage the Elephant

Get it Right by Diplo and MO

Hey Jude by the Beatles

Thriller by Michael Jackson

4

Where do you like to live?

California

Europe

England

New York

5

Which car do you like the most?

6

What is your favorite animal?

tarantulas

horses

cats

lions

7

Which country or region would you like to visit the most?

Hwaii

Eastern Europe

the UK

India

8

What musical instrument would you like to learn?

ukelele

cello

piano

I would only like to sing

9

What personality trait fits you according to your friends and family?

being rebelious

being stubborn

being compationate

being a dreamer

10

What fictional character inspires you the most?

Michael Scott from the Office

Robin Williams

Willy Wonka

Harry Potter

11

Which quote do you agree with the most?

All the good girls go to hell

Be kind to yourself; a little more every day.

Music is a powerful tool in galvanizing people around an issue.

No matter how many times people try to criticize you, the best revenge is to prove them wrong.

12

What are you afraid of?

darkness

loneliness

being in a crowded place

drowning

13

Who would you like to spend an evening with?

14

What natural element inspires you the most?

the sky

the ocean

mountains

the desert

15

What is your favorite type of sport?

Horseback riding

Boxing

Football

Soccer

16

What is your favorite time of the day?

afternoon

morning

dusk

night

17

What would you do first to make the world a better place?

abolishing sexual discrimination

ending all wars

controlling climate change

restoring balance in global economy

18

Select one of the drinks below.

19

Which city is the best place to live for a popstar?

20

Select a supernatural power.

invisibility

reading minds

talking and understanding what animals say

flying without wings