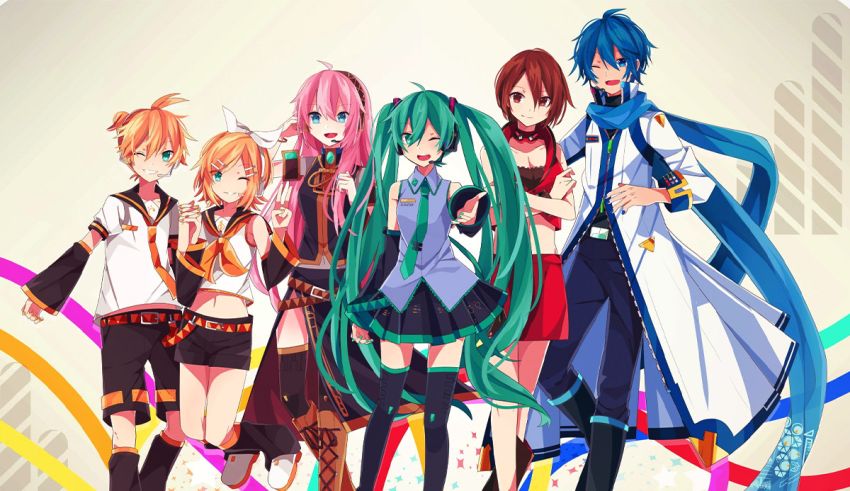 Hey, which Vocaloid are you? This personality quiz has 20 questions to match you with one of the popular VOC characters. Are you Miku, Rina, Meiko, or else?
Hold on, What the Freak Is a Vocaloid?
Vocaloid is basically software that allows sound generation. It is meant to be used by music producers to create vocals for their songs. BUT there is a catch. Vocaloid voicebanks have fictional characters of their own.
The voices and personas are so popular that it has a whole fandom around it. And people legitly want to know which Vocaloid character they are. That is where our quiz comes into play.
And What Exactly Is a Vocaloid Quiz?
It is a set of twenty personality questions to find your VOC character match. We analyze your persona, comparing it to our virtual singers' database to discover who you resemble. But there are currently over 100 singers available. So, the accuracy of the results depends on your honest responses.
Find out which Vocaloid you are.
Miku Hatsune, Rin and Len Kagamine, Luka, Meiko, and Kaito. These are only a few names on the list that you can match. The results include all the top singers' profiles. So, you will most definitely find your virtual soulmate.
Get a free personality analysis.
The cool thing about the Vocaloid Quiz is that it offers a comprehensive character breakdown. There is little information about the VOC characters on the internet. And most of them have vague or fan-made descriptions. However, the results include a detailed analysis of YOUR persona. The goal is to explain why you are similar to a particular singer and what it implies.
How to Know Which Vocaloid You Are without a Test?
Taking the VOC Character Quiz is the easiest way to find out which singer is similar to you. But here is another alternative. Read the following personality description and decide which one you are.
Of course, this is not an accurate method. So, we recommend you take the test instead.
| | |
| --- | --- |
| Vocaloid | Age |
| Hatsune Miku | 16 |
| Kagamine Rin | 14 |
| Kagamine Len | 14 |
| Megurine Luka | 20 |
| Meiko | Middle-aged |
| Kaito | Middle-aged |
#1: Miku Hatsune
She is a cheerful and sweet girl. Just like most anime characters, her childish side is sometimes pretty active. However, Miku always works hard to keep her fans happy. She is an optimistic person who can cheer up people around her as well.
Those who match Miku Hatsune in the Vocaloid Quiz are compassionate and determined.
#2: Rin Kagamine
Being one of the most famous VOC girls, Rin has two distinct sides: Kawaii or sad. Listening to her songs is like a roller-coaster of emotion. Despite being 14, she has deep lyrics and thought-awakening tracks fans cannot get enough of.
If you ask fandom members, "Which Vocaloid are you?" many would say, "I'm Rin." That is because she is both cute and playful at the same time.
#3: Len Kagamine
He is an energetic and acrobatic Vocaloid. Len also has an undeniable rebellious nature, making him a naughty, disobedient boy. If you ask male VOC fans which character they are, many will choose Len. That is because he is fun, enthusiastic, and cool. But note that he is only 14. So, you should expect some immature and silly behaviors when he is around.
#4: Meiko
She is usually illustrated as a drunk in the fandom. But that is not Meiko's real persona. She is actually an older sister who likes to protect her younger siblings or friends. That might also make her an irritating person as she can become overprotective. But overall, she is a talkative, helpful, and mature character—especially compared to other Vocaloid personas.
#5: Kaito
Among all the VOC virtual singers, Kaito is probably the only fatherly figure. He might seem like a goofy person now and then. But it is pretty easy for him to show his serious side when necessary. Mature fans would like to say I'm Kaito when asked, "Which Vocaloid are you?" However, many think that he does not receive the attention he deserves.
People who match him in the quiz are those who put others' needs before their own.
#6: Or else
The VOC universe has lots of virtual characters. So, the possibilities are kind of endless when it comes to finding your perfect match. The boys and girls described here are only a couple of top singers you might be similar to. The only way to find your perfect match or soulmate is by taking the actual quiz.
Why do VOC Fans want to Know Which Vocaloid They Are?
According to Statista, "The retail value of Vocaloid products within the Japanese otaku market amounted to about 9.8 billion Japanese yen in the fiscal year 2020." That is over 80 million dollars per year! Anime lovers care about these virtual characters, and they want to relate to them. One way to do so is by finding their match in the synthesized singers' universe.
Regular people may find it weird that fans ask things like, "Which Vocaloid am I?" But the truth is that such questions are part of any fandom, not just VOC. Knowing the character who is similar to you makes the whole universe more relatable and engaging.
Disclaimer
QuizExpo does not own any of the images used in the 'What Vocaloid Are You Quiz.' YAMAHA co-owns the said pictures and characters. Please, contact us for any copyright issues.
How to Play?
Playing personality quizzes is straightforward: Choose the option that's true about you—or you relate to—and select "Next." Unlike trivia quizzes, personality tests have no right or wrong answers. But the questions are in forced-choice format. The point is to push you to choose an option that makes the most sense, not the one that's 100% true. For the most accurate results, don't overthink your responses. Go with options that you "feel" are the best.
Questions of the quiz
1

Which one describes the type of music you would like to listen to?

Relaxing

Upbeat

Trending

Alternative

Deep and dark

Whatever

2

What is your favorite instrument?

Piano

Violin

Double Bass

Guitar

Drum

None

3

Choose the activity you enjoy doing.

Reading

Netflixing

Partying

Dancing

Working out

Drinking

4

How easy is it for you to make new friends?

Extremely challenging

Somewhat challenging

Extremely easy

Somewhat easy

I don't like making friends

Who cares?

5

On a scale of 0 to 10, how challenging would it be for you to perform a song in a concert? (10 means extremely difficult).

6

Which word describes an attractive person?

Kind

Good-looking

Cool

Rebellious

Confident

Funny

7

If you could get rid of one of your bad habits, what would it be?

I'd eat less

I'd talk less

I'd smoke less

I'd skip my classes less

I'd yell less

I'd drink less

8

What is the most essential thing in your life?

Love

Family

Money

Fun

Success

Meh

9

What kind of personality do you dislike?

Rude

Mean

Serious

Polite

Talkative

Anxious

10

Choose a word that you relate to. (Listen to your gut).

Safety

Home

Naughty

Crowd

Survival

Protection

11

If you were an anime character, what kind of weapon would you carry?

No weapons

Shield

Arrow

Dagger

Sword

Battleax

12

Which of the following roles would you like to have in an alternate universe?

Teacher

Nurse

Entrepreneur

Stripper

Boxer

Bartender

13

Which one is your mood right now?

Calm

Happy

Excited

Bored

Angry

Meh

14

What is the coolest thing about being a Vocaloid?

Singing songs

Having so many fans

Having people simping over you

Dancing

Making so much money

There's nothing cool about being a virtual singer

15

How many favorite Vocaloid characters do you have?

10+

8-9

6-7

4-5

Just one

I don't even know

16

How old are you, by the way?

16 or younger

17

18

19

20

21 or older

17

Fill in the blank. My boyfriend/girlfriend should be at least __________ years old.

18

What type of joke is the funniest?

Cute

Polite

Naughty

Stupid

I don't like jokes

All jokes are funny

19

What is your favorite movie genre?

Romance

Drama

Action

Thriller

Horror

Comedy

20

Final question; what makes a Vocaloid loveable?

Its voice

Its look/style

Its moves and dance

Its backstory

Its character

All of them