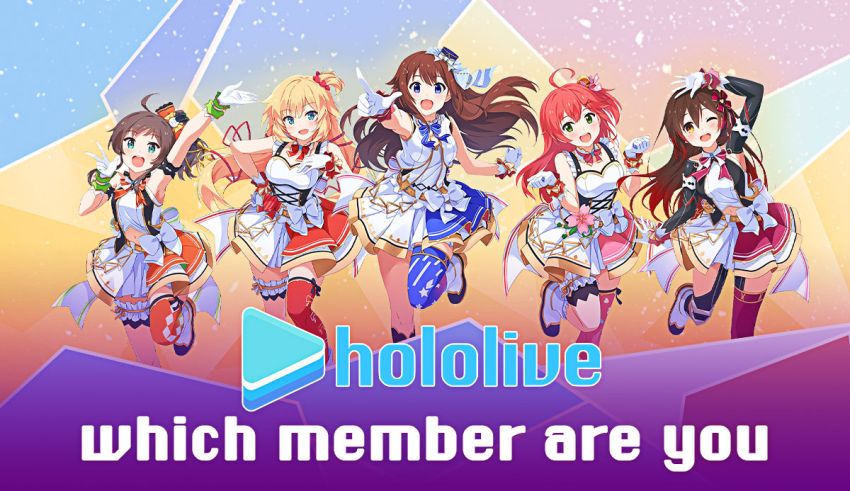 Do you wonder which Hololive member you are? This VTuber quiz asks you 20 questions to find your match. Are you Gawr Gura, Oozora Subaru, Mori, or else?
Hololive Quiz Explained
It's a series of personality questions that help discover the virtual YouTuber you represent in real life. The quiz considers all the crucial factors, such as your interests, skills, and even voice.
If you're into virtual reality quizzes, check out our Vocaloid Test as well. It discovers which VOC you are by analyzing your persona and traits.
Find out which VTuber you are.
The test's premise is to answer a question like, "Which Hololive YouTuber am I?" We have created a database of the top characters' profiles. And we will use your responses to compare your actual personality with theirs.
Get a free personality analysis.
By taking the test, you enable us to break down your personality. So, your results will also explain why you matched a particular VTuber and what it means.
See which virtual YouTuber could be your bestie.
A perk of taking the Hololive member quiz is meeting your virtual best friend. You might wonder which streamer or VTuber is similar to you. But let you know which other famous members could've been your besties had you been a part of the VR creators.
Discover your unique talents, skills, and powers.
Don't you want to know what would make your Hololive alter-ego special? The quiz helps you figure that out by offering a list of skills, powers, and talents you could've had as a virtual streamer or YouTuber.
What Is a Hololive Member?
A Hololive member is a virtual online creator and entertainer, often referred to as a VTuber, who uses an anime-styled avatar and doesn't reveal their face. It's not the same as AI-powered YouTubers since a Hololive member is an actual person.
How to Know Which VTuber You Are
There are different ways of discovering your match in the Hololive universe—the best one being an online personality quiz. One alternative is reading the character description of each VTuber, and deciding which one you represent in real life. (Though it's not an accurate method).
Here are brief persona breakdowns of some famous Hololive members to help you with that.
#1. Gawr Gura
With nearly 4 million YT subscribers, Gura is the most popular VTuber ever to exist. She is silly and clumsy. But her clever, witty side makes people fall in love with her quickly. Gura is famous for being terrible at math and other comparable complicated topics. And one of her fans famously called her a girl with a heart of gold and a head of the bone.' But she's a shark enthusiast who would leave a smile on your face no matter what.
Individuals who match Gura in the quiz are sociable and extroverted. But they might struggle with forming romantic relationships due to being shy around their crush.
#2. Oozora Subaru
If you ask the fans, "Which Hololive member are you?" most of them would pick Subaru. She's a cute and attractive tomboy who might let a couple of R-rated jokes slip in her streams. People love her because she's confident, funny, and optimistic. Subaru is also praised for her gaming skills—and many gamers have a hard crush on her.
People who share the same personality are daring, bold, and hardworking. They are often described as goal-oriented and reliable persons.
#3. Mori Calliope
Her collection of scary weapons has made her a fan favorite. Mori raps and reaps at the same time. She's one of the most talented virtual YouTubers in the whole world—and definitely one of the beloved Hololive members. However, she is also a ridiculously forgetful girl, constantly misplacing things and looking for them.
Matching Mori Calliope in the quiz indicates that you're a serious and determined person. You'd rather be praised and complimented because of your achievements than your appearance. And you don't like to express your affection for someone directly. (Your Dere is Tsundere, for sure).
#4. Shirakami Fubuki
Being the most cheerful member of Hololive, Fubuki is just adorable. She is almost always excited and energetic, which lifts her viewers' mood. However, Fubuki has shown some strangely twisted sides of her character in her streams, making people wonder what's going on in her head.
Participants who get Shirakami in their results are shy and sweet. But they might also have a hidden dark side.
| | |
| --- | --- |
| Hololive Member | Zodiac Sign |
| Gawr Gura | Gemini |
| Oozora Subaru | Cancer |
| Mori Calliope | Aries |
| Shirakami Fubuki | Libra |
Other members.
According to Virtual YouTuber Fandom, there are over 60 active Hololive talents on social media and streaming apps. So, it's not going to be easy for you to find your perfect match. So, we'd recommend taking our accurate persona quiz instead of going manual. We can expose your virtual counterpart in less than 5 minutes and provide you with extra fun pieces of information.
The Nijisanji VTubers Are Included in the Test
The good news is that the quiz is not limited to the Hololive members. We have added the profiles of well-known virtual creators from the competing company: Nijisanji. So, you might end up matching characters like Vox Akuma or Fulgar Void, whose popularity has been on the rise lately.
Why People Ask Things Like, "Which Hololive Member Are You?"
The Hololive fandom is huge, and it's growing every day. Personality matches help the community members to get to know each other faster and break the ice when chatting. Most fans want to know which Hololive or Nijisanji member you are because it gives them an idea of what kind of person you are. And it makes it easier for them to relate to you.
This Is the Best Way to Enter the Universe and Fandom
Taking the member quiz can be a booster if you're new to the VTubers and Hololive universe. It helps you find your match. Plus, it gives you an idea of what each member's personality is like, so you'd have something to say when diehard fans approach you.
Disclaimer
QuizExpo does not own any of the images used in the 'Hololive member quiz.' COVER Corporation owns all the said pictures—and no copyright infringement is intended. Please, contact us for any issues or concerns.
How to Play?
Playing personality quizzes is straightforward: Choose the option that's true about you—or you relate to—and select "Next." Unlike trivia quizzes, personality tests have no right or wrong answers. But the questions are in forced-choice format. The point is to push you to choose an option that makes the most sense, not the one that's 100% true. For the most accurate results, don't overthink your responses. Go with options that you "feel" are the best.
Questions of the quiz
1

If you were an actual Hololive member, what kind of voice would you like to have?

Cute and funny

Bold and cool

Serious and mature

Low-pitched and girly

Calm and seducing

Manly and strong

2

What's the most interesting thing about being a Hololive VTuber?

Having so many fans who adore you

Being able to tease your fans

Making money while having fun

Helping people enjoy their day

Creating your fictional dream character

It's not THAT of an interesting job

3

What's the most challenging thing about it?

Being in the spotlight all the time

Being exposed to online harassment

Long and frustrating work hours

Feeling responsible for your fans' emotions

Losing the work-life balance

Being bored while streaming

4

What kind of content would you like to create if you were a virtual YouTuber?

Just chat

Random video game content

Competitive video game content

Meme reviews

Storytelling

Movie/music reviews

5

How would you describe your prominent mood if you had to put it in one word?

Happy

Curious

Focused

Optimistic

Calm

Sad

6

Why do you think people like virtual YouTubers and Hololive members so much?

They're cute

They're hilarious

They're good-looking

They are relatable

They are sexy

They are anime-like

7

What's the key to becoming a successful VTuber, in your opinion?

Having a good personality

Being confident and bold

Being eager and hardworking

Being able to entertain people

Having a deep, seducing voice

Having a cool backstory and character

8

If you had to sing a song on live stream, what genre would you choose?

Pop

Rock

Rap

I'm too shy for that

R&B

Metal

9

Are you interested in weapons? What do you think about them?

I'm scared of them

I don't like to have weapons. But they look cool.

I love them and would like to own some

I hate weapons

I think they might make me look cool

I do own some weapons

10

What type of games would you play on your stream if you were a Hololive member?

Random stupid indie games

Triple-A and famous games

Competitive online multiplayer games

Relaxing and cute games

Mystery and puzzle games

Horror games

11

Choose a personality trait that you think is attractive and seductive.

Kindness

Confidence

Respect

Optimism

Flirtatiousness

None of the above

12

What kind of YouTubers do you dislike the most?

Those who critic everyone and everything

YouTubers with no sense of humor

Those who take things too seriously

YouTubers who hate on other creators

I dislike Vloggers

I can't stand most of them

13

Some VTubers (although rarely) talk about their crushes on stream. How do you feel about that?

It's cute and lovely

I'm a huge fan of that

It sounds stupid

I'm too shy to do that

It's cool and seductive

I don't like that

14

Which one is a better description of you at a party?

Dancing and having fun

Laughing and teasing others

Minding your own business

Trying to make new friends

Drinking and having deep convos

Sitting alone in a corner

15

If you were a Hololive member, would you befriend other streamers? Why?

Yes, because they all look lovely

Yes, because we could hang out

No, because I would be too busy

No, because I'm too shy for that

No, because I look to protect my privacy

No, because I'm a lonely wolf

16

Which one could be the dream avatar for your YouTube channel?

A cute short anime girl

A nonbinary anime character

A sexy mature avatar

An energetic and loud anime girl

A cool anime boy with a deep voice

A unique and non-human character

17

What kind of anime shows do you often watch?

Comedy

Action

Dark

Romance

Haram

I don't watch many anime shows

18

What's something about you that others usually love and praise?

My personality

My jokes

My achievements

My energy

My voice

None of them

19

Imagine you have to be a performer in a parallel universe. What kind of career would you pick?

Singer

Actor

Rapper

Dancer

Musician

I don't like to be a performer

20

Final question; how old are you?

14 or younger

15-17

18-21

22-26

27 or older

I'd rather not say