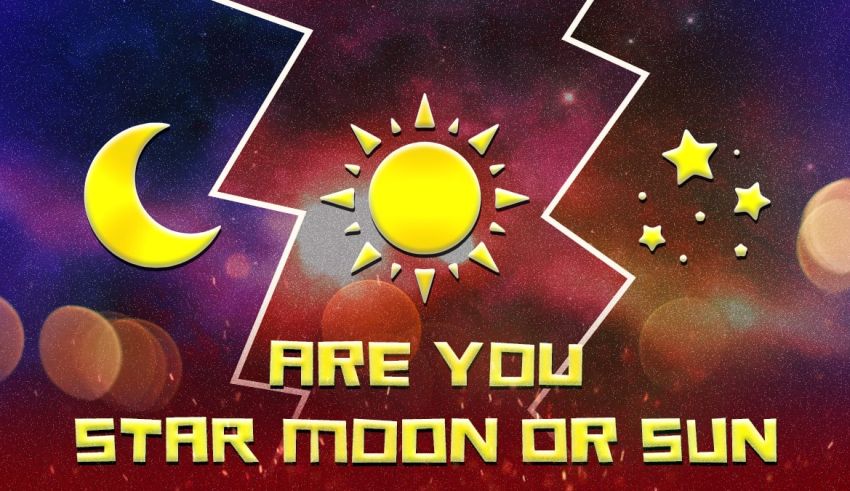 The Sun Moon Star Quiz reveals which astrological symbol you are based on your personality. Are you a star, moon, or sun?
The Sun Moon Star Quiz Explained
Having 20 emotional questions, the Sun Moon Star Quiz is an astrological personality test. It reveals what type of person you are based on the similarities between you and the primary symbols in the sky: Sun, moon, and star.
According to some ancient beliefs, people are of three temperaments: Positive, negative, and melancholic, represented by sun, star, and moon symbols. The current test helps you find out which sign better describes your personality.
| | | |
| --- | --- | --- |
| Symbol | Feature | Relationship |
| Sun | Optimism | Giver |
| Moon | Pessimism | Receiver |
| Star | Peace | Supporter |
For a similar experience, also try "What Planet Are You?" It reveals which planet in the solar system represents your life energy.
How to Know if You're the Sun, the Moon, or a Star
Analyzing one's energy—or the vibe they give off—could determine if they are sun, moon, or star. These symbols imply three types of energies, with the sun being on the positive side, the moon on the negative side, and the star shifting between the two.
If you have an optimistic attitude toward life, you're likely the sun. And if you can easily lift people with your energy or wisdom, you're the star. But if you lack energy and are moody, you're probably the moon.
In a relationship, the moon is on the receiver side, the sun on the giver side, and the star on the supportive end.
The Moon's Personality Is Melancholic
In literature, the moon is a sign of ever-changing balances. It represents feminine energy, and to many, it is a symbol of mystery. But personality-wise, the moon has been associated with moodiness and melancholy. People with the moon sign have a bittersweet personality. They enjoy sadness and tragedy almost in an artistic way.
Suggested for the Moon Personality: The Bittersweet Quiz
The Sun Personality Is Cheerful
Representing new starts and generosity, the sun is a symbol of positive energy. And people with this personality type are upbeat, grateful, and kindhearted.
Suggested for the Sun Personality: Princes Slut or Loser Quiz
The Star Personality Is Hopeful
In ancient times, stars used to show the path to travelers. As they have always been there when mortals needed them the most, they signify wisdom and hope. People with the star personality are content, righteous, and encouraging, supporting their loved ones in all aspects of life.
Suggested for the Star Personality: Soldier Poet or King Test
Take the Test to Find Your Symbol
Do you want to know if you are a star, moon, or sun? If yes, take this quiz. The following questions reveal your astrological sign based on your personality.
How to Play?
Playing personality quizzes is straightforward: Choose the option that's true about you—or you relate to—and select "Next." Unlike trivia quizzes, personality tests have no right or wrong answers. But the questions are in forced-choice format. The point is to push you to choose an option that makes the most sense, not the one that's 100% true. For the most accurate results, don't overthink your responses. Go with options that you "feel" are the best.
How many questions does this quiz have?
20 questions
How long does it take to complete this quiz?
5 minutes
Questions of the quiz
Question 1

Would you say you're a spiritual person?

Yes, I'm pretty spiritual

I am a bit spiritual

I used to be, but not anymore

No, I'm not spiritual at all

Question 2

Is it difficult for you to trust?

No, I trust some people with my heart

Not really. I try to see the good in people

It used to be easier. But now I can't trust anyone

Yes, I trust absolutely no one

Question 3

How would you describe your mood?

Happy

Calm

Sad (or nervous)

Angry

Question 4

Fill in the blank. In a relationship, I want to be the _________.

Giver

Protector

Protected

Receiver

Question 5

What's love?

It's compassion

It's commitment

It's pain and suffer

Love is just a lie

Question 6

What kind of music touches your heart?

Cheerful and upbeat

Meaningful and soothing

Sad and deep

I don't like music that much

Question 7

What do you do when you're mad at a loved one?

I talk to them

I do my best to forgive them (without telling them)

I do nothing because I'm numb to anger

IDK. I become unpredictable

Question 8

What kind of friend are you?

I'm like my friend's parent

I'm the one you call when you're in trouble

I'm the funny one who has a messed-up life

I'm the grumpy one

Question 9

A beautiful story is one that ___________.

Makes you appreciate life

Motivates you

Brings you to tears

Helps you forget your problems for a moment

Question 10

What would the title be if your life were a fairy tale?

The Magic in Her Eyes

Hope Is You

All Fairies Are Dead

The Land of Mysteries and Monsters

Question 11

How do you feel when you're lonely?

Question 12

What does the night symbolize in your life?

Peace

Intimacy

Loneliness

Pain

Question 13

How does it make you feel when you see a shooting star?

Magical

Lucky

Nostalgic

I don't feel anything specific

Question 14

Which one's poetically beautiful?

Question 15

What's your love language like?

Question 16

At what point of the day do you feel the least energetic?

Night

Noon

Morning

All day long

Question 17

How do you define nostalgia?

An emotional time machine

A brief reminder of who you are

A sad reminder of things you've lost

An irritating bond with the past

Question 18

Match one of these words with "first kiss."

Memorable

Meaningful

Mistake

Mockery

Question 19

How'd you describe your first love?

Cute

Humbling

Embarrassing

Stupid

Question 20

Final question: which of these elements do you relate to?