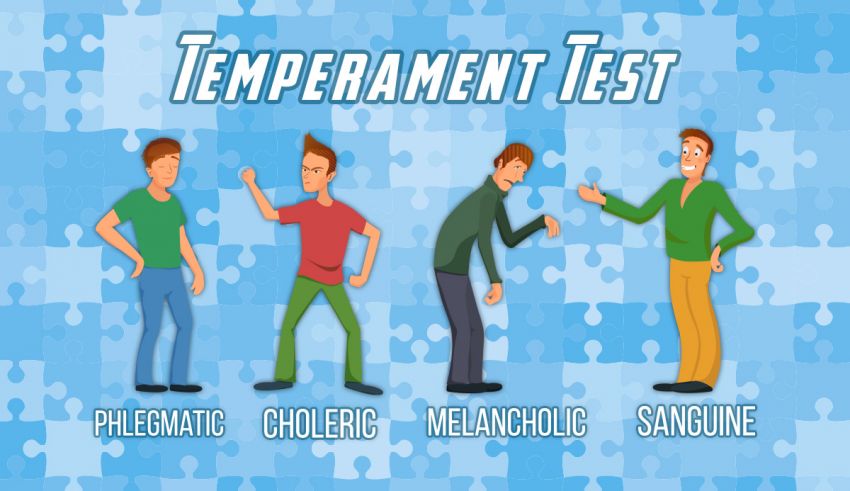 Do you want to know what your behavioral type is? This Temperament test reveals your humor accurately. Are you a Sanguine, Melancholic, Choleric, or Phlegmatic? Let's find out!
Explaining Temperament Test
The Temperament test is a set of questions to discover your current Humor. According to the Humoral Theory or Humourism, your bodily fluids (blood, bile, lymph, etc.) determine your characteristics and behavior. The questionnaire aims to find out how the said liquids are balanced in your body to expose your personality type.
The idea of Humor is more than 2000 years old. But the online Temperament tests date back to a couple of years ago. The one on this page is the most up-to-date and accurate one with detailed results. It consists of 20 simple questions. And you need less than 5 minutes to complete it.
Things That the Four Temperament Test Reveals
We tried to create a reliable Humor quiz. That is why you get to have comprehensive results by the end of it. Here is what you achieve by taking the test.
· Your Personality
The four Temperaments are the oldest personality analysis categories. And people have used it to classify and sort individuals into different groups using Humourism's principles throughout these years. So, by taking the quiz on this page, you let us inspect your character precisely, providing you with a full analysis in return.
· Your Advantages and Disadvantages
Each of the Temperament types has its upsides and downsides. By the end of the test, you find out what your good is and vice versa. It is important to know your strong and weak points to live a life that matches your personality.
· Your Soul Element
The Temperament test can identify your soul's element. You receive an analytical result that tells if you are fire, water, air, or Earth.
· Your Color
Humors have their unique colors. Our Temperament quiz discovers your character's hue as well as your behavioral type.
· Your Career
Taking the Temperament test might help with your job and profession, too. We know that your personality affects your business life. So, it is smart to get to know who you are and what your characteristics are before choosing a job. Our quiz results tell you what type of profession matches your Humor the most.
· Your Best Match
You might ask, "What is my Temperament type?" without thinking about the behavioral style of your closed ones. However, our Four Temperament test suggests the best soulmates to you based on your character identification. By the end of the questionnaire, you receive an analysis explaining what type of Humor would make a perfect match for you.
What Are the Main Humors and How to identify Them?
Knowing the features of each Temperament enables you to identify them quickly. Below you see the main characteristics of Sanguine, Melancholic, Choleric, and Phlegmatic people.
1. Sanguine
The term 'sanguine' means hopeful, confident, and optimistic. That is why scientists in the 18th century used to call this type cheerful. People with this Humor are life-giving, energetic, and somewhat geeky. Boredom and predictiveness are their nightmares. And they love to be in the spotlight—no matter what.
If your Temperament test result is sanguine, you are a creative and talkative person. Your element is blood, and your color is red.
2. Melancholic
Sensitivity and sadness over small details is the most prominent feature of a Melancholic Temperament. People with this type of Humor like arguments. But they find it difficult to express their feelings. It is also suggested that such people tend to be analytical and systematic. That is why they have higher chances of success in scientific fields.
If your Temperament test result is Melancholic, you are an objective, delicate, and quiet person. Your soul element is Earth, and your color is blue.
3. Choleric
Two words are enough to describe this Temperament type, fiery and impulsive. Choleric people often have mild or severe anger issues. But in general, they are energetic, individualist, focused, and ambitious people. It is easy for them to get used to a system, scheduling their workflow accordingly.
If your Humor type quiz result is Choleretic, you are a conflict-lover who is not afraid of speaking his/her mind.
4. Phlegmatic
Passive and calm. These two features are what you see on the surface when observing a Phlegmatic person. However, they are constantly collecting negative feelings inside. And some even suggest that these people are time bombs—always ready to explode. But in general, Phlegmatic individuals like positivity, and they make reliable friends or workers.
How Is the Temperament Test Related to the Dosha Quiz?
Indians Ayurveda is a similar concept to ancient Greek Humourism. It offers three categories (Doshas) based on five soul elements. And it also suggests that the combination and blend of these elements affect your personality. In this sense, both the Temperament and Dosha quiz are similar—they assess your behavioral type based on your body and physical features.
Things to Know Before Taking the Quiz
Our Temperament quiz is not designed to label you. The goal is to help you get to know yourself better. So, do not take the results as a diagnosis.
No One Is a Pure Temperament
The ideas you face in the test results explain the personality and character of a pure subject. But in real life, no one is 100% Sanguine, Choleric, Phlegmatic, or Melancholic. So, your persona does not have to meet every detail to become a particular Humor member.
You Might Have a Temperament Blend
You may have primary and secondary Humor. Our test can identify your main Temperament only. You can identify your secondary category based on the information presented on this page.
Disclaimer
The Temperament test results are not a clinical diagnosis. The quiz on this page is a fun way to identify your personality type based on the oldest categorization in human history (aka Humourism Theory).
How to Play?
Playing personality quizzes is straightforward: Choose the option that's true about you—or you relate to—and select "Next." Unlike trivia quizzes, personality tests have no right or wrong answers. But the questions are in forced-choice format. The point is to push you to choose an option that makes the most sense, not the one that's 100% true. For the most accurate results, don't overthink your responses. Go with options that you "feel" are the best.
Questions of the quiz
1

Which of the following behaviors would piss you off?

Negative thoughts

Anything

Disrespect

Ignorance

2

Which of the following persons is the most respectable one?

An advocator

A caregiver

A leader

A negotiator

3

What type of boss do you hate the most?

Tough and cold

Cruel and disrespectful

Bossy and manipulative

Detail-oriented and angry

4

What is the main reason you love your best friend?

He/she is fun

He/she understands me

He/she helps me

He/she relies on me

5

Fill in the blank. My life is a __________.

6

Which of the following words do you like the most?

7

What is the key to success? (In your opinion).

Positivity

Luck

Hard work

I don't know

8

Which of the following things is your priority in life?

Education

Love life or relationships

Career

None of them

9

How easy is it to make you angry?

Hard

Normal

Easy

Impossible!

10

What is a compliment you hear a lot?

"You are brilliant"

"You are smart"

"You are a go-getter"

"You are trustworthy"

11

What is the main critique you hear a lot?

"You are not focused"

"You have no energy"

"You are too strict"

"You are not too quiet"

12

You are a/an _________ person.

Interesting

Sensitive

Unique

Lonely

13

Which of the following adjectives describes you the best?

Friendly

Organized

Charming

Simple

14

If you were an animal, what would you be?

15

Which of the following professions sounds more appealing to you?

Artist

Scientist

Police Officer

Teacher

16

When finding a job, your main priority is ___________.

Environment

Money

Future of your career

Promotions

17

Do you think you deserve to be loved?

Sure

No

Most of the time

I'm not sure

18

Read the following scenarios and choose the one that sounds worrying to you.

Living a boring life

Being humiliated at work

Losing a fortune

Being dumped

19

What is one thing you love about yourself?

My energy

My discipline

My confidence

My honesty

20

What type of personality do you hate the most?