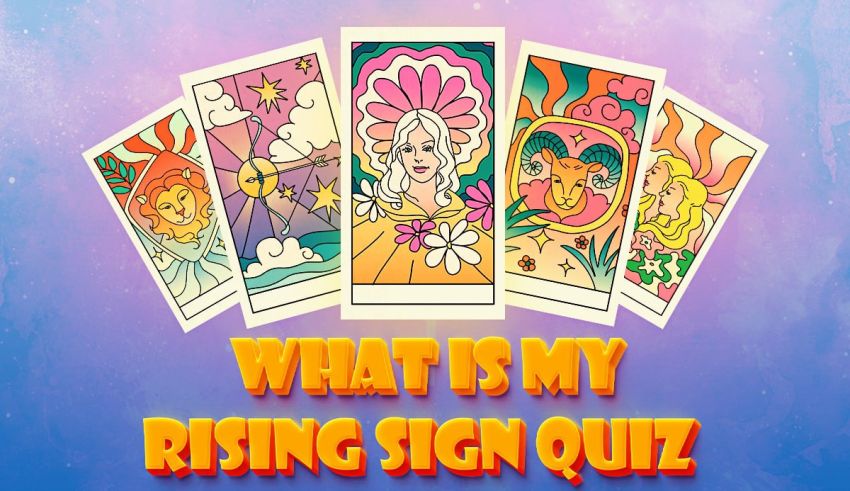 Do you want an answer to "What is my rising sign?" This astrology quiz identifies your ascendant house with twenty personality questions in no time.
What Is Your Rising Sign?
Also known as the ascendant, your rising star sign is the sign that was rising on the east of the horizon at the time of your birth. Ancient astrologists believed that the rising sign at a child's birth represents its soul.
You could use a birth chart calculator or a rising star quiz to determine which of the twelve houses you belong in based on your date and place of birth.
Guess Your Ascendant with a Personality Quiz
Similar to the Starseed theory, it's believed that your rising sign shapes your personality and manner. So, one way to answer questions like "What is my rising star sign?" is by taking a persona test—like the one on this page.
The quiz analyzes your traits to create an accurate profile before guessing your ascendant and revealing your rising star sign's meaning. And it's the best option for people who don't know their exact birth information.
| | |
| --- | --- |
| Aries rising | Assertive |
| Taurus rising | Reserved |
| Gemini rising | Chatty |
| Cancer rising | Nurturing |
| Leo rising | Charismatic |
| Virgo rising | Practical |
| Libra rising | Artistic |
| Scorpio rising | Intense |
| Sagittarius rising | Adventurous |
| Capricorn rising | Goal-oriented |
| Aquarius rising | Humanitarian |
| Pisces rising | Intuitive |
No Need for Your Place and Time of Birth
The challenge with calculating one's rising star sign is that you have to know their time and place of birth. But few people have access to that information. So, is there any other way to guess a person's ascendant? Yes, a personality test.
The questionnaire on this page doesn't require your name, age, sex, or nationality to work. It is a self-report process to help discover what your rising star is based on the type of person you are.
Why It Matters to Know Your Rising Sign
Your moon sign determines your emotions, and your sun sign (zodiac sign) decides your thoughts. But your rising star affects a much broader part of your life, which is why some refer to it as "the mask you wear in public."
Some people want to know their ascendant because it guides them to pick the crystal they need. Others use it like tarot cards to determine their life purpose. Regardless, it's essential to ask, "what is my rising star sign?" because the answer influences your:
First impression.
Appearance.
Demeanor.
Expectations.
Which of the 12 Houses Is Your Ascendant?
The rising star quiz examines your personality to guess the ascendant house accurately.
Note that your rising star sign is one of the twelve zodiac signs. So, the possibilities are Aries, Taurus, Gemini, Cancer, Leo, Virgo, Libra, Scorpio, Sagittarius, Capricorn, Aquarius, and Pisces.
How to Play?
Playing personality quizzes is straightforward: Choose the option that's true about you—or you relate to—and select "Next." Unlike trivia quizzes, personality tests have no right or wrong answers. But the questions are in forced-choice format. The point is to push you to choose an option that makes the most sense, not the one that's 100% true. For the most accurate results, don't overthink your responses. Go with options that you "feel" are the best.
Questions of the quiz
1

Why do you want to know what your rising star sign is?

I need to know it to make better decisions

Someone asked me about it

Just for fun

I don't have any particular reason

2

How often do you get mad at your loved ones?

Often.

Rarely.

It depends.

All the time.

3

On a scale of 0 to 5, how emotional are you? (5 means you're overly emotional).

4

How do you express negative feelings like anger or disappointment?

I often cry

I try to talk about them

I express them non-verbally

I don't express my negative emotions

5

What do you think is the first impression you often give?

Kind

Approachable

Cool

Distant

6

What do you do when you're nervous?

I pray

I talk to a loved one

I motivate myself

I try to remain realistic and calm myself down

7

What is your prominent mood in the morning?

8

Which of these places are you drawn to?

Ocean

Sky or space

Mountain

Jungle

9

Which word describes your style?

Cute

Casual

Trendy

Practical

10

How active is your social life?

Fairly active

Incredibly active

Not so active

Not active at all

11

What do you expect from a romantic relationship?

Unconditional love

Supportiveness

Passion

Trust

12

Fill in the blank. People usually think I'm a ____________ person.

Nice

Easygoing

Funny

Reliable

13

What's a trait that you look in a friend?

Empathy

Honesty

Enthusiasm

Credibility

14

In what order would your prioritize career, love, and fun in your life?

Love, fun, career

Love, career, fun

Fun, love, career

Career, love, fun

15

How easy is it for you to calm down after something or someone pisses you off?

Not so easy

Kind of easy

Almost impossible

It depends. I rarely get mad.

16

Would you say you are a moody person?

Yes, I'm quite moody

Kind of, but I'm not that moody

I don't think so

No, I'm not moody at all.

17

Do you believe your rising star sign can expose the type of person you are?

Yes, totally.

I think so.

I'm not sure.

No, I don't believe in astrology.

18

What could boost your energy?

A hug from a loved one

A family gathering

An exciting adventure.

A promotion or work-related success.

19

Which one affects your decisions?

Emotions

Family and friends

Goals

Logic

20

Final question; are you a morning or night person?