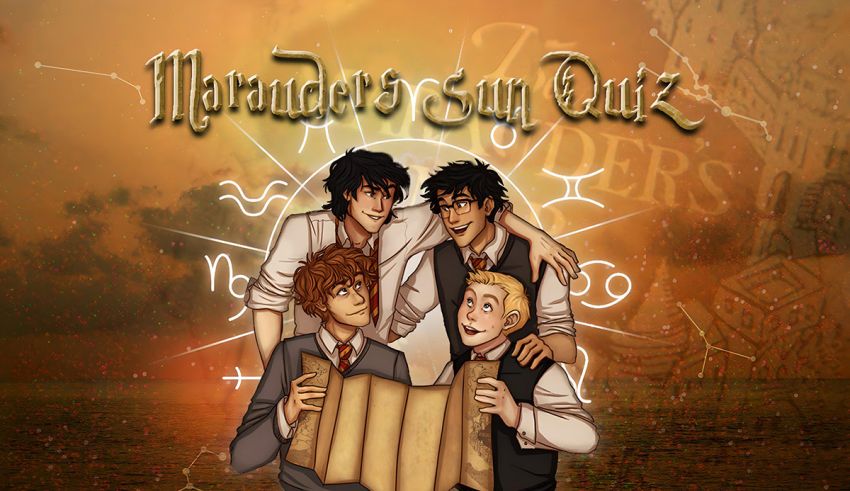 The Marauders Sun Moon Star Sign Quiz reveals your big three, aka rising signs or ascendants, as Lily, James, Remus, Peter, Sirius, and Severus.
The Big Three Quiz for Marauders Era
Comprised of 15 questions, the Marauders Sun, Star, and Moon Sign quiz is a Harry Potter Astrology Test. It determines your big three, also known as the ascendants, based on your persona compared to those of James, Lily, Sirius, Remus, Peter, and Severus.
I came up with the idea for this quiz the other day as I was mindlessly scrolling on TikTok. I constantly pumped into these videos of HP fans sharing their results from three different tests that seemingly revealed their zodiac profile as a Marauder. But why not combine all those quizzes into one? Yep, that's what I did.
With the Marauders Astrology Quiz, you find out the following facts about your persona:
Your Marauder Sun Sign
A Sun Sign is the person's essence or ego based on the position of the sun at the time of their birth. For instance, because of his loyalty, bravery, and fierce determination, Sirius Black's Sun Sign is Aries. Take the test to see which Marauder's ego matches yours.
Your Marauder Star Sign
Rising Star Sign exposes your outer demeanor, the impression you make on others. For example, Remus Lupin's Star Sign was Virgo because he always seemed like a stoic and calm boy. By taking the test, you will find out your rising sign.
Your Marauder Moon Sign
In astrology, the Moon Sign represents your emotions and instincts. Take James Potter as an example. He was caring and deeply devoted to his loved ones, which signals a Moon Sign like Aries or Cancer.
The Actual Ascendants of the Marauders
Use the following table to understand the ascendants of the Marauders.
| | | | |
| --- | --- | --- | --- |
| Marauder | Sun Sign | Star Sign | Moon Sign |
| James Potter | Aries | Leo | Sagittarius |
| Lily Evans | Leo | Scorpio | Pisces |
| Severus Snape | Capricorn | Scorpio | Cancer |
| Sirius Black | Sagittarius | Libra | Aquarius |
| Remus Lupin | Pisces | Cancer | Taurus |
| Peter Pettigrew | Gemini | Virgo | Scorpio |
What Is the Marauders Astrology Quiz on TikTok?
A new trend on TikTok involves Potterheads sharing their Sun, Moon, and Star Signs as Marauders Era characters. For this, they take three different tests—known as the big three—to create a profile of their ego, emotion, and expression.
The test on this page, the Marauders Sun Moon Star Sign Quiz, is the three-in-one version of this trend. Instead of taking separate quizzes, you can find all your ascendants in one place—and with high accuracy.
Discover All Your Signs in One Marauders Test
For those of you still wondering what your rising signs are as Marauders, I've got you! My personality quiz considers everything from your Harry Potter House to your zodiac sign to find the answer.
You can also try my other HP-devoted test called "Which Harry Potter Character Are You?" after this. It will help you better understand your Marauders Astrology Results.
Okay, Potterheads, are you ready to meet your rising sign? Let's figure out which Marauder you are as a Sun, Moon, and Star Sign.
Disclaimer
QuizExpo does not own the images used in the Marauders Astrology Quiz and intends no copyright infringement.
How to Play?
Playing personality quizzes is straightforward: Choose the option that's true about you—or you relate to—and select "Next." Unlike trivia quizzes, personality tests have no right or wrong answers. But the questions are in forced-choice format. The point is to push you to choose an option that makes the most sense, not the one that's 100% true. For the most accurate results, don't overthink your responses. Go with options that you "feel" are the best.
Questions of the quiz
1

What is your zodiac sign?

Taurus, Virgo, or Capricorn

Gemini, Libra, or Aquarius

Cancer, Scorpio, or Pisces

Aries, Leo, or Sagittarius

2

What s your favorite thing about the Marauders Era?

Friendships

Story

Romance

Battles or mysteries

3

What role do you often play in a team?

I usually prefer to be a regular teammate

I often become the head of the team or an advisor

I play the role of a support or BTS expert

I am the go-getter in the front line

4

Which one is closer to your best friend persona?

Agreeable

Reliable

Giving

Fun

5

What kind of witch or wizard would you be?

Patient

Famous

Peace-seeking

Adventure-seeking

6

What s your favorite type of magic?

Practical

Ancient

Protective (defensive)

Lethal (black)

7

Which word describes how you feel about Harry Potter?

Nostalgic

Clever

Inspiring

Epic

8

What's your Harry Potter House?

Hufflepuff

Ravenclaw

Gryffindor

Slytherin

9

What sort of talent do you have?

Something physical (like strength)

Memory-related

Hidden

Funny

10

What would it be if you could change one thing about the Marauders Era?

I'd make it gloomy and tragic

I'd add deeper plot twists

I'd add more detailed romance stories

I would add action and adventure

11

What makes a witch or wizard attractive?

12

What is your favorite Harry Potter spell?

Expecto Patronum

Accio

Protego

Stupefy

13

How would you describe your sense of humor?

Dry

Sarcastic

Relatable

Dark

14

What s your prominent morning mood?

Calm

Focused

Happy

Sad or tired

15

Final question: What kind of parent would you be?

Tolerant

Strict

Protective

Cool