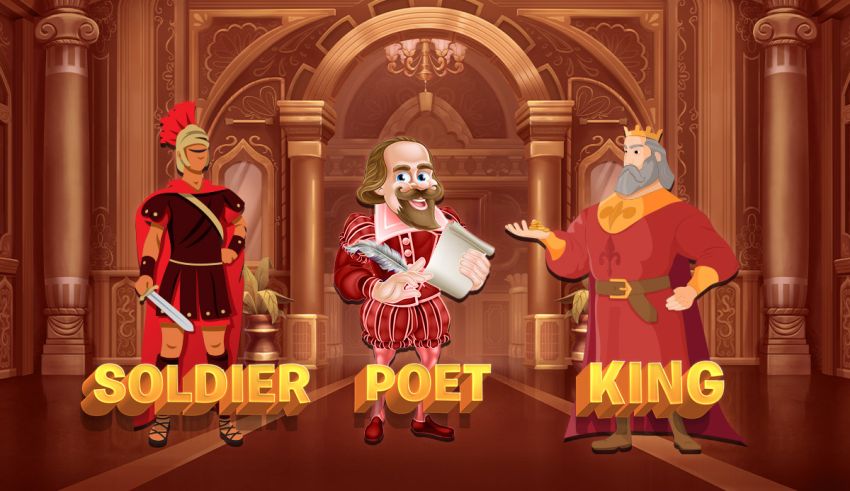 Are you the Soldier, the Poet, or the King? The Soldier Poet King Test reveals how you deal with emotional abuse.
What Is the Soldier Poet King Test?
Consisting of twenty thematic questions, the Soldier Poet King Test is an emotional abuse quiz inspired by The Oh Hellos titular song.
The test reveals how you deal with childhood traumas and toxic relationships as the King, the Poet, or the Soldier.
| | |
| --- | --- |
| Persona | Coping Mechanism |
| The Soldier | Fights the abuser back. |
| The Poet | Helps victims of abuse recover. |
| The King | Fills the void the abuser created. |
What's the Backstory of the Soldier Poet King Test?
The Soldier Poet King Test refers to the lyrics of a folk song with the same title. In the song, the singers talk about a king, a poet, and a soldier that will come and tear the city down. This can be interpreted as how one will overcome their traumas.
The three characters in the Dear Wormwood album (the King, the Poet, and the Soldier) are different trauma survivors who each treat their pain uniquely.
When the characters "tear the city down," they leave their suffering behind and celebrate the victory by saying, "O lay, o lord."
C.S. Lewis's The Screwtape Letters, a book about a devil writing letters to a human, inspires the Soldier, Poet, King song, which has led to the eponymous personality test.
With the personality quiz, you get to find out what type of survivor you are—and even if you've caused any traumas for others by being toxic.
What Do the Soldier, the Poet, and the King Mean?
In the Soldier, Poet, King song, each of the three characters signifies how one might cope with being manipulated—especially by a loved one in the past.
Here's what each persona means.
The Poet
A true giver, the Poet is a person who's been through traumas but is now helping other victims get over their fear of the abuser.
As the lyrics in the song suggest, words are the Poet's weapon—with which they slay the city of haunting memories.
The King
Also called the Ruler, the King fills the void their abuser left behind. Not only does the King overcomes trauma on their own, but they also show other victims of abuse how they're supposed to be treated—like David's boy, the chosen one, Jesus.
The Soldier
Equipped with the sword of self-love, the Soldier removes the abuser from their life. They are the warrior who fights their abuser no matter how excruciating.
Why Did the Quiz Went Viral on TikTok?
Soldier, Poet, King was a popular song in the TikTok Taverncore. But when users turned it into a personality test, it went viral again—this time, among trauma survivors who'd relate to the lyrics.
In an interview with Music Times, the song's creators, Tyler and Maggie Heath, said that "the lyrics come from the idea of having a specific relationship that, as your eyes are being opened to the toxicity of it, you attempt to leave it for good."
Take the Soldier Poet King Quiz (with a Catch!)
Just like the song, the Soldier Poet King Test has a biblical theme—with references to Jesus, God, and Devil. The catch is that, unlike most other quizzes, you might match the Devil himself, also known as the abuser.
In other words, you may realize that you're a mean person who traumatizes others.
So, are you the Soldier, the Poet, the King, or the Devil? Hit the start button and find out with this brutally honest personality test.
Disclaimer
If you feel stuck in an abusive relationship or are living with manipulative parents, please contact the National Domestic Abuse Helpline at 1-800-799-7233 (SAFE) or 1-800-787-3224 (TTY).
How to Play?
Playing personality quizzes is straightforward: Choose the option that's true about you—or you relate to—and select "Next." Unlike trivia quizzes, personality tests have no right or wrong answers. But the questions are in forced-choice format. The point is to push you to choose an option that makes the most sense, not the one that's 100% true. For the most accurate results, don't overthink your responses. Go with options that you "feel" are the best.
How many questions does this quiz have?
20 questions
How long does it take to complete this quiz?
6 minutes
Questions of the quiz
Question 1

How do you feel when a loved one hurts you?

Sad

Disappointed

Angry

Vengeful

Question 2

Which one breaks your heart?

Meanness.

Lies.

Betrayal.

Disobey.

Question 3

Choose a quote that's true about loving you.

It's easy to love me.

It's not easy to love me.

It used to be easier to love me.

I don't want anyone to love me.

Question 4

What do your traumas make you feel?

Inspired.

Cautious.

Stronger.

Vengeful.

Question 5

What do you say to a heartbroken friend?

"It'll be okay."

"You deserve better."

"Keep your chin up."

"Don't cry; that's for the weak."

Question 6

How would you fill in the blank? I wish I were _________.

Kinder to myself.

Wiser when making decisions.

Stronger when letting go of others.

Colder when avenging my pain.

Question 7

Which sentence would start the book of your life?

And I realized that life is still beautiful.

That was it. I was ready to take my life back.

After all, I was still alive; and no one could stop me.

All I wanted was revenge. I had to even the score.

Question 8

How's your relationship with loneliness? Do you like it?

I used to fear loneliness. But not anymore.

I used to dislike loneliness. But now I like it.

I used to love loneliness. I still do.

I hate loneliness. I don't deserve it.

Question 9

Which one describes your childhood?

Nostalgic or happy.

Modest or ordinary.

Traumatizing or scary.

Horrible or disastrous.

Question 10

Will you ever forgive your abuser?

I hope so. I'll try.

I'm not sure. But I'll forgive myself.

I won't. But I'll let go of their memories.

No. I will seek revenge till I die.

Question 11

What would make you feel better?

A cup of coffee with a lovely friend.

A welcoming smile and a heartwarming convo.

A warm hug after a rough day.

Nothing can make me feel better.

Question 12

What ruined your childhood?

Parents.

Poverty.

Peer pressure.

All of them. I'm messed up.

Question 13

Which one left scars on your soul?

Loss of loved ones.

Childhood trauma.

Relationship trauma.

IDK. I don't have a soul anymore.

Question 14

Pick a word that describes your soul.

Concerned.

Meticulous.

Motivated.

Numb.

Question 15

What are you afraid of?

Letting my loved ones down.

Losing my faith in others.

Giving up on my dreams.

I'm not afraid of anything.

Question 16

What are you excited about?

My relationship or friendship.

My career or education.

My new lifestyle.

Nothing excites me.

Question 17

What's the future like?

It's bright.

It depends on us.

It's probably not bright. But who knows?

It's dark. The future is full of misery, pain, and loss.

Question 18

Which one's the "sword" you'd use to conquer your abuser?

Forgiveness.

Knowledge.

Self-love.

Revenge.

Question 19

What do you say to a sinful soul who regrets its past?

"You'll be forgiven."

"It's never too late to do good."

"It's time to face the consequences."

"You'll never be forgiven."

Question 20

Final question: what heals a wounded soul faster?

Tolerance.

Support.

Motivation.

Nothing can heal a wounded soul.