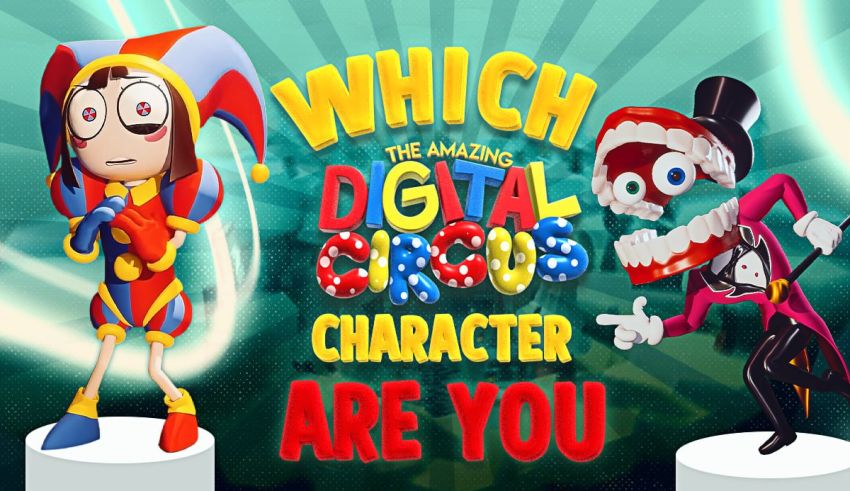 Wanna know which character from The Amazing Digital Circus you are? Take this simulation personality quiz to see if you are Pomni, Jax, Zooble, Ragatha, Caine, or someone else.
Find Your Character in The Amazing Digital Circus with MBTI
The Amazing Digital Circus Quiz discovers your kin or similar character in the titular web animation series. With its 15 questions, the test identifies if you are one of the six humans trapped in the AI-powered game (Pomni, Jax, Ragatha, Kinger, Zooble, and Gangle) or the AI itself.
Here's a table you can use to find your MBTI match:
| | |
| --- | --- |
| The Amazing Digital Circus Characters | MBTI |
| Pomni | ENFP |
| Jax | ESTP |
| Ragatha | ENFJ |
| Kinger | INTP |
For those of you who are new to the fandom, The Amazing Digital Circus is an animated internet series by Gooseworx, who previously created the viral Hazbin Hotel animation. The show airs on the GLITCH YouTube channel and revolves around a group of Virtual Reality users trapped in a mysterious digital world.
TADC Characters That You Might Be
Inspired by nostalgic video games like KidPix and science-fiction stories like I Have No Mouth, and I Must Scream, The Amazing Digital Circus features nine main characters: Pomni, Jax, Ragatha, Kinger, Caine, Kaufmo, Bubble, Zooble, and Gangle.
The following are introductory descriptions of some of the show's main personalities:
Pomni
As the animation's protagonist, Pomni is determined, risk-taking, brave, and adventurous. Despite losing her memory, she's willing to uncover the secrets behind the digital circus and leave the simulation at any cost.
Jax
Described by showrunners as "Awful Boye," Jax is a rebellious character who's not afraid to play the circus's mind games. He is the deuteragonist of the show, the "bad influence" that balances Pomni's innocent point of view.
Ragatha
Ragatha, known as the sweetest optimist in the digital world, is a sentimental, bright, and cheery toy. She enjoys lending a helping hand and being a supportive presence for others. However, her naivety makes her vulnerable to the tricks and deceit of others.
Kinger
Living in the AI simulation has taken a toll on Kinger's mind, resulting in an eccentric and somewhat unhinged demeanor. Despite this, his quirky and unpredictable nature has endeared him to the audience, making him one of the most beloved personalities in the entire Amazing Digital Circus.
Abstracted Characters and Antagonists Are Included!
In Gooseworx's new universe, some characters, the ones who overthink their existence, undergo horrible changes: They turn into abstract beings. But hey, wouldn't you want to know if the same thing could happen to you? Could you bear the pressure of being trapped in an AI-generated simulation game? Take the Amazing Digital Ciscus Quiz to find the answer.
Let's Expose the Digital Circus Performer in You
Are you ready to meet your doppelganger in The Amazing Digital Circus? If yes, tap "START" and let our intriguing questions reveal your true avatar.
If you're into shows like TADC, we would highly recommend you take the Helluva Boss Quiz, another masterpiece by the same animators.
Disclaimer
QuizExpo does not own any of the images used in the Amazing Digital Circus Quiz and intends no copyright infringement. GLITCH owns all the said pictures.
How to Play?
Playing personality quizzes is straightforward: Choose the option that's true about you—or you relate to—and select "Next." Unlike trivia quizzes, personality tests have no right or wrong answers. But the questions are in forced-choice format. The point is to push you to choose an option that makes the most sense, not the one that's 100% true. For the most accurate results, don't overthink your responses. Go with options that you "feel" are the best.
Questions of the quiz
1

What's the best way to break free from a simulator?

Fight back

Look for a glitch

Wait/ask for help

Blend in with the simulation characters

2

If you were a god, how would you prioritize for your people?

3

What kind of games would you add to a simulation?

Parkour-based

Mind games

Easy and fun puzzles

Matrix-like mazes

4

How do you react to mind games? Are you good at them?

I think I'm good at such games

I'm the best

I'm the worst

What even is a mind game?

5

Which one's a true nightmare?

Losing your sight for a day

Not being able to move your hands for a week

Not being able to talk for a month

None of them sounds that bad to me

6

You're trapped in a dark room. What now?

I'll look for the exit

I'll scream at the top of my lungs

I can't handle it. I'll cry and freak out

I'll just go back to sleep. It's fine

7

How would you customize The Amazing Digital Circus?

I'd add more plot twists

I'd add zombies

I would make it a romantic place

I would turn it into a horror survival game like FNAF

8

How do you feel about Caine?

I kind of like him

I know he's lying

I love him!

I don't know who that is

9

What kind of circus performer could you be?

Acrobat

Aerialist

Juggler

Clown

10

How do you deal with fear?

I face it

I hide it

I talk about it

I don't feel fear

11

What's your biggest phobia?

Being trapped in a tight place

Drowning

Ghosts or scary creatures

I have no fear

12

Choose the scariest place.

An abandoned office

An ancient castle

A bloody playroom

A normal library

13

Pick an eerie birthday party theme.

Haunted Dolls Birthday Bash

Sinister Circus Soirée

Ghostly Masquerade Ball

Cursed Carnival Celebration

14

Which animation is your favorite?

Murder Drones

Helluva Boss

Hazbin Hotel

I don't know any of these

15

Final question: What's your everyday mood like?