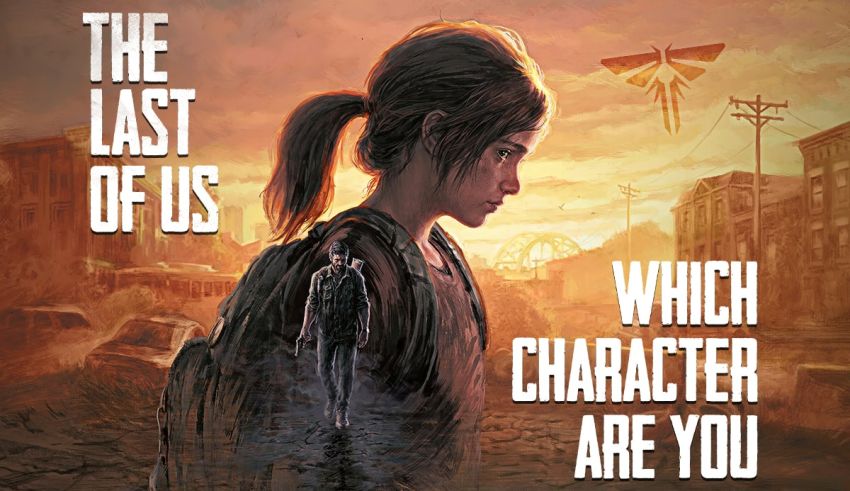 Which the Last of Us character in HBO's TV adaptation are you? Joel, Ellie, Tommy, Marlene, or else? This TLOU quiz reveals the answers.
The Last of Us HBO Series Quiz
With twenty zombie apocalypse-inspired questions, the Last of Us quiz determines which character of HBO's series you are.
HBO's The Last of Us is an adaptation of Naughty Dog's world-famous video game with the same title. It's a new look into the story of Joel and Ellie, two strangers that form a father-daughter bond in a post-apocalyptic world.
With the TLOU personality quiz, you get to find out which of the 2023 show's characters you represent in real life.
By the way, if you're into video game TV adaptations, check out the Halo Character Quiz next.
Which TLOU TV Series Character Are You?
Despite being co-created by the original game's director, Neil Drukmann, The Last of Us series introduces new characters—and changes some of the old ones.
But the question is, which one are you? Are you Pedro Pascal's version of Joel, Bella Ramsey's portrayal of Ellie, or else? Take the quiz to find the answer.
Find Your "The Last of Us" Match with MBTI
Winners of multiple narrative and script awards, the Last of Us video games are known for their compelling stories and memorable characters. And HBO's adaptation comes with the same qualities: It has a powerful story about unforgettable characters.
But the more complex a TV show's characters are, the more challenging it gets to find your perfect match—or counterpart—among them.
We solve that problem by adapting the characters' MBTI types.
In other words, the TLOU quiz compares your personality type to that of the show's main characters.
More HBO Quizzes: Which House of the Dragon Character Are You?
If you already know your MBTI type, use the following descriptions and table to discover your character.
#1. Joel Miller
As with his character in the game, Joel in HBO's adaptation has the personality of a survivalist. He's been traumatized by past events, desperately trying to fix his mistakes. But despite his tough façade, Joel is also kindhearted, protective, and fatherly.
#2. Ellie Williams
Slightly different from her video game version, Ellie in HBO's series is confused about her feelings. Her personality is parted between an angry teenage girl and an affection-seeking baby. In the new TV show, Ellie is spontaneous, careless, and stubborn.
#3. Tommy Miller
A former military person, Tommy in HBO's The Last of Us is an idealist clinging to his pre-apocalypse views. As an ex-soldier, Tommy is disciplined, strategic, and cautious. But he's also a compassionate man, willing to help those in need.
#4. Tess Servopoulos
A tough leader, Tess is a fearless woman who's crossed all the lines to survive; she has nothing to lose. Personality-wise, the Tess we see in the TLOU TV show is more relatable and emotional. But she's still a survivalist before anything else.
#5. Marlene
Despite being an antagonist in the game, Marlene in the HBO series has a humanized character. She's the realist leader of the Fireflies who has firm ideologies about the post-zombie-apocalyptic world they live in. Personality-wise, Marlene is strong-minded, quick-thinking, and motivated.
#6. Sarah Miller
Sarah in HBO's 2023 adaptation plays a more significant role than in the original TLOU games. She is a caring girl who's mature for her age and aware of the absurdity of their situation. But she still manages to keep calm and find ways to help others.
| | |
| --- | --- |
| Character | MBTI |
| Joel (Pedro Pascal) | ISTJ |
| Ellie (Bella Ramsey) | ENTP |
| Tommy (Gabriel Luna) | INFP |
| Tess (Anna Torv) | ENTJ |
| Marlene (Merle Dangridge) | ENTJ |
| Sarah (Nico Parker) | ENFJ |
How Do the TV Show Characters Differ from the TLOU Games?
In an interview with Washington Post, Neil Drukmann—the show's co-creator—said that the main difference between the characters in the video game and the HBO series is that they are more humanized in the TV adaptation.
Meet Your Counterpart in TLOU TV Adaptation—Now
Are you still wondering which HBO's The Last of Us character you are? If yes, take this apocalyptic, zombie-smelling dark quiz to find out the answer.
With the following questions, you get to discover whether you are Joel, Ellie, Tommy, Tess, Sarah, Marlene, or else.
(Psst. Can you hear the clickers? They're coming… Hurry up)
Disclaimer  
QuizExpo does not own the images in The Last of Us Character Quiz and intends no copyright infringement. HBO owns the said pictures.
How to Play?
Playing personality quizzes is straightforward: Choose the option that's true about you—or you relate to—and select "Next." Unlike trivia quizzes, personality tests have no right or wrong answers. But the questions are in forced-choice format. The point is to push you to choose an option that makes the most sense, not the one that's 100% true. For the most accurate results, don't overthink your responses. Go with options that you "feel" are the best.
Questions of the quiz
1

Would you sacrifice a loved one to save the world?

I might do that. I'm not sure.

I don't think so.

No, I'd never do that.

It depends on whom I have to sacrifice.

It depends on how many people I can save.

Yes, I would do that.

2

What kind of The Last of Us characters are your favorite?

Relatable

Daring

Smart

Logical

Tough

Ruthless

3

What do you think of TLOU video games?

I think they're scary.

I think they're exciting games.

I like the first game better.

I like the second game better.

TLOU 1 and 2 are the best zombie games ever.

I haven't played the games. (Or I don't like them.)

4

What would it be if you could change one thing about HBO's The Last of Us?

I'd add more romance.

I'd add more shocking plot twists.

I'd change some characters' video game fate.

I'd add more action elements.

I'd explore more characters' backstories.

I'd make it a dark and gruesome zombie show.

5

What kind of survivalist would you be if you lived in the apocalyptic world of TLOU?

Helpful and generous.

Brave and risk-taking.

Cautious and aggressive.

Cautious and peaceful.

Lonely and dangerous.

Ambitious and ruthless.

6

How would you react if a zombie bit one of your allies?

I'd take my friend to a safe place.

I'd kill and tear that zombie apart.

I'd leave my friend behind.

I'd kill my friend after they turned into a zombie.

I'd give a knife to my friend and leave.

I'd kill both the zombie and my friend immediately.

7

What could be your priority in a post-apocalyptic world?

Helping survivors.

Becoming a tough survivalist.

Protecting my people.

Building safe cities.

Finding food and other resources.

Reviving the civilization.

8

What do you think of zombies in The Last of Us series?

They're terrifying.

They're easy to kill.

They're disgusting creatures.

They're smarter than they look.

They're fun to shoot.

They are just a bunch of unlucky humans.

9

What could help someone survive zombies?

Companionship

Bravery

Cautiousness

Skills

Guns

Ruthlessness

10

Which one sounds like your favorite battle strategy?

Stealth attack

An all-out war

Counterattack

Ambush

Assassination

A planned and organized attack.

11

In an apocalyptic world, I would refuse to __________.

Kill

Steal

Cheat

Lie

Follow the rules

Show mercy to strangers

12

What kind of weapon would you like to have if you were a TLOU character?

I don't like weapons.

A handmade matchet

A customized hammer.

A military knife.

A small pocket knife.

A poisonous dagger.

13

What makes HBO's The Last of Us a good show?

Story

Action

Relationships

Backstories

Realistic decisions of the characters.

Zombies

14

What do you think of the Fireflies in The Last of Us?

I don't like them.

I low-key like them.

I hate them.

I think they're a lost cause.

I would like to join them.

They're the only hope of humanity in TLOU.

15

There's a wounded stranger in the street. What do you do?

I rush to help.

I take them to my shelter.

I ignore them.

I talk to them to see if it's a trap.

I steal their useful stuff.

I shoot them (and then steal their stuff).

16

Which one still matters, even in a post-apocalyptic world?

Empathy.

Sex.

Family.

Laws.

Money.

Power.

17

What kind of video games are your favorite?

Nostalgic (classic).

Action-adventure.

Shooters.

Sports.

Puzzle games.

I don't play video games that much.

18

A Fireflies soldier has killed one of your friends. What now?

I move to another city.

I find and kill that soldier.

I kill the entire Fireflies.

I request the Fireflies to execute that soldier.

I feed that soldier to zombies.

It depends on why they killed my friend.

19

Which word describes you better?

Provider.

Explorer.

Protector.

Traveler.

Planner.

Leader.

20

Final question: How old are you?

16 or younger

17-18

25-29

19-24

30-35

36 or older