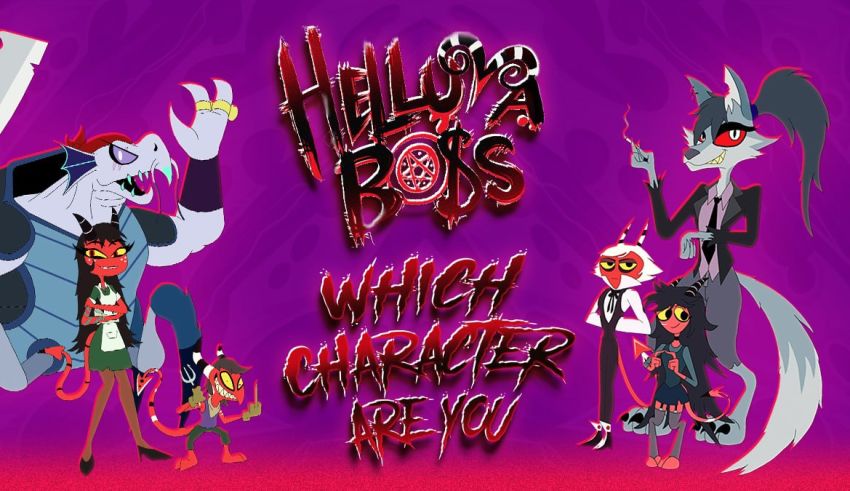 Hey, which Helluva Boss character are you? Take this quiz to discover your matching demon from Immediate Murder Professionals: Blitzo, Moxxie, Millie, or Loona.
This Helluva Boss Quiz Reveals Your Demon Character
The Helluva Boss Quiz is a personality test that reveals which character from the show is similar to you. It identifies whether you are Blitzo, Moxxie, Millie, Loona, or a recurring demon.
Helluva Boss is an adult animated series about a murder-for-hire organization (Immediate Murder Professionals) in Hell run by an ambitious demon called Blitzo. The story revolves around the members of this underground business, exploring their daily struggles.
We analyzed both seasons of this show to come up with the most accurate personality quiz ever. What makes it super-accurate, you might ask. Well, all results in the Helluva Boss Quiz are based on the MBTIs of the show's characters.
| | |
| --- | --- |
| Helluva Boss Character | MBTI Type |
| Blitzo | ESTP (Extroverted, Sensing, Thinking, Perceiving) |
| Moxxie | ISTJ (Introverted, Sensing, Thinking, Judging) |
| Millie | ESFP (Extroverted, Sensing, Feeling, Perceiving) |
| Loona | INTP (Introverted, Intuitive, Thinking, Perceiving) |
| Stolas | INFJ (Introverted, Intuitive, Feeling, Judging) |
| Verosika | ENTJ (Extroverted, Intuitive, Thinking, Judging) |
Suggested Test: Which of the Seven Deadly Sins Are You?
Brief About the Helluva Boss Characters
Fans of the show already know the notorious four Immediate Murder Professionals: Blitzo, Moxxie, Millie, and Loona. But how well do you know their personalities? The following descriptions will help you get to know these characters—and perhaps find your perfect match before taking the quiz!
Blitzo
As the leader of Immediate Murder Professionals, Blitzo has a charismatic, ambitious, and cunning personality. He's the most business-orientated character in Helluva Boss, always looking for ways to expand his assassination organization.
Moxxie
A fan-favorite demon, Moxxie has a loyal and hardworking personality. To him, I.M.P. is a serious job he's passionate about, encouraging him to become a better marksman and fulfill more contracts.
Millie
Unlike her aggressive alter-ego, Millie is a cheerful, optimistic, and peacemaker demon. She goes the extra mile to protect her loved ones and is compassionate about her relationship with Moxxie, her husband.
Loona
As a teenager, Loona is slightly rude and has a sarcastic sense of humor. But deep inside, she's extremely loyal to Blitzo and does her best to help I.M.P. thrive.
You May Be One of the Bad Guys of Helluva Boss!
Heads up. The Helluva Boss Character Quiz includes more than the OG. In fact, some participants might match the show's villains—and hated—characters. Take Stolas or Verosika. They are manipulative and complex characters that not every fan might appreciate. But the thing is that you may match either of them because, guess what, our quiz is brutally honest.
By the way, we also recommend you to take our other relatable quiz called, "Am I Going to Heaven or Hell?" It would be a perfect supplement for your Helluva Boss analysis.
Take This Test to See Which I.M.P. Member You Are
Do you happen to ask yourself, "Which Helluva Boss character am I?" First of all, that's a weird question to ask. But hey, we've got you covered *wink*.
The following questions are inspired by Vivienne "Vivziepop" Medrano's adult animated series, Helluva Boss, revealing your matching character out of all the main and recurring demons.
Let's unveil the hellish assassin in you. 👿💼 Press the start button to become an I.M.P. member today.
Disclaimer:
QuizExpo does not own the images in the Helluva Boss Character Quiz and intends no copyright infringement. SpindleHorse Toons owns the said pictures.
How to Play?
Playing personality quizzes is straightforward: Choose the option that's true about you—or you relate to—and select "Next." Unlike trivia quizzes, personality tests have no right or wrong answers. But the questions are in forced-choice format. The point is to push you to choose an option that makes the most sense, not the one that's 100% true. For the most accurate results, don't overthink your responses. Go with options that you "feel" are the best.
Questions of the quiz
1

What sin of yours could send you to hell?

Gluttony

Wrath

Pride

Sloth

Greed

2

Which of the seven sins is your thing?

3

What kind of demon would you be?

A succubus

A hellhound

A fallen angel

A shapeshifter

A siren

4

Which one is your guilty pleasure? (Pick the one you relate to)

Trashy romance novels

Collecting weird stuff

Watching weird shows

Listening to trashy or creepy music

Eating ice cream straight from the tub

5

What is your toxic behavior?

Holding grudges

Being too passive-aggressive

Procrastinating

Pushing people away

Being manipulative

6

What type of people are you attracted to?

Confident and assertive

Kind and supportive

Creative and adventurous

Independent and mysterious

Successful and influential

7

What's your priority in life?

Protecting my loved ones

Doing what's right

Having fun

Surviving

Becoming rich or famous

8

What do you do when you feel lonely?

Read a book

Talk to someone

Get drunk or high

Listen to music

Take a bubble bath

9

Pick one. Love, sex, food, fame, or hope?

10

How would you describe your sense of humor?

Sassy and sarcastic

Dry and witty

Silly and irreverent

Dark and twisted

Sophisticated and clever

11

What would you name it if you had an assassination organization in Hell?

On-Demand Hellfire Services

The Modern Reapers

The Old-School Damned

The Shady Shadows

The Sassy Vipers

12

How would you describe your love life?

Passionate and intense

Stable and loving

Complicated and messy

Non-existent

Exciting and scandalous

13

What strategy would you use to make I.M.P. the most prominent organization in Hell?

Offering discounts to repeat customers

Providing excellent customer service

Expanding our service offerings

Hiring the most skilled assassins

Forming alliances with powerful demons

14

What kind of assassins would you hire for I.M.P.?

Snipers

Infiltrators

Demolition experts

Assassins with unique abilities

Killers with connections to powerful demons

15

What do you like about Helluva Boss? The plot, jokes, characters, romances, or action?

The characters

The jokes

The action

The plot

The romances

16

What is your love language?

Physical touch

Words of affirmation

Acts of service

Quality time

Gifts

17

On a scale of 0 to 5, how aggressive are you?

18

What other adult animated web series do you like besides Helluva Boss?

Rick and Morty

BoJack Horseman

South Park

Big Mouth

Archer

19

In a word, how'd you describe your best friend's personality?

Loyal

Compassionate

Hilarious

Mysterious

Ambitious

20

Final question: How old are you?

21 or younger

22-23

24-26

27 or older

I'd rather not say