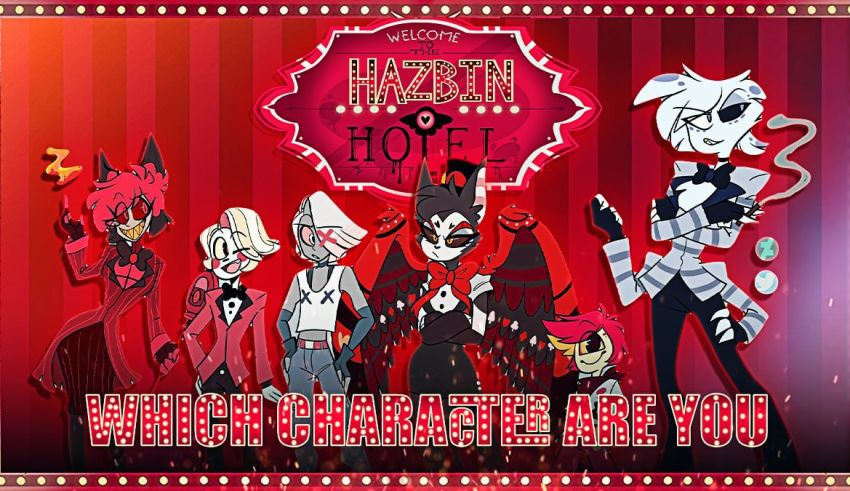 See which Hazbin Hotel character you are with this hellish quiz. Are you Charlie Morningstar, Vaggie, Angel Dust, or another resident of hell?
This Quiz Exposes Your Hazbin Hotel Match
The Hazbin Hotel Character Quiz is a personality test inspired by the titular animated series. It identifies which of the show's personalities matches your real-life persona—and why.
Hazbin Hotel is a dark comedy animated series by Vivziepop about a girl named Charlie who runs a soul-redemption hotel in hell. The story follows her struggles in solving the overpopulation problem in hell and proving that even sinful souls deserve a second chance.
Hazbin Hotel's debut season is right around the corner, with so many interesting characters in it. If you want to know which one you might be similar to, you should try taking the Hazbin Hotel Quiz. It'll help you figure out who your hellish doppelganger is with fun and relatable questions.
Psst! By the way, you might want to try or Heaven or Hell Quiz too. It determines if you're on Charlie's team or if you're an already-purified angelic soul.
Which of the OG Hazbin Hotel Cast Are You?
Like Vivziepop's other animated series, Helluva Boss, Hazbin Hotel has a handful of unforgettable personalities. But how should fans find their comfort character among them?
We suggest three methods for that:
Take the Hazbin Hotel Quiz and discover your soulmate in minutes.
Compare your MBTI with that of the show's personalities.
Read the character descriptions of the show and see which one you relate to the most.
The good news is that you can do all those three things right on this page. Check out the table below and read through the character descriptions to see if you have a connection with any of them. And if you're really curious, take our personality test to find your ultimate counterpart.
| | |
| --- | --- |
| Hazbin Hotel Character | MBTI Type |
| Princess Charlotte "Charlie" Morningstar | ENFP |
| Vaggie | ISTJ |
| Alastor | ENTP |
| Angel Dust | ESTP |
| KeeKee | INFJ |
| Niffty | ESFJ |
| Tom Trench | INTP |
| Katie Killjoy | ENTJ |
Charlie Morningstar
As the Hazbin Hotel's protagonist, Charlie is a visionary who wants to solve hell's problems. She has a kindhearted and empathetic personality who's also quite naïve and, ironically, has the soul of a rebel.
Vaggie
Vaggie is a fiercely loyal friend who can be impulsive and passionate at times. However, she deeply cares for her loved ones and always goes above and beyond to support them in their pursuit of a fulfilling life.
Angel Dust
A seductive personality, Angel Dust is a flamboyant and charismatic character in Hazbin Hotel who, despite his hedonistic façade, is quite sensitive.
Niffty
Enjoying her OCD, Niffty is a hyperactive and cheerful character. She is obsessed with cleaning and organizing and takes pride in her job as a cleaner. But personality-wise, she's a sweet, energetic, and likable soul.
Husk
Although he comes off as sarcastic and grumpy, Husk is a reliable friend. He's philosophical and wise, helping other Hazbin Hotel members reflect on their lives and make better decisions.
Meet Your Sinful Soul; See if You'll Ever Rehabilitate
Are you ready to see which Hazbin Hotel character you are? The quiz on this page reveals if you are Charlie, Vaggie, Angel Dust, or one of the other cool characters of the show with twenty entertaining questions.
Hey, just a heads up – we've also got this cool quiz called the Seven Deadly Sins. It's a fun way to see which wrongful deed of yours might send you to hell.
Now, let's reveal the Hazbin Hotel weirdo in you! 😈
Disclaimer
QuizExpo does not own the images in the Hazbin Hotel Character Quiz and intends no copyright infringement. Vivziepop and A24 own the said pictures.
How to Play?
Playing personality quizzes is straightforward: Choose the option that's true about you—or you relate to—and select "Next." Unlike trivia quizzes, personality tests have no right or wrong answers. But the questions are in forced-choice format. The point is to push you to choose an option that makes the most sense, not the one that's 100% true. For the most accurate results, don't overthink your responses. Go with options that you "feel" are the best.
Questions of the quiz
1

How likely is your soul to rehabilitate?

100% likely

Doubtful

I'm working on it

Not a chance

Unlikely

It depends

2

On a scale of 1 to 6, how sinful are you?

1 - Pure as snow

2 - A little mischievous

3 - Moderately sinful

6 - I am sin incarnate

4 - Pretty darn sinful

5 - Beyond redemption

3

Which of the seven sins do you relate to?

Envy

Pride

Lust

Wrath

Greed

Sloth

4

What's the coolest part of living in hell?

The architecture

The nightlife

The fashion

The power dynamics

The gambling

The cleaning

5

What's the best strategy for rehabilitating souls?

Empathy

Discipline

Compassion

Manipulation

Tough love

Positivity

6

What makes a soul sinful?

Jealousy

Arrogance

Desire

Anger

Greed

Laziness

7

What makes Hazbin Hotel a unique show?

Redemption-focused plot

LGBTQ+ representation

Sex-positive characters

Dark humor

Gambling themes

Relatable side-kicks

8

What would it be if you could change one thing about Hazbin Hotel?

More romance

Less bureaucracy

More musical numbers

More screen time

More gamblin

More weirdness

9

What do you dislike about heaven?

Too uptight

Too exclusive

Too chaste

Too boring

Too perfect

Too clean

10

What is your super-toxic trait that you won't confess?

Jealousy

Perfectionism

Selfishness

Manipulation

Stubbornness

Obsession

11

What kind of people are you attracted to?

Kind and empathetic

Hardworking and disciplined

Funny and confident

Mysterious and powerful

Rebellious and fun-loving

Stylish and organized

12

How would you describe your naughty fantasies?

Wholesome

Controlled

Wild

Dark

Dangerous

Predictable

13

What are you afraid of the most?

Failing to help others

Losing loved ones

Being abandoned

Losing power

Being trapped

Losing control

14

How would you escape hell?

Redeeming myself

Finding a portal

Making a deal

Taking over

Winning a bet

Doing voluntary work

15

What kind of manager should Hazbin Hotel have?

Compassionate yet firm

Organized and efficient

Fun-loving and supportive

Charismatic and strategic

Relaxed yet responsible

Obsessive and ambitious

16

What kind of Hazbin Hotel characters is your favorite?

Relatable ones

Loyal ones

Funny ones

Complex ones

Cynical ones

Clean ones

17

What kind of anger issues do you have?

Bottling up

Lashing out

Passive-aggressive

Vengefulness

Sarcasm

Overreacting

18

Describe your bestie in one word.

Supportive

Dedicated

Hilarious

Mysterious

Cynical

Cute

19

Pick a nickname that you'd use in hell.

Chuckles

Voodoo

Stardust

The Aristocrat

The Wisecracker

Neat Freak

20

Finally, Choose your last words before going to hell.

I'll be back

I love you all

Stay fabulous

See you in the pit

I'm taking the booze

Clean up my mess