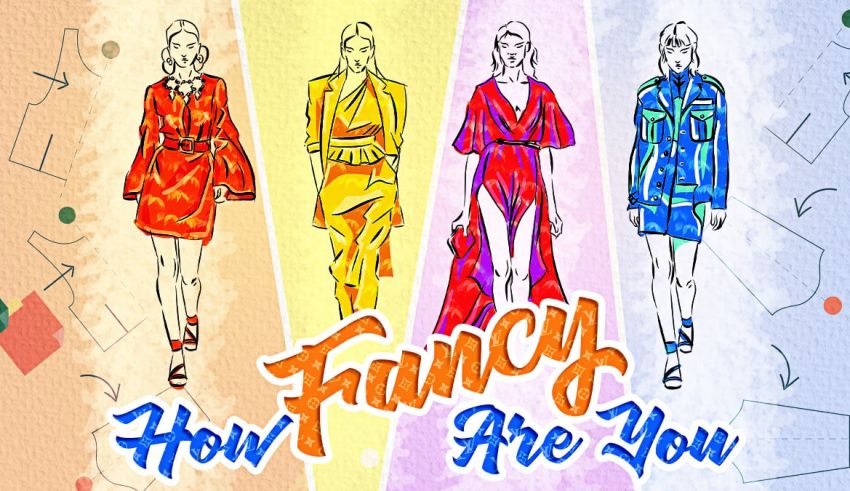 If you want to know how fancy you are, take this sophistication and stylishness quiz. It scores your fanciness based on 20 subtle factors.
What Does It Mean to Be Fancy?
If you are elaborate with your style, manner, and taste, you're a fancy person. Being fancy means you value sophistication and refinement in all aspects of your lifestyle, especially in the way you dress and treat others.
Of course, fancy can sometimes imply a negative connotation. When someone sarcastically calls you "fancy," what they mean is you're extra, showy, or lame.
SUGGESTED QUIZ FOR YOU: How Likable Are You?
Where Do You Land on the "Fancy" Spectrum?
Fanciness is one end of the mannerism and style spectrum, with the other end belonging to lameness. But what matters for now is where you land on the scale; are you a super-ghetto weirdo or a stylish fancy? Here's how you can find out for yourself.
Super-Fancy
Do you have a lavish lifestyle? Are luxurious brands a casual must-have in your wardrobe? Have you been intentional with your mannerisms and etiquette? If yes, you're a super-fancy person.
Normie
If you don't care about fancy stuff and prefer to live a casual life, you're a normie. While normie-ness might be a fancy person's nightmare, it's indeed nothing to be afraid of. Most of us, in fact, are functional normies who have more important things to do than overthink their style choices.
Lame
Lameness represents the complete opposite of fanciness. A lame individual not only fails to appreciate style but also consistently makes choices that go against it. Lame individuals tend to be lazy and disorganized and often have difficulty relating to others due to their almost anti-social demeanor.
5 Subtle Signs You're a Fancy Person
While your style can give away your fanciness level, there are other subtle indications that may go over your head:
You value word choice. People might think you talk slowly, but you're taking your time to form the best sentences possible.
You care about details. While everyone wants to focus on the big picture, you see the tiny details.
You don't hide your soft spots. A subtle sign of sophistication is being honest with yourself, exposing both the soft and harsh aspects.
You are grateful. A fancy person is not an entitled narcissist. What they are is a thankful individual who takes nothing for granted.
You prefer quality over quantity. You don't want "more," you want "better." This quality-seeking attitude is an undeniable sign you have an elaborate and refined taste.
This Quiz Exposes Your Fanciness Level
Would you like to assess your level of fanciness? Take this quiz on sophistication and elegance to discover where you stand. The quiz consists of basic behavioral questions, an analysis of your personal style, and an evaluation of your ethical values. Based on your responses, you will be assigned a fanciness score, with higher scores indicating a higher level of refinement.
By the way, it would be a good idea to try our other related quiz called "How Humble Are You?" after this. It determines if your stylishness is turning you into a cocky and arrogant person or not.
Now, hit the start button, and let us reveal how big of a fancy person you are.
How to Play?
Playing personality quizzes is straightforward: Choose the option that's true about you—or you relate to—and select "Next." Unlike trivia quizzes, personality tests have no right or wrong answers. But the questions are in forced-choice format. The point is to push you to choose an option that makes the most sense, not the one that's 100% true. For the most accurate results, don't overthink your responses. Go with options that you "feel" are the best.
Questions of the quiz
1

How much time do you usually spend picking out your daily outfit?

A minute or two

Ten to fifteen minutes, I guess?

At least an hour

Two hours or even longer

2

How would you describe your personal style?

Whatever

Casual

Chic

One-of-a-kind

3

What's your usual clothing budget like?

$100 or less

$200-$500

$600-$1,000

$1,500 or more

4

Do you pay attention to the brands you wear?

Nah, I don't care

Not really, but it depends

Yes, most of the time

Of course, I can't relate to people who don't

5

How many hours a week do you typically spend shopping?

Less than an hour

An hour or two

Three to four hours

Five hours or more

6

What's your average spending limit when shopping online?

$50

$100

$200-$500

$1,000 or more

7

Can you share your favorite idea for a first date?

I'm down to whatever they have planned

I prefer something intimate and causal

I want a detailed plan that makes me feel special

I need something as extravagant as a Disney movie

8

What kind of people usually catch your interest?

Emotionally unavailable (sigh)

Kind, nice, and reliable

Successful, confident, and charismatic

Rich, famous, and handsome/sexy

9

Which body language style resonates with you more?

Natural

Controlled

Planned (strategic)

Seductive

10

Why do you think it's important for people to work out?

I don't think they need to do that

To live a healthier life?

To remain in shape and catch eyes

To stay in the market and be desirable

11

Tell us about your closest group of friends.

We're a bunch of crazy random people

I have a close but intimate circle of friends

My circle is just out of control. I'm friends with everyone.

I only befriend prestigious people like myself

12

If you could go on a quick trip, where would you love to go?

Somewhere nearby so I don't have to drive

A cozy and nostalgic place

A famous and high-rated location

The fanciest place one could possibly imagine

13

How detail-oriented would you say you are?

Not at all

Not that much, but it depends

Every detail-oriented

I'm obsessed with details

14

What are some important etiquette guidelines for a family gathering?

Nothing, I want those gatherings to be casual

IDK, mutual respect would suffice, I guess

Proper attire and polite conversation

Dress to impress and make grand gestures of hospitality

15

What would be your dream career like?

A casual 9-to-5 with solid pay

A well-paying remote job

A prestigious and respectable occupation

I'm too hot to work at a job

16

What's a reasonable bill for a night out dining at a restaurant?

$100-ish

$150 to $200

Anything between $300 to $350

$400 or more

17

What's your all-time favorite snack?

Anything sweet would work for me

Casual stuff like Cheetos and all that

I'm quite picky with my snacks because I eat healthy

I don't eat snacks. I'm on a strict diet

18

How would you like your partner to treat you?

Like a bestie

Like a spouse

Like a princess or prince

Like a god or goddess

19

Can you describe how your room looks?

It looks like a battle zone

It looks clean and normal

It's the most organized room you'll ever see

It's more of a mansion than a room. So…

20

Last question: What's something that turns you off?

Drama

Disrespect

Insecurity

Poverty