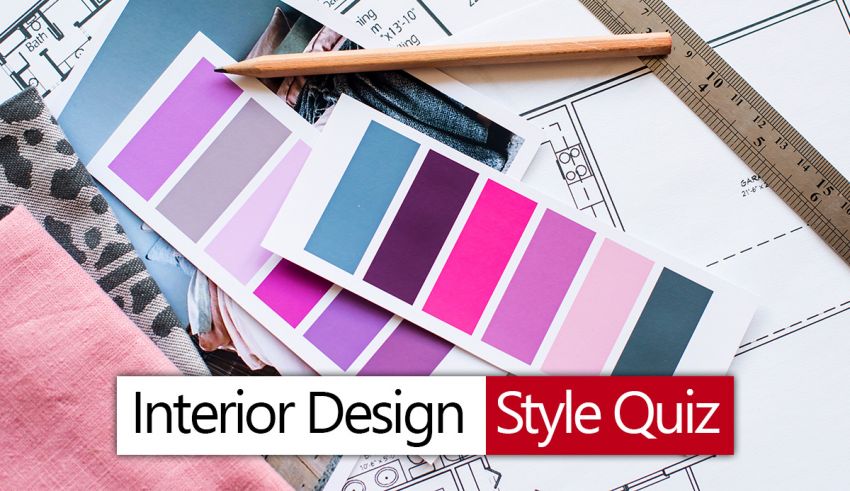 A 100% FREE Interior design style quiz with accurate results. Find your style with 20 questions and get your dream décor. Boho, modern, traditional, or else?
Explaining Interior Design Style Quiz (Real Quick)
The interior design test is a set of twenty questions that discovers your ideal home décor. It considers your interests, budget, and favorite color palettes to identify which design suits your home.
Thing That the Test Unveils
You need something more than a simple visual style quiz when it comes to interior design. So, we created a reliable test that works the same way as consulting a designer. It offers additional information that only an expert could provide you with—after an accurate examination. Here is what you get by taking the quiz.
· Do you have an eye for interior design?
The quiz declares whether you are good at designing a house or not. The first few questions analyze your eye for interior design in general. It allows us to figure out how familiar you are with the topic.
· What interior design style matches your home and lifestyle?
The premise of the quiz is to answer the big question, "What style should I choose for my interior design?" So, you receive a comprehensive analysis explaining why you should use a particular décor at the end.
· Where should you shop for your dream décor?
The interior design style quiz discovers the best options for you. But it also offers a list of shops to find times that suit the new style. So, if your design is Traditional, you receive a list of stores where you can shop your room accordingly.
Why It Is a Good Idea to Take the Interior Design Quiz in Advance
Julie Khuu, a certified and well-known interior designer, believes it is important to know your style before making any decisions. In one of her YouTube videos, she explains the two reasons why choosing a particular pattern helps with the entire decoration process.
It makes it easier to shop for home décor.
Julie says, "It is relevantly easier to buy decorative pieces when you are following a style." Confusion is one step away from you when trying to décor your house. And that is because of the paradox of choice. Without an interior design style in mind, you are going to face so many options that it will eventually make it impossible to pick the right items.
It makes it easier to look for inspiration online.
Pinterest is an excellent source to find inspiring decoration, color palette, and furniture pictures. But it includes millions of them—and that is a problem. Knowing your interior design style narrows down the options.
How to Find Your Style with or without a Quiz
You do not need to take an interior design test to find your ideal style. Although it is the most convenient method, you can discover your dream décor through other methods as well. Below you see a 5-step guide on how to do so without having to participate in a questionary.
Step #1: Determine Function
As the world-famous architect Louis Sullivan says, "Form follows function." So, you should prioritize functionality over other concerns to find the best style for your home. Designing a bedroom differs from decorating a kitchen. And that is true for all of your house's sections. Write down your functional expectations from a room in advance. And design accordingly.
Step #2: Measure the Room
Before buying any new furniture or decorative item, measure the room precisely. You do not want to overstuff the space, making your house look smaller than it is. So, create a simple floor plan for your house, drawing every room and section and writing down their scales.
Step #3: Choose a Color Palette
Now that you determined your rooms' functions and created a floor plan, it is time to choose a color scheme. Choosing the right hues helps with harmonizing and adjusting the rhythm of your design. So, it is important to have a distinct palette before shopping or decorating. Otherwise, your final decoration would seem separated and undone. Colors not only improve your design but can help you have an amazing time in the room if you choose them based on personality. Take a look at this color personality test which can help you find a correct scheme.
Step #4: Shop the Room
You can start purchasing suitable items according to your color palette, measurements, and function. Experts like Julie Khuu suggest that you should have five types of items in your room to make it stand out. You should have at least one bold, cozy, custom, handmade, and souvenir type of item in your rooms.
Note: the interior design style quiz lets you know where to shop for suitable items based on the results.
Step #5: Design and Redesign
You might not be able to achieve the ideal look with your first attempt. So, go for different setups. It is okay to redesign your rooms to get the look you want. And there is nothing wrong with not being able to catch the vibes right at the beginning.
OR Go for the Trends
Another way to find your home décor style is to look for the trends. Designs do not get popular out of a sudden. So, you can trust the majority and decorate your home based on what is trendy and admired at the time. Below you see the top three in-style designs of 2021, along with a short description for each.
Cottagecore or Cabincore. It is the romanticized form of the agricultural lifestyle. The style provokes the idea that nothing needs to be perfect to fit into your life. And its overall look resembles rustic and agrestic homes.
Grandmillennials. When a young person tries to create their granny's house, the outcome is a Grandmillennial design. It is the new version of Traditional with lots of floral prints, skirts on furniture, and wallpapers.
Japandi. It is a combination of Japanese Zen and Scandinavian style. Japandi is about functionality and simplicity. It has an overall calming vibe which makes you want to work—since it is easy to concentrate.
This Visual Style Quiz Is Based on the 6 Interior Design Principles
To make it an expert-level quiz, we implemented all the vital interior decoration values and codes. Here is how each will help us find your dream style accurately.
Note that all the following explanations are provided by Zahira Cury, a well-known architect and interior and lightening designer.
Focal Point (Emphasis)
In short, the focal point is something interesting to look at. There are different types of emphasis items that you could use for your home. But the interior design style quiz uses this principle to identify what type of furniture and decorative stuff would look great in your rooms.
Contrast
"Opposites attract," says the well-known architect, Zahira Cury. Contrast is about the difference in color, size, shape, and texture in your design. And increasing the contrast equals a bolder style. The interior design style quiz uses contrast to identify the best color palette and textures for your home.
Rhythm
As Zahira explains, "Rhythm in interior design is about creating patterns of repetition and contrast to create visual interest." Duplicating elements, colors, or shapes is a basic method to do so. Our visual style quiz uses rhythm to discover what type of pattern matches your décor and why.
Balance
You should try to create a feeling of equilibrium and symmetry in a design. Balance is about equalizing the visual weight of objects to form stability and unity. The personal home style quiz uses balance to determine what type of items should leave your house and vice versa.
Scale & Proportion
Zahira says, "Scale relates to the sizes of objects within a space. Proportion is about the relationship between two elements and how objects relate to the overall context. The interior design style quiz uses the said principle to suggest the right patterns and schemes for your home.
Harmony
All the elements of a design act together to create a unified and cohesive composition. And harmony is about placing relationships among the parts of a composition. Your home should have the same theme or aesthetic style or even mood to look good. And our quiz uses the harmony code to suggest the most unified looks to you.
The Dream Décor Test Includes All the Popular 2021 Styles
Just a simple search would show you that there are many different types of designs and aesthetic styles for your home's interior. So, it is not possible to cover them all in one quiz. Therefore, we created a personal home style test with the top six designs in 2021, Boho, Mid-century, Farmhouse, Scandinavian, Modern, and Traditional.
The following table briefly explains each of them. But you can take the quiz to get a comprehensive result and additional information.
| | | |
| --- | --- | --- |
| Interior Design Style | Description | Where to Shop |
| Boho | Neutral, bold, bright, artistic, gypsy lifestyle | Anthropologie |
| Mid-Century | The 1940s to 1970s, minimal, retro look | CB2 or Structube |
| Farmhouse | Chalk-painted furniture, rustic décor elements | Hobby Lobby |
| Scandinavian | Nordic lifestyle, minimal, simplicity, function | IKEA |
| Modern | Clean lines, large windows, no ornate details | Rove Concepts or Article |
| Traditional | 18th to 19th-century look, ornate details | Jayson Home and eBay |
Tips You Will Need After the Interior Design Style Quiz
Your initial concern might be, "What style suits my home's interior design?" And that is understandable. However, here are a few expert pieces of advice to give you a better idea of how to make up your mind.
It Is Not All About the Aesthetic.
Zahira Cury believes, "A good design is not only about the aesthetic aspects. It is about how each element in the space works together to transform your life." So, do not let the visual concerns drift you apart from your actual mission, which is creating a functional and attractive space.
You Do Not Have to Stick to the Labels.
You should not let a particular home interior design style limit you. It is always a smart idea to blend several elements of similar patterns to create your personalized look and function.
Do Not be Afraid of Further Changes.
Designing your dream home might not be a one-time task. You will probably need to adjust the arrangements, change the items, or try different color schemes before achieving that 100% a-okay look. So, do not pressure yourself to get everything done correctly in your first attempt. (Even the greatest designers try different ideas before ending up with the one they want).
Now, you are all caught up and ready to take the ultimate interior design style quiz. Let's see what is the best bet when it comes to your home's décor.
How to Play?
Playing personality quizzes is straightforward: Choose the option that's true about you—or you relate to—and select "Next." Unlike trivia quizzes, personality tests have no right or wrong answers. But the questions are in forced-choice format. The point is to push you to choose an option that makes the most sense, not the one that's 100% true. For the most accurate results, don't overthink your responses. Go with options that you "feel" are the best.
Questions of the quiz
1

Which one describes your overall floor plan?

Small

Normal

Lots of small sections

One large space

Large rooms

Large house and yard

2

How much money are you willing to spend on your new interior design?

Less than $500

$1,000-$2,000

$3,000-5,000

$6,000-$8,000

About $10,000

Money is not a concern

3

What is your priority when it comes to a new interior design?

More space

More functionality

Better lifestyle

Less maintenance time

Look and function

Eye-catching look

4

Which of the following colors interest you the most?

Cream

Grey

Green

Black

Orange

Wood-like

5

Fill in the blank. My home should look _________.

Large and bright

Minimal and cozy

Rustic and functional

Clean and tidy

Different and special

Classy and expensive

6

How much free time do you have to maintain and care for your home?

A lot of free time

Enough free time

Time is not a concern

I have no time

I have very little time

I have someone to take care of the cleaning

7

Which of the following items would grab your attention in a house?

Large windows

Cozy bed

Luxury firepit

Old bookshelf

A large wingback sofa

8

If you had to add an eye-catching object to your home, what would it be?

Cushions

TV

Table

Sofa

Lights

Antiques

9

Choose the material you would like to see in your furniture.

Wool

Fur

Wood

Marble

Plastic

Gold/silver

10

What kind of texture is your favorite?

Layered

Clean

Natural

Soft and smooth

Floral

Wood-like

11

Which of the following countries' homes have better designs? (In your opinion).

Hawaii

Nordic countries

Japanese

United States

European countries

Britain

12

When buying a new piece of furniture, what is your priority?

Size

Function

Price

Look

Look & function

Value

13

Which one describes the type of room that you would like to live in?

Large and bright

Cozy and warm

Sentimental and handmade

Clean and silky

Retro and unique

High-class and costly

14

Which of the following statements describes your lifestyle better?

Lots of leisure time

Working from home

Rural lifestyle

Urban lifestyle

Artistic and art-oriented

Busy

15

What is your opinion about details in an interior design?

Could be helpful

not vital

Important

Unnecessary

Necessary

Vital

16

What is the reason you want to change your home's current interior design?

Need more space

I want to change my lifestyle

I don't like the current one

It does not stand out

I need a classy design

17

Where would you like to live if you could choose any place?

Near beach

Somewhere cold

Countryside

Big city

Small city

Island

18

What is your ideal lighting type?

Very bright

Casually bright

Slightly dim

Dim

Very dim

Does not matter

19

Which one describes your ideal bedroom?

Large windows with an authentic view

King size bed and a firepit

Cozy bed with lots of blankets

A TV right in front of the bed

Bed with curtains

An expensive antique bed

20

Fill in the blank. When it comes to space, I want to __________.

Make it seem larger

Keep it open

Use it all

Use the least space possible

Make the most of it

Fill it with furniture