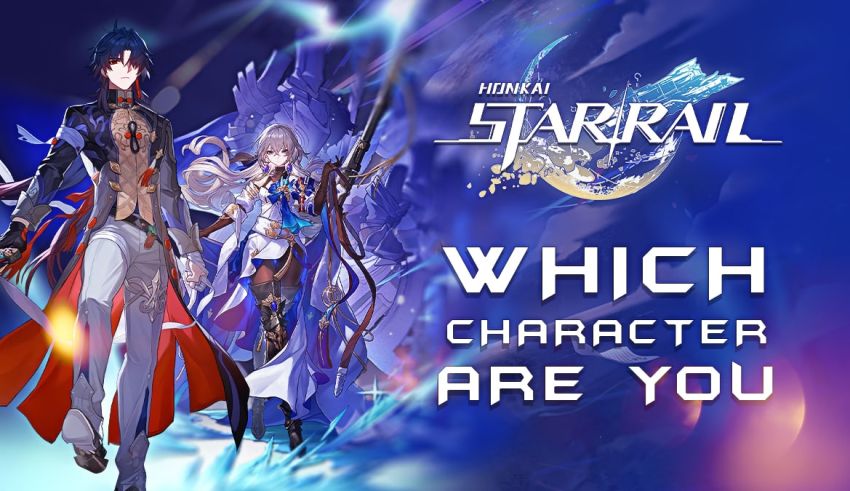 Looking for your HSR character? This Honkai Star Rail Quiz reveals if you're Seele, Tingyun, Bronya, Sampo, or else.
Find Your Matching Character in Honkai: Star Rail
After analyzing all 31 playable characters, here I am with the ultimate Honkai Star Rail Personality Test. With only 20 thematic questions, my quiz will reveal which interastral warrior you are.
HSR has some seriously detailed lore, which got me thinking: why not make a character analysis quiz? So, I put together this fun self-assessment that reveals which character vibes with you the most.
If you're into miHoYo games, I've also created a similar test for Genshin Impact. So, why not give it a try after this one?
Are You a Trailblazer, Aeon, or Stellaron Hunter?
In my first playthrough, I was confused with most of the terms thrown at me: Trailblazer, Aeon, Sellaron Huner… But I figured it all out. What I wonder now is which category your persona fits in. I mean, in the Honkai-induced world of the game, would you be a hero or a villain?
The good news for fans is that I've included both protagonists and antagonists in the quiz. So, you'll actually find out if you're on the bright or dark side of the story.
SUGGESTED FOR YOU: Which DDLC Character Are You?
Some Honkai Characters You Might Be
Honestly, the game's roster is so rich that I doubt any match would bother you at all. But hey, if you want to know which anime-looking character looks like you the most, read the following descriptions. Your kin—or soulmate, or counterpart—is the one you relate to.
Seele
Growing up in a harsh environment has turned Seele into a tough, independent, and assertive character. She's not afraid to express her opinions, even at the cost of upsetting some sensitive friends. However, she herself has a soft spot that only her true friends get to see.
Tingyun
A cute, bubbly, and likable character, Tingyun is actually a persuasive and sly character. However, her Kawai person makes her a popular companion, negating her lack of combat skills.
Dan Heng
Despite his cold and distant facade, Dan Heng is a caring, compassionate, and empathetic Honkai character. His past traumas are haunting him, which is why he's afraid of intimacy. But once he trusts someone, he shows his true, passionate side with no fear.
Welt
Welt, renowned for his intelligence and resourcefulness, embodies wisdom, serenity, and composure. His nurturing and protective nature positions him as a trusted mentor, with many Star Rail characters relying on his tactful opinions.
Honkai Star Rail Quiz; Let's Find Your Soulmate
If you're still curious about your Honkai Star Rail match, all you need to do is start the quiz. I've compiled a bunch of nostalgic and relatable questions that, in the end, expose your in-game corresponding character with great accuracy.
Are you as assertive as Seele, as cute as Tingyun, or as wise as Welt? Let's find out now! 😎
Disclaimer
QuizExpo does not own the images used in this test and intends no copyright infringement. miHoYo owns all the said pictures.
How to Play?
Playing personality quizzes is straightforward: Choose the option that's true about you—or you relate to—and select "Next." Unlike trivia quizzes, personality tests have no right or wrong answers. But the questions are in forced-choice format. The point is to push you to choose an option that makes the most sense, not the one that's 100% true. For the most accurate results, don't overthink your responses. Go with options that you "feel" are the best.
Questions of the quiz
1

Which one better describes your play style in Honkai: Star Rail?

Solo

Slow

Aggressive

Passive

Strategic

Fast (or careless)

2

Choose a path.

The Nihility

The Preservation

The Destruction

The Abundance

The Harmony

The Hunt

3

What type of Honkai: Star Rail characters are attractive?

Confident

Good-looking

Prestigious

Kind-hearted

Smart

Funny

4

What s your favorite thing to do in the game?

Explore

Play with friends

Battles

Understanding the lore

Experimenting with mechanics

Do the main quests as fast as possible

5

What kind of games do you usually play?

RPG

Anime-inspired games

Shooters

Puzzle, mystery, or horror

Strategy or simulator

Sports or fighting games

6

How many hours have you spent in the game?

Over 50 hours

About 40

About 30

About 20

About 10

9 hours or less

7

What do you think of miHoYo's other games?

Meh

I love all of them

I like most of them

I only liked Honkai Impact 3rd

I liked Genshin Impact

I don t know any of their games

8

What archetype would you choose for your in-game character?

Boss

Influencer

Soldier

Detective

Mentor

Pirate

9

Choose a weapon type that you d like to have in the game.

Bow

Invisibility cloak

Sword

Throwing knives

Magical shield

Laser-shooting pistol

10

Honkai has an extensive lore. What's your favorite type of story?

Inspiring

Romantic

Tragic

Dark

Optimistic

Comedic

11

How would you describe your persona as an Astral Express member?

Grumpy

Sociable

Professional

Loner

Calm

Loud

12

Would you ever consider joining IPC? Why?

No, I don't like them

I m not sure

No, they are all corrupted

No, I don't like working for others

Yes, but only if it's going to be for a good cause

Yes, especially if the pay is good

13

What do you think of Stellaron Hunters?

I despise them

I think they're sexy

I dislike most of them

I like most of them

I think they're lost

I would love to join them

14

What occupation would you like to have in the universe of Honkai: Star Rail?

Traveler

Model

Commander

Writer or journalist

Teacher or doctor

Trader or businessperson

15

Which Aeons do you relate to?

Cold

Friendly

Aggressive

Quiet

Wise

None of them

16

Would you want to become an Emanator? Why?

No, too much responsibility

No, that's a scary path to take

Yes, I'd appreciate some extra power

Meh, I don't know

No, I don't need an Aeon s power

Yes, of course! Who d say no to that

17

What makes a Pathstrider great?

Purpose

Style

Skill

Backstory

Decisions

Prestige (popularity)

18

What s your most heroic attribute in real life?

Reliability

Honesty

Bravery

Selfless

Empathy

Quick-thinking

19

Which trait is a must for your companions?

Obedience

Supportiveness

Braveness

Generosity

Intelligence

Sense of humor

20

Final question: How old are you?

25-29

18 or younger

30-32

19-24

33 or older

I'd rather skip this question