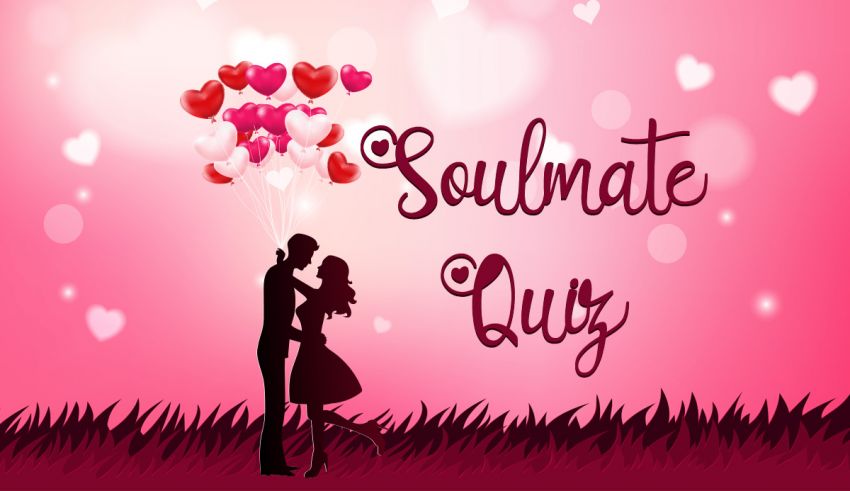 This accurate soulmate quiz can help you find out your love personality. Will your partner be romantic or Non-Romantic? This quiz will tell you.
Soulmate Quiz
In our culture and society, the term 'soulmate' is familiar. Many believe they were initially souls split into two souls and sent to the world to evolve and become conscious. It's said the name of your spiritual half was known even before you were born. Now you need to know who your soulmate is and what are your soulmate characteristics?
Soulmates are, in reality, every person's real partner. What signs should you look for to find your partner? The "Soulmate Quiz" is one of the easiest and funniest ways to do this. A soulmate is your right and perfect love, and if you are together, you will have the best life. Because when you are together, you are always happy in every way. This Quiz has different types, and it can have different results.
Have you ever wondered how old your partner will? "How Old Is Your Soulmate Quiz" can help you to find the answer by asking some questions like:
If you're taking an exam, are you usually done first or last?
Do you have a good relationship with people older than you?
Is age a necessary criterion for you in marriage?
Personality Quiz
If you agree with soulmates, you actually think there is a proper form of personality for you! Would you guess what kind of personality your partner would be? Can you guess his/her love language? It can be said that one of the main criteria is the character of your soulmate. "Soulmate Personality Quiz" will help you with this issue. Here is some example of questions.
How do you explain your childhood in one single word?
Why do you enjoy most showing love?
What behaviors are annoying to you, and you can't stand?
Soulmate Quiz Initials
Need to ask what your partner's first initial name is? In "Soulmate Quiz Initials," you can Guess Your Soulmate's Initials Based on different subjects and questions. In this quiz, you can find clues from your soulmate. Some sample questions are:
What is your favorite music band?
Do you feel good when you hear specific names?
Which is your CRUSH's first initial?
Accurate Soulmate Quiz
Luckily you can find our love easily. And sometimes, the tension and tendency of the two-way relationship between you and your partner develop in the first encounter. Your soulmate's most accurate predictions can be made by a quiz that gets a lot of information from you and examines you entirely mentally and with advanced algorithms.
The presence of a soulmate in life has always been a concern for human beings. Our world is a world of vibrations. Everything has its frequency. So it's no surprise that you have to send the right frequency to attract your partner. Each person has his personality and, he accepts himself and seeks the love to complete his soul to be at peace with him or her. This tranquility means that the person is like him or her, not in appearance, but line with his moral character. What do you know about your partner? Play Soulmate Quiz to find out. By playing this quiz, you may see one of the following results at the end of the test:
Romantic
Your ideal soulmate is romantic and emotional. Your personality and priorities seek someone with sensitive and compassionate characteristics. You respect moral and emotional values and also want to have a memorable time with your partner. Your soul mate would be a romantic and sensitive person who responds gracefully to your emotional feelings.
Somewhat Romantic
Your ideal partner is somewhat romantic. You see life as a balance of love and logic, and that's why you're looking for someone who has those qualities at the same time. Your love will be an emotional and logical person who will understand your feelings. Not only does he/she value romantic relationships with you, but sometimes he makes decisions seriously and away from the emotions.
Nonromantic
Your ideal soulmate is a nonromantic person. Love and charm are not important to you, and you are seeking someone who can do anything because you value the "jack of all trades" approach to living. Your partner will not make an emotional moment for you, but he/she will respond to any situation with rationality and integrity.
How to Play?
Playing personality quizzes is straightforward: Choose the option that's true about you—or you relate to—and select "Next." Unlike trivia quizzes, personality tests have no right or wrong answers. But the questions are in forced-choice format. The point is to push you to choose an option that makes the most sense, not the one that's 100% true. For the most accurate results, don't overthink your responses. Go with options that you "feel" are the best.
Questions of the quiz
1

What are you looking for in a partner?

Someone who gives me love

Someone who helped me rationally in a problematic situation

Someone who can make life easier for me

Someone who can do anything

2

How often do you see your friends?

Once a month

Once a week

Everyday

twice a week

3

How was your childhood?

It was Amazing

Normal

It was Rough

I think it was good

4

What should be a memorable night with your partner?

A surprise homemade dinner, and then watching the stars

A night out of town where makes him/her happy

Dinner and movie

None of them

5

What is your favorite way of expressing love?

By touching

Through writing

Through actions

Gift giving

6

What is your fashion style?

7

What will be your partner's reaction when your life gets tough?

He/she must give me deep love so that I can think of nothing

Empathize with me

Should calm me down

Should Guide me

8

How would you like your soulmate to wear?

Jean and T-shirt

Loafers

Anything he/she likes

Suits

9

Your arguments is always...

Emotionally ended

Unserious

Petty and angry

Deeply upsetting

10

What is the most important thing in life for you?

11

What is your favorite type of music?

12

What are the main interests you both share?

The same dreams and life goals

The same personality type and beliefs

Not many, our differences make our relationship beautiful

I don't know

13

How would your friends describe you?

Romantic

Conservative

Independent

Outgoing

14

How would you describe your relationship?

Intense Love

Peaceful

Harmonious

Fun

15

What is your favorite movie genre?

Romance

Historical

Sci- fiction

Family